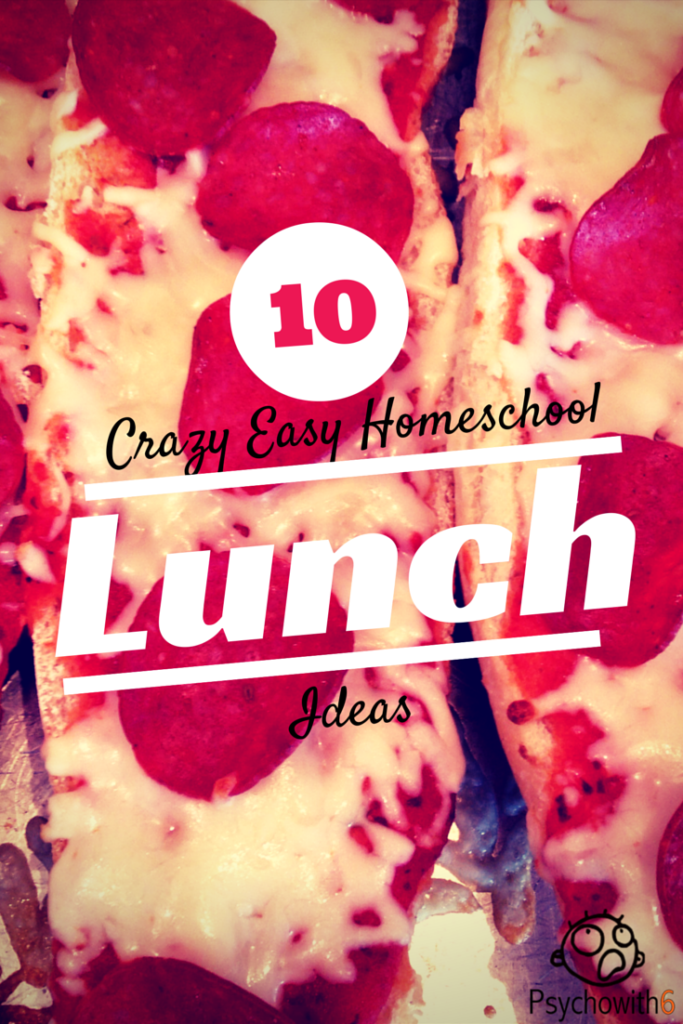 When you're the teacher, the last thing you want is a long lunch duty shift. These crazy easy homeschool lunch ideas can buy you some relaxation time–especially if you have the kids make lunch!
I need easy and filling ideas because I have three teen boys still at home and a work-from-husband to feed. This is what we have for lunch on a regular basis. We typically add cold veggies (baby carrots, peppers, sugar snap peas, cucumbers) or salad to these entries. Each meal serves 6-8, so modify serving sizes as needed:
#1 French Bread Pizza
We love pizza as you will see from our lunch ideas, but we like a little variety like we get from this meal.
Ingredients
2 loaves of wide French bread, cut in half lengthwise
1 jar of pizza sauce
3 cups shredded mozzarella cheese
1 package pepperoni, 1 package of sausage crumbles, or both
Directions
Preheat oven to 400 degrees F. Put French bread cut side up on cookie sheet. Spread each loaf with pizza sauce. Sprinkle each loaf generously with mozzarella cheese. Cover each loaf with desired amount of pepperoni and sausage. Bake for 10-12 minutes or until cheese is melted and beginning to brown around the edges. Slice and serve.
#2 Buffalo Chicken French Bread Pizza
This is just as good with canned chicken!



#3 Pizza Roll-ups
We serve these with marinara and they are absolutely fabulous!



#4 Pizza Burgers
This is my Aunt Sharon's recipe. You can make up a bunch of these to freeze. Wrap them in aluminum foil and bake them frozen at 350 for 45 – 50 min. Save time by browning ground beef ahead of time and freezing in bags. Pop the frozen beef into the microwave and in just a few minutes, your lunch will be ready.
Ingredients
2 pounds lean ground beef
12 hamburger buns
2 cans tomato soup
2 tablespoons Italian seasoning
1/4 cup Parmesan cheese
1.5 cups low fat shredded mozzarella cheese
Directions
Brown ground beef. Drain ground beef. Add soup, season, cheese and heat through. Serve on buns immediately or bake for 15 minutes at 350 for crusty sandwiches.
#5 Homemade Hot Sub Sandwiches
Again, we often eat regular cold sandwiches on sliced bread, but there's something about hot sandwiches on French bread that makes lunch more exciting. The bonus is that they're cheaper than restaurant fare!
Ingredients
3 sandwich-size loaves of French bread, sliced midway lengthwise
Your favorite deli meats (we use smoked turkey, hard salami, and sandwich-style pepperoni)
Your favorite deli sliced cheese (we use cheddar cheese slices from Sams Club)
Your favorite condiments (we love Miracle Whip and at least one of us adds mustard)
Directions
Assemble sandwiches. We like to add our condiments before baking, but you may like to add them later. Bake at 350 F for 5-6 minutes or until cheese is melted and the bread is beginning to get crusty.
#6 Chicken Quesadillas
These are so easy and yet they are so good, especially when served with sour cream and salsa.
Ingredients
2 cans white chicken meat, drained
6 large flour tortillas
2 T chili powder
2 cups shredded Mexican-style cheese (I use the 2% fat kind)
Salsa & sour cream as condiments
Directions
Preheat oven to 450 F. Mix chicken and chili powder in a microwave-safe bowl. Cook for two minutes on high * Meanwhile, spray a large flat cookie sheet (no raised edges) with olive oil cooking spray. Arrange 3 tortillas on sheet. Spread warmed chicken mixture evenly on tortillas. Cover with shredded cheese. Top with remaining tortillas. Bake for 5-6 minutes or until tortilla begins to brown and curl. Cut each tortilla into four pieces with a pizza cutter. Serve with desired condiments.
#7 Burritos
We serve these with con queso and sour cream and they're as good as restaurant fare and so easy!
#8 Nachos
So it isn't the healthiest lunch, but it's probably the quickest. When I'm in a hurry, there's nothing like nachos to get lunch to the table fast.
Ingredients
1 bag tortilla chips 1 jar con queso dip 3 cups shredded Mexican cheese 1 can chili with beans S our cream
Directions
Put a layer of tortilla chips on a microwave-safe plate. Sprinkle with shredded cheese and/or con queso. Repeat layer. Spoon chili on top and heat in microwave until cheese is melted and chili is hot. Dot with sour cream and serve.
#9 BBQ Crockpot Chicken Sandwiches
Start this  easy recipe early in the morning and it will be ready at lunch time. Ingredients 1 bag rinsed, frozen chicken breasts or tenderloins 1 bottle barbecue sauce 12 hamburger buns Directions Add a liner to your crockpot, followed by the chicken and the barbecue sauce. Cook on low for 8-10 hours. Shred with two forks or even better, use your hand mixer while the meat is still in the crockpot. Serve on hamburger buns.
#10 Leftovers
My favorite lunch by far. I intentionally make extra at dinner, usually in my crockpot. Be sure to check out my 6 Crazy Easy Crockpot Recipes. Make leftovers more appealing by writing what you have on a dry erase board on your fridge. My daughter loves this job! It's a great way to work on handwriting.
If you need help with meal planning, be sure to pick up a copy of my free ebook. If you want more lunch ideas, follow my Pinterest board and be sure to read the other iHomeschool Network bloggers' ideas. I know I will be! Follow Dr. Melanie Wilson @psychowith6's board Lunch Recipes to Try on Pinterest.