Scripture memorization is an underused and powerful tool for strengthening families. I'm thrilled that Carlie Kercheval is guest posting today on this important topic. I hope you'll take a minute to learn more about the tool she's created to help make Scripture memory easy.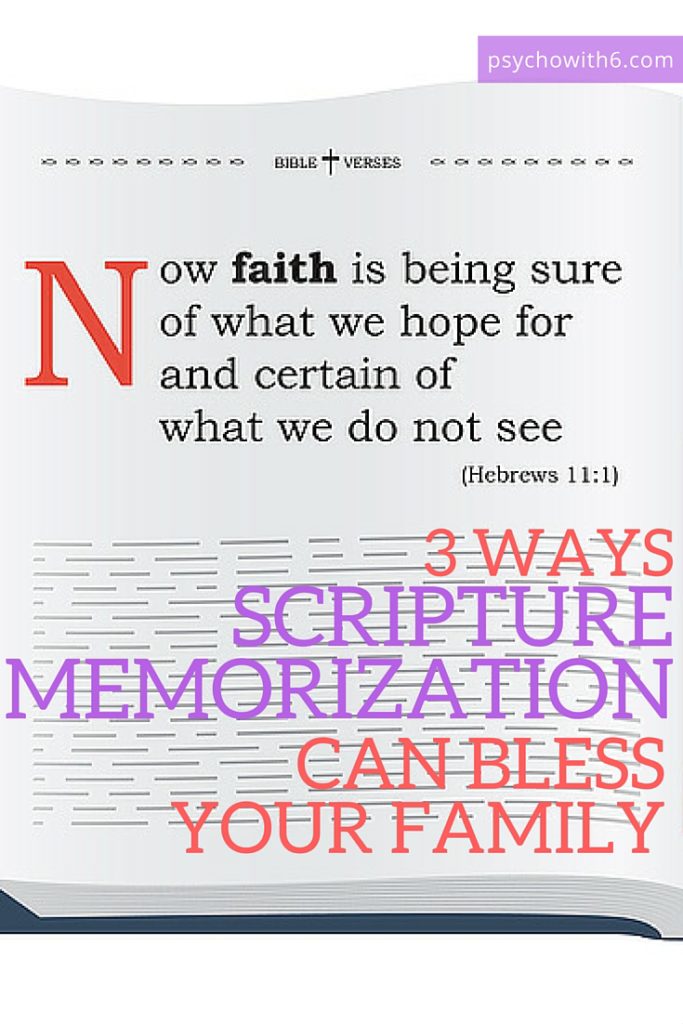 Scripture memorization is a topic that is very near and dear to my heart. When I was a young Christian woman, God made it very clear that I needed to get into the habit of memorizing His Word. I was a college student when I accepted Christ and was already in the habit of studying, so Scripture memory seemed to be a natural fit. I am actually quite fond of memorizing facts so when I first started my memorization journey, I approached it from a standpoint of just another "class" I was taking. But God had so much more in store for me. It wouldn't be until years later that I'd realize the positive effect that Scripture memorization would have upon my family.
As a busy homeschooling, work-at-home mom of three children, I have found myself able to draw from the deep well of Scripture planted in my heart over the years. And sometimes the verses buried deep within my heart are the only things that have carried me through seasons of hardship. I am amazed at just how sovereign our God is and how much attention He pays to the details of our lives. Over the years I have noticed many benefits of Scripture memorization, but today I want to focus on three of them. Here are three ways Scripture memorization has been a blessing to my family.
3 Ways Scripture Memorization Has Blessed My Family
1. Provided a peaceful atmosphere. This has been especially true for me during two specific seasons of life: raising young children while homeschooling and during the 5 separate year-long deployments our family has endured as an active duty military family. As any mom knows, raising children is no easy feat. While we can usually focus on the long-term benefits of child-rearing in the day in and day out, sometimes we need some help to remind us why we should keep going. Scripture memory has given me the ability to draw on God's Word quickly when I have feelings of anger or fear. Armed with God's Word, I've been able to maintain a consistent atmosphere of peace in our home. And this is such a wonderful blessing!
Having the "muscle memory" of God's Word in my heart has allowed me to stay sane when my husband was on the battlefield for a little more than 5 cumulative years. The peace of God has never been far from me as His Word is within me. This has been such a blessing to my family as it has helped me stay on track when my emotions have tried to get the best of me. I am so grateful for God's peace found through His Word. I honestly don't think I could have survived this long without it.
2. Created a strong family bond that includes God's Word. When I met my husband, Michael, we were in a college fellowship on the campus of Washington State University. There was a small core group of college kids that used to get together 3-4 nights a week to pray and study the Bible. When Michael and I got engaged, we started another group just for Scripture memorization. It was a blast! Without us even knowing it, the foundation was set for our family-to-be.
Here we are, 18 years later, still memorizing Scripture together and with our three precious children. Scripture memorization has created a beautiful bond between my husband and I as well as with the children. Our memory verse time has become a wonderful way that we can get God's Word into our hearts and minds all while growing closer to one another. For our family, Scripture memorization is a daily activity. And if mom or dad forgets — one of the children is sure to remind us!
3. Helped me remain diligent in reading God's Word. If I am being honest, there have been many seasons of motherhood where I haven't been able to read the Bible as much as I wanted to. However, I've still made sure to continuously memorize Scripture over the years. So even if I only read one Scripture a day, it helped me to continue the daily habit of reading God's Word. I am thankful that when I didn't have the focused time or energy to dig deep, God was still building up an arsenal of His Word in my heart!
Could you use some help memorizing more of God's Word?
Are you short on time and inspiration in this season of life? Do you feel stuck and in need of a boost in your walk with God? If so, I am excited to share a new resource that can help: Matters of the Heart: a 52-Week Scripture Memorization Journey for Women.

This new book can help you:
put God first in your life
be ready to share the gospel more effectively
increase your faith in God
gain more confidence in ministering to others
strengthen family relationships
become more Christ-like
and much more!
Be sure to grab your copy of this brand new book along with the companion prayer journal and printable 3×5 memory verse cards during the launch week special! And if you buy your copy August 1-8, you will receive some wonderful bonus products as well!
It is my hope that Matters of the Heart will help you hide more of God's Word in your heart all while building your faith in Him. It is my firm belief that memorizing more of God's Word will bless you and your family in countless ways. Will you meet me in His Word? Let's encourage one another to commit our heart and mind to more Scripture memory this year!
---
Carlie Kercheval is a happily married work-at-home homeschooling mom. She and her college sweetheart have been blessed with 3 precious children to raise while traveling the world as a military family. Carlie is the founder of Today's Frugal Mom™ and Fulfilling Your Vows™. She is also the co-author of Learning to Speak Life Books™. When she is not busy enjoying her family and the great outdoors, you can find her cozied up somewhere under a blanket with a good book.