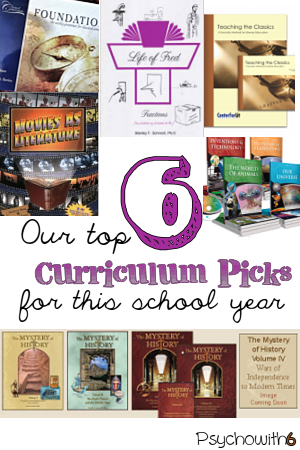 If you're anything like me, you love to find out what other homeschoolers are using for curriculum. These are my favorite picks for the year, but don't stop here. Check out the iHomeschool Not Back to School Blog Hop for more great lists!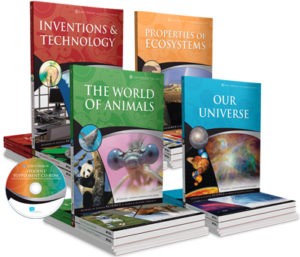 #1 God's Design for Science
We use Apologia for junior and senior high, but I couldn't be more thrilled with God's Design for Science. Last year we did the chemistry set. This year we are using the biology set. I had an excellent science education and I am learning right along with my children. The lessons are short and fascinating. The experiments are straightforward. As I'm using this curriculum with my younger kids and a friend's, I need to keep things simple. Looking forward to dissecting a starfish this year!

#2 Life of Fred Math
My oldest used Life of Fred Fractions in elementary school and I still have the older series of books. All of the kids will be using Life of Fred for the first time this year. I think they will all enjoy following Fred's antics. I have an interview with the author of Life of Fred, Stanley Schmidt, coming up later this month on The Homeschool Sanity Show. You won't want to miss it!
#3 Mystery of History
We originally used Konos for history and I missed the chronological view. When a friend told me about Mystery of History, I fell in love with it. I went all the way through graduate school without ever taking a world history course, so it's been a gift. We are on our second time through the series, using volume II again this year. I'm looking forward to having my freshman in high school do extra reading plus the quizzes this year to take it up a notch.

#4 Teaching the Classics
This is the second time I will be using IEW's Teaching the Classics with my own and a friend's kids. Each of the children chose a classic title and another title they would like to read, so it should be interesting. I recently bought the younger kids a kindle to use for reading and plan to have them listen to the books via Audible as well. That's how I plan to fit all my reading in anyway! I'm excited to have the kids do a presentation on their favorite book we read at the end of the year.

#5 Movies as Literature
This year we have a mix of students in our high school co-op. We'll have two juniors, three freshman, and an eighth grader. It was hard to come up with a class that the olders haven't taken that wouldn't be too challenging for our eighth and ninth graders. Movies as Literature to the rescue. The other moms in our co-op are excited and will be sharing the teaching responsibilities. I am looking forward to having an excuse to watch a number of classic movies.

#6 Classical Conversations – Foundations
I've written about how we use Classical Conversations at home and a huge reference of available resources for those using Classical Conversations. But I'm still excited about it. We are going to be doing Cycle 2 (Yes, I know everyone else is on Cycle 3 this year), but I love that it will be all new material to us. I also have so many great ideas for expanding on the memory work.
What are your favorite picks for this year?
Follow the What's Hot in Homeschooling Pinterest board so you won't miss any of the great homeschool posts here or get updates and subscriber-only freebies here.