Last week I shared my new language arts curriculum, Grammar Galaxy. It is for beginning readers. This guest post by my friend, Ashley White, will help you get your child ready for it! Be sure to subscribe to Mommy's Little Learners.
How many times, as a homeschooling parent, have you asked your young reader to "just sound it out!"?  We've all done it more times than we can count on our own two hands!  And that's ok.  I'll give you some grace on that only because reading research has come a LONG way in the last years.  
Times they are a changing, so let me fill you in on 7 Reading Strategies to go beyond "Sound it OUT!"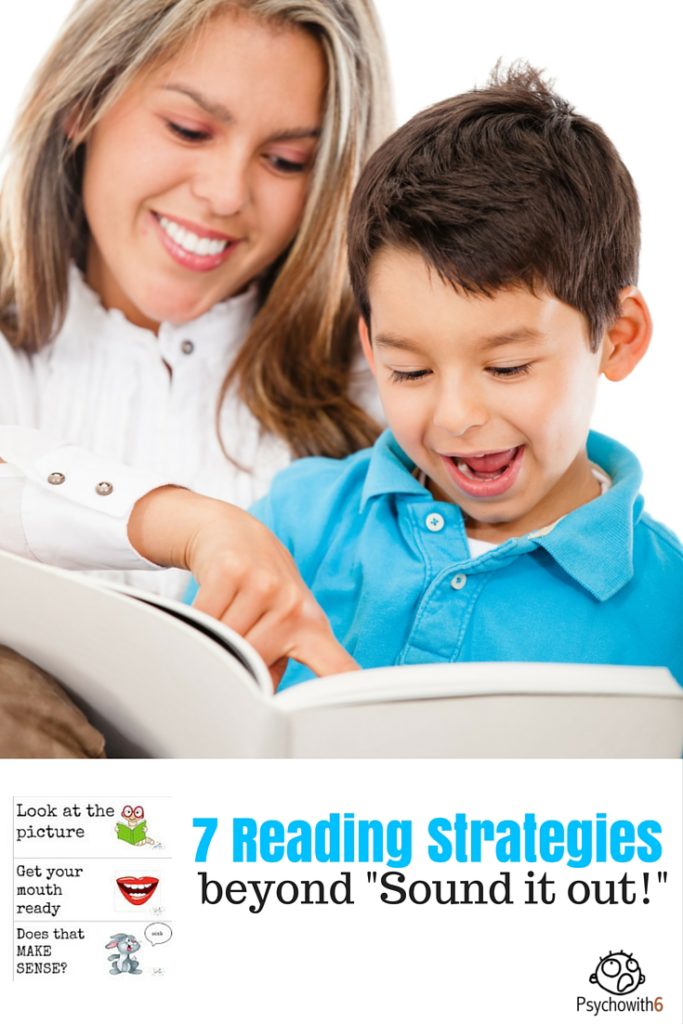 Keep in mind that these strategies build upon each other.  Start by teaching Strategy #1, then work your way slowly down the strategy list.  Introduce a new strategy only if your reader has become proficient in the others.
This is a simple strategy that can create a strong reader!  If your child gets stuck on a word, ask them to simply "Look at the picture."  Doing this will help them predict words based on the clues gained from the pictures.
**Side note** Make sure that young readers have books with good picture support!  This is key when teaching young ones to read successfully.  Joy Cowley is one of our favorites.  Here's a great link list of her publications. Joy Cowley books
Strategy #2 – Does it Make Sense?
Simply say it when your reader gets stuck…"You said this ____. Did that make sense?"  As adult readers, we do this naturally.  By using this phrase, you are setting your reader up for a way for them to self-monitor and check that what they said actually makes sense in context.  This is a key-question strategy that will play a huge role in your child's reading ability once all these have been taught and mastered.
Strategy #3 – Get Your Mouth Ready
Sometimes picture clues and trying to make sense of the word simply doesn't provide enough information for young readers.  So asking them to "get their mouth ready" based off the word's beginning/initial sound helps them to predict what would make sense.  I hope that now you can see how each strategy builds upon each other.
If your reader is taught the first 2 Reading Strategies, then they can apply it when trying to incorporate the third one into their reading.  And before you know it, it will come together naturally and beautifully.
Strategy #4 – Does It Look Right?
This is another key-question strategy.  When readers look through the word from beginning to end, this allows them to check their prediction that they made while reading.  After they have studied that word, they will either confirm or reject their word choice based off of the letter-sound relationship.  If your reader can't make sense of the letter-sound relationship, this is when the other strategies above can be used.  Offer your reader the chance to "look at the picture" to check if their word choice matches and "makes sense.". 
Strategy #5 – Reread
When your reader comes to a word they don't know, ask for a prediction (a "smart prediction") based off the beginning sound.  Go back and try that suggestion in the sentence, asking your reader… "Does that word make sense?" and "Does that word look right in the sentence you just read?"  Keep in mind, when readers get stuck on a word, they often forget what they read.  To check their comprehension, it's important for them go back and reread.  
Strategy #6 – Does it Sound Right?
This is your final key-question strategy!  If your reader reads something that just doesn't sound right at all, then try reading it back to them.  "You read it like this…does that sound right?"  This is a helpful strategy for auditory learners.  There's something magical when they hear their mistake read back to them.
Good Readers will continually use and reflect on the 3 key-question strategies: Does it Look Right? Does It Sound Right? Does It Make Sense?  Once they have mastered this, you'll be amazed!
Strategy #7 – Look for Chunks
This is one of my favorite strategies to use with young readers.  However, keep in mind that all of the above should be introduced and practiced first.  If your reader gets stuck on a word, ask them to use some of the above strategies first before they try this one.  Have your reader look for "small words inside the big word." 
For example, the word "flat" has the small word -at inside it.  I would cover up the beginning blend to show them the small word -at, then see if they can add the /fl/ blend.  Once your young readers has discovered the word is "flat", then ask them to reread the sentence, just to make sure that it "sounds right" and "makes sense."
Lots of information, right?  Keep in mind that when you implement each strategy slowly and allow your reader time to practice it daily, all this information will begin to feel comfortable, for both you and your reader. 
I have a big treat for you over at my blog.  It's a FREE printable for you to download and print.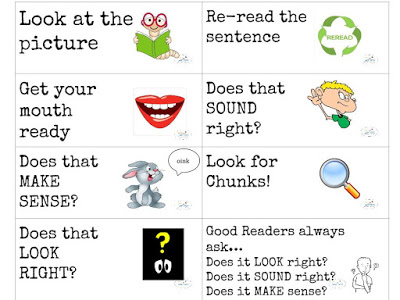 I know many moms that have printed multiple copies of this printable and placed them ANYWHERE their child might be reading…bathrooms, cars, bedside tables, just to name a few.
Enjoy and happy reading with your little ones!