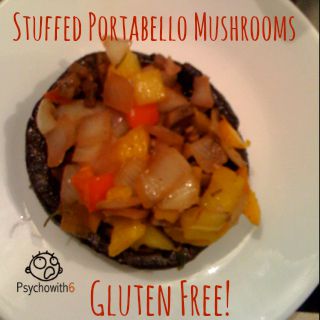 This recipe is fabulous for those on a Specific Carbohydrate, vegetarian, gluten-, or dairy-free diet as well as anyone who loves mushrooms. My family is wild about them and they're a great appetizer to serve for the holidays.
Stuffed Portabella Mushrooms
Serves 6, but I cut in half to serve 12
3 T. olive oil
6 large portabella mushrooms, stems removed (finely chop 1/2 cup stems and reserve)
1-2 T. red dry wine
2 med. Onions diced
2 cloves garlic minced
2 T. Chopped fresh rosemary or 2 t. dried
1 med. yellow bell pepper, diced (replace with green bell pepper to make it Christmasy!)
1 med. red bell pepper diced
1 T. wine vinegar
salt and pepper to taste
Preheat oven to 350F. In a small bowl mix 2 T. oil and salt and pepper. Rub mushroom caps in mixture. Place on baking sheet and bake for 15 minutes. Set aside. Reduce oven to 300. In a large skillet heat remaining T.'s oil over med-high heat. Add wine onions garlic rosemary. Cook stirring often until onions are soft about 5 mins. Add bell peppers and reserved chopped mushroom stems and cook, stirring often about 5 mins. Stir in vinegar and salt. Reduce heat to low and cook stirring occasionally, 10 mins. Reduce from heat and let cool slightly. Fill mushroom caps with mixture and place on baking sheet. Just before serving bake until heated through about 10 mins.
Recipe from Cissie Adolph M Levin