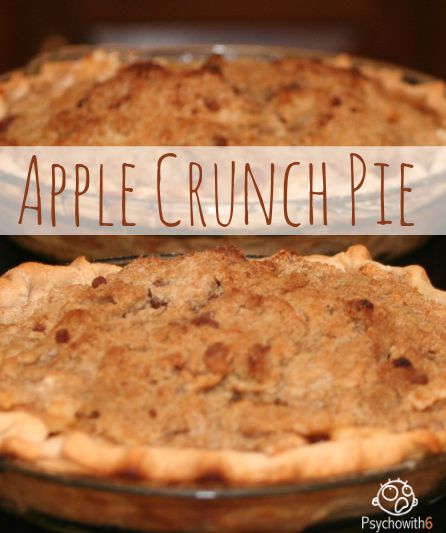 It just isn't f
all for me unless I bake one of my apple pies. I am so in love with this recipe that I cannot tolerate less in an apple pie! In fact, I'm a little arrogant about it. My mother, a superb cook, decided to take me on in a pie contest one year. She didn't use a recipe and I did– the recipe for Apple Crunch Pie I got from Woman's Day magazine. The contest was officially declared a tie. That tells you how good this is!
Before I give you the recipe, let me explain a few things. If you like apple pie and apple crisp, you'll love this recipe. The recipe calls for store-bought refrigerated crust–another reason I love it. But if you're like my mom and prefer to make your own, have at it! There's simply no reason to make one pie, when you can just as easily make two, so the recipe is already doubled for you. The kids helped me make this. They love using my apple peeler and Pampered Chef stand for it. As I was helping t
hem peel, I remembered my dad peeling apples for hours so mom could put them in the freezer to bake with later. This pie is full of meaning! We're eating the first pie with Grandpa tonight, but the second goes to our sweeter-than-pie friend, Pastor Blake, who is doing so well. When I asked Deb if he liked apple pie, he said, "Bring it on!" If he can see this, I hope drooling isn't bad for your heart!
To keep your crust from burning, you can get a pie crust protector like this one from Amazon


You can also make your own like I did by cutting the bottom out of a foil pie pan. Now here's the recipe!
SERVES: 16
2 refrigerated pie crusts
CRUMB TOPPING
1 c. + 4 T. flour
1 c. packed light brown sugar
2/3 c. granulated sugar
2 t. ground cinnamon
2 sticks (1 c.) cold butter or margarine (not spread), cut in small pieces
FILLING
14 med. to lg. apples (about 6.5 lb) such as Granny Smith, Pippins or Greenings
2T. lemon juice
1 c. granulated sugar
6 T. flour
1 tsp. ground cinnamon
1/4 tsp. nutmeg
1. Have ready two 9-in pie plates and a cookie sheet (or two). Place oven rack in lowest position in oven. Heat oven to 450 F.
2. Line pie plate with pie crust according to package directions. Flute or crimp edge.
3. CRUMB TOPPING: Mix flour, sugars & cinnamon in a medium bowl. Cut in butter (or use fingertips) until mixture forms moist, coarse crumbs that clump together easily.
4: FILLING: Peel, halve & core apples. Cut in 1/8-in. thick slices (may use food processor to slice). Put into a large bowl. Toss with lemon juice to coat. Mix remaining ingredients in a small bowl. Sprinkle over apple slices; toss to coat.
5. Layer apple slices in pie shell, mounding them higher in center. pat topping evenly over apples to form a top crust.
6. Place pie on cookie sheet to catch drips. Bake 15 mins. Reduce oven temperature to 350F and bake 45 mins. longer or until a skewer meets some resistance when center of pie is pierced (apples will continue to cook after removed from oven) and topping is golden brown. If topping is browning too quickly, drape a piece of foil over pie. Cool pie completely on wire rack before serving.
If you like this recipe, be sure to follow my Dessert Recipes to Try Board on Pinterest.
Follow Dr. Melanie Wilson @psychowith6's board Dessert Recipes to Try on Pinterest.