I received this product at no charge and was compensated for my time. All opinions are my own. I do not recommend products I would not use or recommend to friends.
I love audiobooks. They are a great way of passing the time whether you are traveling or doing chores. They build vocabulary and reading skills, too. But I've had a hard time finding audiobooks that hold my children's interest.
I have to admit that I was nervous about listening to audio dramas from Heirloom Audio. I thought maybe they were for those homeschooled kids who love listening to anything because their parents won't let them watch TV. That wouldn't be my kids. And I had a real challenge on my hands when I wanted to listen to the first set of CDs called In Freedom's Cause. My 14-year-old son was going to be in the car with me. He gives almost everything low marks. He is like Mikey from the old commercial who shocked his family by liking Life cereal.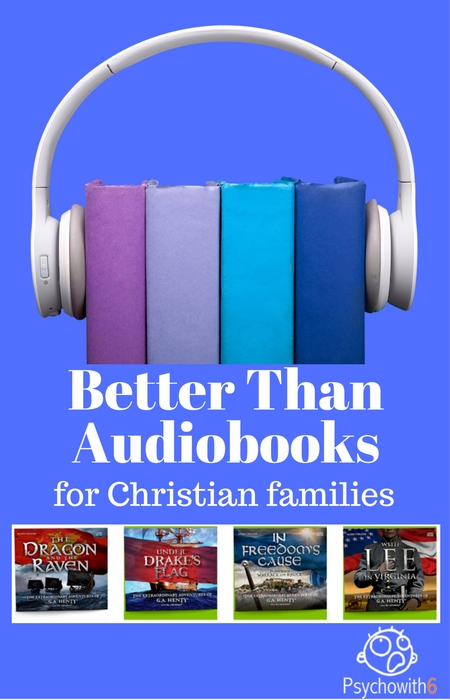 My Family's Reaction to Heirloom Audio
I knew that Heirloom audios were produced by the former writer and director of Adventures in Odyssey. My boys did enjoy those. They listened to them in a CD player in their bedroom at night. I had listened to them with my older boys. My youngest two boys had recently asked me to give away their CD player because they were done with all the audios they had. Adventures in Odyssey definitely appeals to a younger crowd. I was worried that my 14-year-old would be insulted by the audio. "This is for little kids!" I was sure he would say. My planned response was, "Then let your younger brother enjoy it."
I loved the movie Braveheart, the story of William Wallace, but have never considered letting my children watch it. I am not squeamish, but the amount of blood in that movie was much too much for me. I thought it would be great if they could hear the story without the violence. I was in a rush to get on the road, so I popped the CD into our car's player and started listening with the boys. I was shocked both by what I heard and what I didn't hear.
First, I couldn't believe the quality of these audios. I produce a podcast, so I know how challenging good audio is. The musical score was like that of the finest movie you would see in a theater. And no wonder. I later learned that the soundtrack was composed by Emmy-winning composer John Campbell, who also composed the original score for The Chronicles of Narnia. The sound effects communicated the story as well as a movie, but without the visuals. And the acting? Absolutely amazing. I've done some acting and I've given accents a try. I couldn't believe the authenticity of the Scottish accents in In Freedom's Cause. If I had read the actors' credits on the CD cases of all the Heirloom audios before beginning to listen, I wouldn't have been shocked. They include: The Lord of the Rings, Mom's Night Out, Rudy, Fireproof, Star Wars, Tarzan, The Hobbit, and more. Click HERE to hear the actors recording and discussing this audio.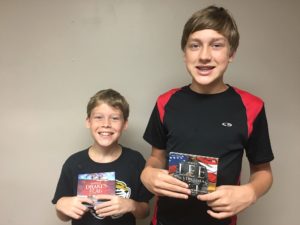 I was also shocked that I didn't hear any complaints from the back seat. In fact, I heard silence until we got back into the car to return home from our visit. "Turn it back on!" my 14-year-old insisted. We didn't finish In Freedom's Cause in one trip, so when only my 14-year-old was going to be traveling with us two days later, he insisted on finishing it, even though my youngest would have to listen separately. For his part, my 10-year-old told me, "You need to give it a good review. It's great!"
After our first trip listening, I told the boys that their father would enjoy the CD. I didn't think about it again until my husband returned from an all-day trip in the car the CD was in. He told me he had turned on the radio and the William Wallace audio had come on. Even though he was in the middle of the story, he told me he was hooked. He listened to the rest. He was thrilled when I told him I had more. "I can't wait to listen to With Lee in Virginia," he told me. I agree. If my kids didn't like these audios, I would listen to them myself.
Why Heirloom Audios are Better Than Audiobooks
So you've gotten the idea that we like Heirloom Audio's dramas. But why do I say they are better than audiobooks?
#1 They are more engaging
The music, the multiple actors, and the quality sound effects capture kids' attention better than standard audiobooks. Kids who don't like traditional audiobooks are likely to love these audios. They appeal to a wider age range. The company says they're appropriate for ages 6 to adult and I agree. I think they will especially appeal to boys, who can be much harder to engage with audiobooks. When you hear the sword being drawn and men in battle, boys in particular will stay with the story.
#2 They teach history
You can certainly find audiobooks that teach history, but I haven't found any of this quality that teach children. I love learning history through biographical stories. That's exactly how Heirloom Audio teaches. The Dragon and the Raven teaches about King Alfred of Wessex. I don't remember who he is, so I need to listen! Under Drake's Flag is about Sir Frances Drake. The Spanish Inquisition will come to life for you and your children.
#3 They inspire faith
Most audiobooks do not have a Christian worldview. Those that do usually don't go beyond "God loves you." In Freedom's Cause dealt with the importance of God's Word in a believer's life, why we shouldn't take revenge, and why bad things happen to good people. I know many adults who could benefit from these lessons. The most powerful way of teaching our children the faith after our own example is through story.

#4 They include study guides
Each audio drama includes a study guide. It was from the study guide for In Freedom's Cause that I learned more about G.A. Henty, who wrote the book about Wallace and Bruce. I also got to see a statue of William Wallace. And I was very impressed with the guide itself. Questions to help your child listen and understand are included. You could take breaks on a long trip to discuss what you've heard or after lunchtime listening session. Excellent discussion questions about faith and character are also included. Even more impressive are the vocabulary word lists, maps, and research assignments that take the learning deeper.
I always think we will do school in the car, especially when we are on a big road trip. These dramas make that possible and without complaints!
Now You Can Save Big on Heirloom Audio
You're going to want to get a copy of all these CDs that are also downloadable, especially with the special offer that's available to my readers. You will get 67% off retail. That's amazing, considering that they are worth every penny of the retail price. I hope you'll order today.
I can't wait to get started on another audio in the car tonight!