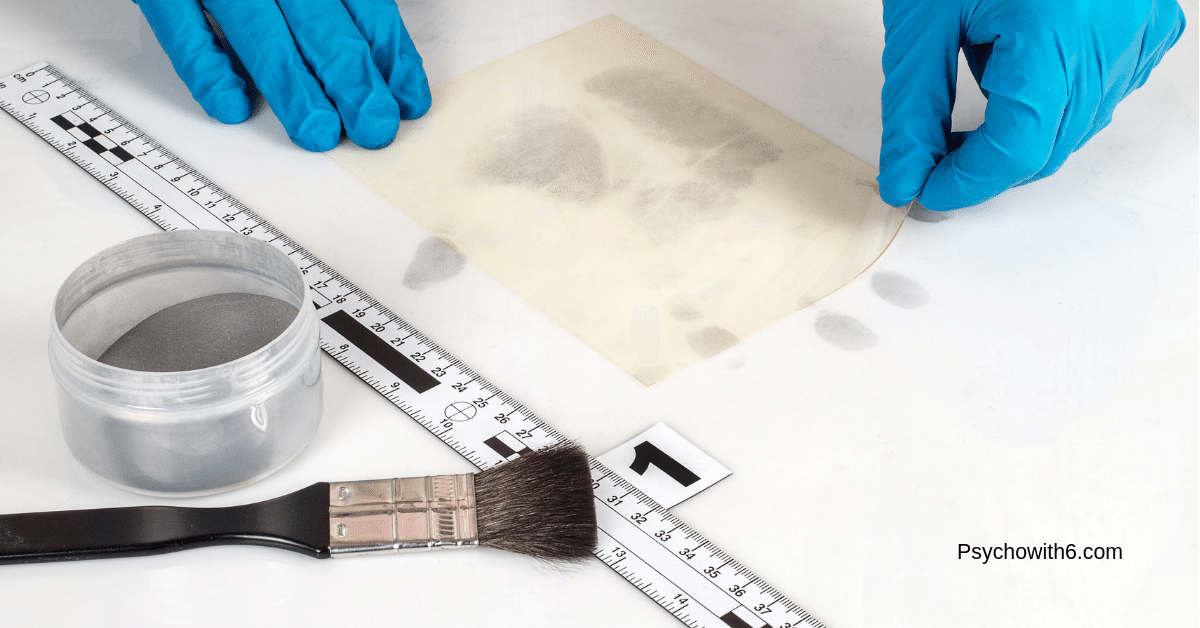 If you are teaching middle or high school students, you know how challenging it can be to engage them in learning. I have written a review of what I think is the best science curriculum for homeschool students of any age. But I wanted an elective science curriculum that would capture the interest of my 13-17-year-olds. I believe I found that in what I'm calling CSI science from Crosscutting Concepts.
I received a discount on the Small Class Edition PLUS Geared for Homeschooling and FACES software in exchange for my honest review. All opinions are my own.

What's Included in the Science Kits from Crosscutting Concepts
The science kits from Crosscutting Concepts help your students solve the Lyle & Louise murder mystery.
The Small Class kit includes units on:
blood spatter analysis
forensic entomology
footprint analysis
blood detection and evidence processing
questioned document analysis
fingerprint analysis
bite marks analysis
glass fragment identification, and
drug testing and analysis
The Small Class PLUS kit also includes units on:
fire debris
gunshot residue
bullet striations
Kits include everything needed for 1-6 students to complete the experiments. Kits are designed for a one-semester class meeting five days a week. The teacher's manual that includes the reading material and lab reports is available as a digital download, making it economical for multiple students.
FACES 3.0 software for Windows allows students to create composite drawings of suspects that can also be used to solve the murder mystery.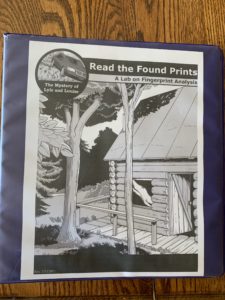 Our Fingerprint Analysis Unit Experience
After initially telling my teens about these forensic science kits and that I wanted to do at least one unit right away, my daughter was relentless in asking me to do it. That. is. crazy. Science or any school my 15-year-old is begging to do? I'm for that!
I printed the digital teacher's manual for the fingerprint analysis unit and my daughter 3-hole punched it and put it in a binder for me. Yes, she was THAT motivated. The boys were curious and didn't complain about starting.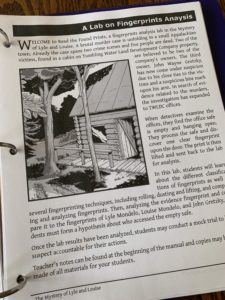 I read them the mystery aloud. By the way, this is a murder involving an unfaithful spouse, so consider your child's maturity and sensitivity with this. There are no sordid details, however.
I also read the history of fingerprinting analysis as well as the scientific material aloud to them, showing them the figures in the text. This material is to be read by students in preparation for class, but I (I mean my daughter) wanted to get the experiments going. It isn't a lot of reading, but some of it is highly technical. In my opinion, those portions would overwhelm the average 5th-6th grader. In fact, Scott Moening (owner of Crosscutting Concepts) tells me the same materials are used in college classes.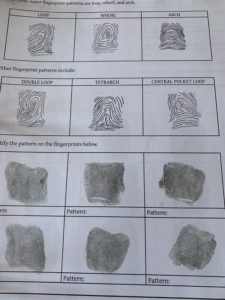 Discussion questions and lab sheets checked for comprehension. My kids did okay with identifying fingerprint patterns, but I found it challenging. Visual-spatial skills aren't my strength. I'm a verbal girl.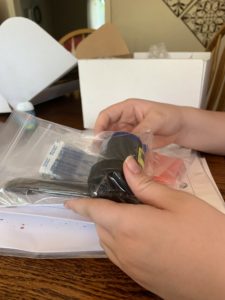 We took our fingerprints. I loved that the ink pad for this was included. Lab sheets are digital, so you can make as many copies as you need. But I will say my kids were not good at the fingerprinting technique. The lab sheets (had we completed them as written) would have taken a loooong time to complete. We completed them as a group effort.
We analyzed our fingerprints. We found it challenging to do this well. I wished there were an expert at hand to tell us what we were seeing. We were supposed to do a time-consuming numerical computation on our prints as well, which we honestly did not do. For me, it was like being asked to do long division with a calculator at hand. The numerical computation is the old-school approach. However, I was glad to have the history and the information about how it was done. It made the unit feel very meaty and thorough.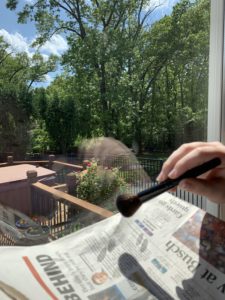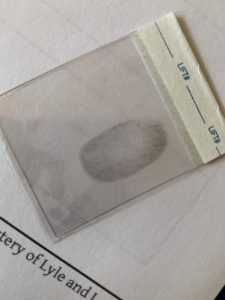 We lifted our fingerprints. We learned about how forensic experts extract fingerprints and this was the most interesting part for me. We added our prints to my picture window intentionally, but this honestly wasn't necessary. There are ALWAYS prints on my window, even now that I don't have toddlers. Come to think of it, I need to lift the prints next time to see who the culprit is! You can see the prints reflected on the newspaper on the left. We used dusting powder and hinged adhesive (included) to pull the prints from the window.
The class nature of the kit allows for some fun activities of matching prints to people. In the interest of time, we did not do this.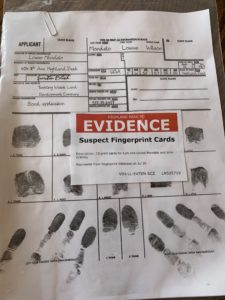 Finally, we used what we learned to evaluate the fingerprints obtained in the murder mystery. I won't tell you what we determined. 🙂 Depending on what experiments we were doing going forward, the teacher's guide suggests holding a mock trial in which the evidence is presented. We are not doing our regular co-op next year, but a mock trial would have been a blast with a group.
Our FACES Software Experience
I did not realize that the FACES composite drawing software is also used to solve the murder mystery until I printed the teacher's guide. It is another week-long unit to use with the kit.
The version I have is for Windows. The program allows you to choose various facial features such as head shape, chin shape, nose type, wrinkles, scars, tattoos, and more. Everything can be resized. It's the same type of software used by police to create a drawing of suspects.
We played a game with FACES. I used the software with my daughter–you know, the excited one. 🙂 We did the easiest level with it. We were shown a composite drawing for a few seconds and were then asked to recreate it using just a few options. In other words, just a few types of eyes and chins were given as options, making it much easier to recreate the drawing. We were given a score, and working together we did very well. This was fun and something I can see my kids spending time improving in. It requires both attention and an artist's eye to do well.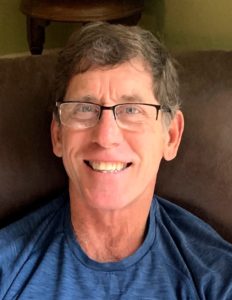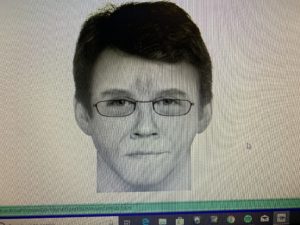 We drew my husband with FACES. With all the facial feature options available to us, and even having my husband and his picture available, it was challenging to make the composite look a lot like him. We enjoyed working on it, though, and the software is easy to use. In fact, it's fairly addictive. I kept saying we were done, but then I'd try again. If I didn't have to finish this review, I'd be playing with it some more. 🙂
We did not complete the FACES unit. There is an entire teaching unit that goes along with the software that will be a lot of fun to do with my kids in the fall.
What I love about Crosscutting Concepts CSI Science for My Homeschooled Middle and High School Students
I'm interested in these forensic science kits. I was almost as excited to work with the kits as my daughter. When I'm interested, school gets done.
My kids are interested in learning forensic science. None of my kids complained about using these kits. That is HUGE.
Everything you need is there. I can't stand hunting around for science supplies when I'm ready to get school done.
It's story-based. Each set of experiments is connected to one murder mystery involving Lyle and Louise. As the author of a story-based language arts curriculum, I know how powerful that is in aiding learning.
It's a unit study. I've always loved unit studies for gaining students' interest, but many them are only suited for elementary students. These kits teach math, biology, chemistry, physics, genetics, entymology, history, art, and more in one fascinating set of units.
It has real-world application. Your kids cannot say that you're teaching useless information. They'll know more about crime investigations they hear about on the news. Using FACES software, they can learn to pay attention to detail and improve art skills. They can even create a composite drawing of a crime suspect at home! Finally, they might discover a new career path.
Crosscutting Concepts Forensic Science Kits Are Best Suited for:
Advanced middle schoolers and high schoolers on grade level
Reluctant and other students who are interested in crime scene investigation
Families with more than one student or homeschool co-ops
Teachers who are willing to do the experiments with students, instead of having students work independently
Families who can commit to doing experiments several times a week.
Families who can afford a higher-end science kit. Use code HOMESCHOOLSANITY for 10% off and free shipping. You can also purchase individual kits.
Conclusion
I love this curriculum. I feel that completing most of the material with my three kids will make for a fun, educational homeschool year. Hover over the products link at Crosscutting Concepts to find the kits best suited to your family. You can also contact the company on Facebook and Instagram if you have questions.