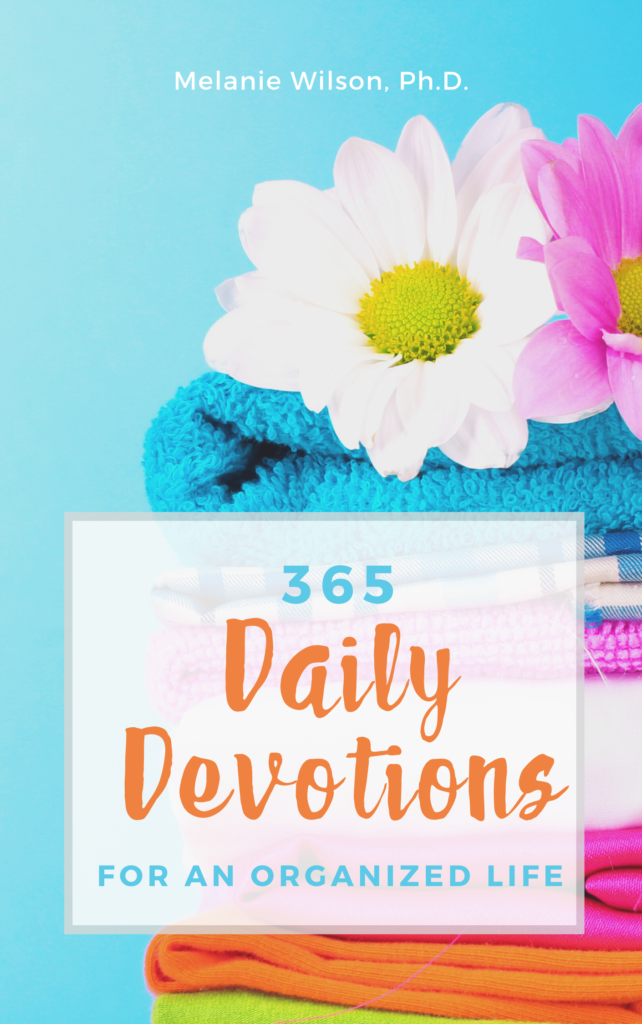 I went from being a messy mom with musty laundry, missed appointments, and no idea what was for dinner to a homeschooling mother of six who authored The Organized Homeschool Life book and planner as well as A Year of Living Productively. My transformation involved the principles taught by FLYLady and many productivity teachers. But the glory belongs to God alone.
As a clinical psychologist, I know that most organizing plans and programs will work if someone is motivated. The trouble is that motivation wanes after the initial excitement of starting a new plan. I had a woman call me to ask what book she had purchased from me months before at a Great Homeschool Convention. It was The Organized Homeschool Life. We both laughed.
I want to help women maintain their motivation for organizing because I know the peace and joy that are available when we establish the habit of organizing. To that end, I am writing devotions for an organized life. They will include a tiny organizing task to complete each day. When published, there will be a devotion for each day of the year. But for my own accountability and your benefit until then, I will publish a devotion here and to my subscribers each Friday. Click here to subscribe to the Psychowith6 newsletter to receive your weekly devotion.
I pray the devotions are a blessing to you! I would love to hear how your organizing journey is progressing. Join us in The Organized Homeschool Life group on Facebook or follow me on Instagram for organizing inspiration.
---
All scripture is breathed out by God and profitable for teaching, for reproof, for correction, and for training in righteousness, that the man of god may be competent, equipped for every good work.
2 Timothy 3:16-17
I had read a number of books I hoped would help me get my act together. But I had never read the entire Bible. I didn't even think that was advisable! To me, the Bible was a reference book. You looked up the verses you needed and back on the shelf it went.

That is until I heard Becky Tirabassi speak. She gave a full-day seminar on changing your life as part of a Women of Faith conference. Becky shared how God had lovingly and dramatically delivered her from alcoholism. After she came to know Jesus, she committed herself to what she called "an appointment with the King" each day.

Her daily appointments with God included reading enough of the book He had written that she would finish the entire Bible in a year. I didn't know what that entailed, but I knew I wanted to change my life. I stood up when she asked who was committed to having an appointment with the King each day.

There were challenging days of reading ahead, like the day I gave birth to a nine-and-half-pound baby and could barely keep my eyes open. But I persevered, spending an average of just 12 minutes a day reading the Bible.

A year later I had read the entire Bible and could honestly testify that my life was changed. I still needed help in the organizing department, but I knew that God loved me. And I knew there was hope for a messy woman like me.
TINY TASK: Commit to having an appointment with the King each day. Choose a Bible or Bible reading plan that will allow you to read the entire Bible in one to three years.