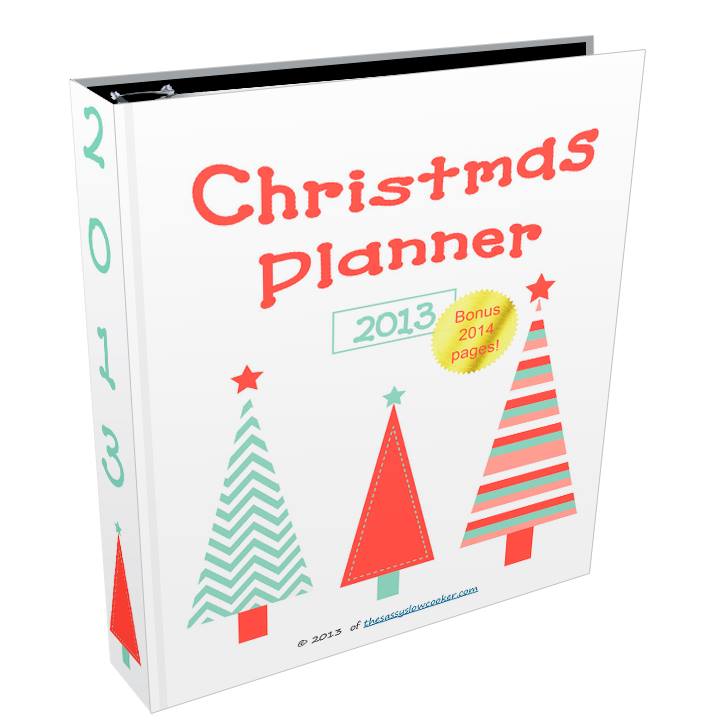 I'm all about saner living, especially at Christmas time.
Too often, the season that should be the most peaceful and joyful can become stressful and unhappy. One reason we may experience less than the best at Christmas is because we don't treat the holiday like the project it is. With cooking, cleaning, decorating, entertaining, church activities, gift making or buying, budgeting, work parties, and travel, it's easy to see how we can become overwhelmed.
I have discovered some time savers for this time of year, including Send Out Cards and the mGifts iPhone app.  But I have not thought of Christmas as one big project before now.
When I was given the opportunity to review The Simple Christmas Countdown Planner from The Sassy Slowcooker, I realized that I was not only making Christmas more stressful, but I was missing out on some of the  possibilities the season offers. Here's why.
The Christmas Countdown Planner offers some forms you would expect to make this project manageable– like Christmas card and gift lists. But it offers a lot more! There are spaces for tracking decorations needed, favorite traditions, and cleaning chores to be done. Using this planner can help me pick up some end-of-the-season bargains on decorations, help me delegate chores to the kids, and can ensure that we do the things that are most important to us this Christmas.
My favorite form is the daily list that will help me stay focused on the reason for the season. I love that it includes a gratitude reminder, prayer requests, a memory verse, a to-do list, cleaning tasks, and a menu. I could use this form all year!
There are also page dividers for storing favorite recipes and family devotions. (Click here for a list of all the forms that are part of the planner.) Why didn't I think of keeping all of these things in one place? Because I wasn't thinking of Christmas as a project.
You could absolutely create your own Christmas planner, but why take the time when this planner is so cute, thorough, and ready to download now? For just $3.99, you'll be organized for a saner Christmas this year and next.
P.S. It's not accidental that I'm writing about this planner now. Get a head start on Christmas today!