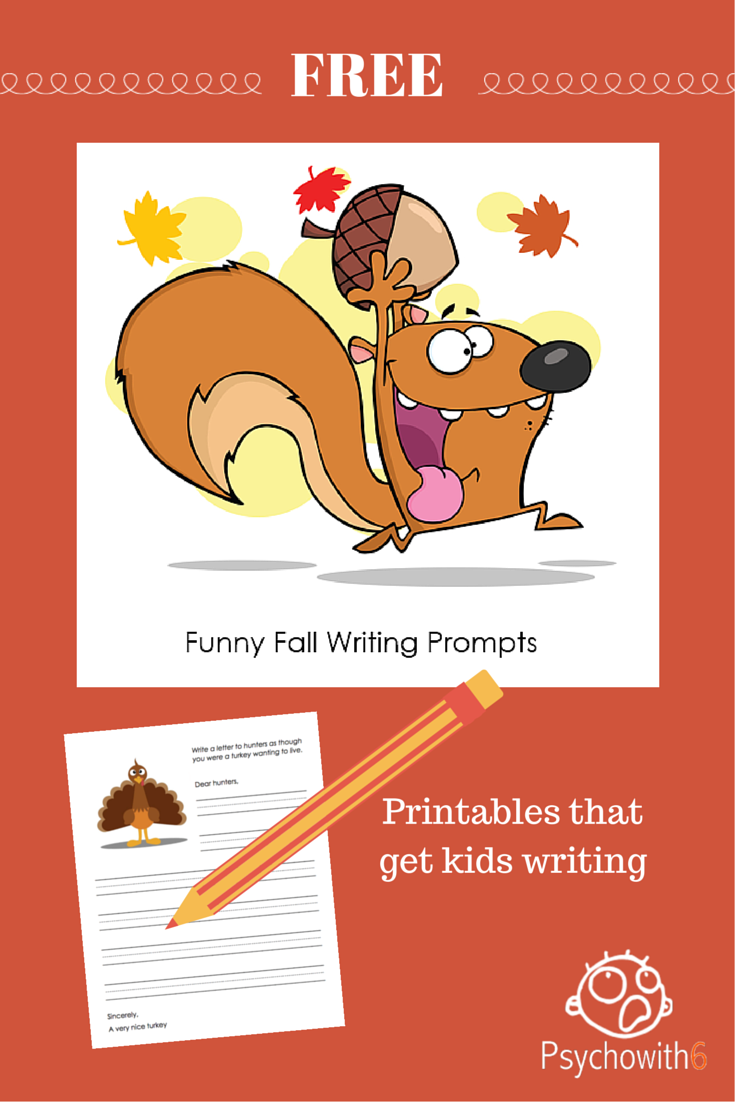 Have you ever asked your kids to write and heard groans in response? I have! That is until I started encouraging my kids to write funny stuff. Suddenly writing was fun!
Humorous writing not only motivates reluctant writers, but aids memory and learning. Kids (and adults) remember funny material better.
You can get the printable prompts here. SUBSCRIBERS>>> You'll find your copy in the Subscriber Freebies Folder linked at the bottom of your email.
How to Get Your Kids Writing Funny
You know what I mean. 🙂
The first step is to give your kids permission to use humor. Even the blandest writing prompts can be hilarious when young writers feel free to let their funny creative juices flow.
The second step is to give them prompts that are related to what is going on with them. I did my master's thesis in psychology on humor and learned the obvious: relatable humor is funny! Depressed people will laugh at depression jokes, for example. So give the kids writing prompts about fall in the fall! Can't come up with anything? No worries! I've got you covered. You can either use the writing prompts that follow in your homeschool or classroom verbally or you can use the colorful printables with handwriting lines available to subscribers.
The third step is to be flexible with the form of writing. Allow your students to dictate their writing or type it depending on their level. By the way, I don't think there's an age range for these prompts.
Funny Fall Writing Prompts
If I were a leaf, I would like to fall on_____________because________________.
Jack Frost is a mythical character who is said to create the frost we see on windows. Name and describe a character who is responsible for leaves changing color in the fall.
Write a letter to the editor of a newspaper from Johnny Appleseed, admitting that you didn't exactly plant all the apple trees, even though that's what everyone says.
Write a paper to convince people that your favorite kind of apple is the best.
Write a story about a squirrel who thought it was spring when it was fall.
Write about what happened when a horse who was allergic to hay pulled a wagon for a hay ride.
Create a recipe that includes pumpkin that really shouldn't include it.
If you were a talking jack-o-lantern, what would you say?
Write a poem about fall the way Eeyore of Winnie-the-Pooh would write it (it doesn't have to rhyme).
Write a poem about fall the way Tigger of Winnie-the-Pooh would write it.
Write a letter to hunters as though you were a turkey wanting to live.
If you served all of your favorite foods for Thanksgiving, what would be on the menu?
Download Your Free Funny Fall Writing Prompts Printables
Can you say that subtitle three times fast? 😉 In the PDF, I share more tips for encouraging your kids to write humorous material. You'll get a printable page for hand-written work for each prompt. You'll also automatically receive the winter, spring, and summer versions. If you hate getting email, know that once you subscribe, you can change your preferences to Freebies Only. You'll only be notified when a post describes a new subscriber freebie, which you'll automatically have access to.
Click the turkey image below, add your email, and the download will automatically arrive. By the way, if you like this material, I would love for you to share it with other teachers and parents you know.