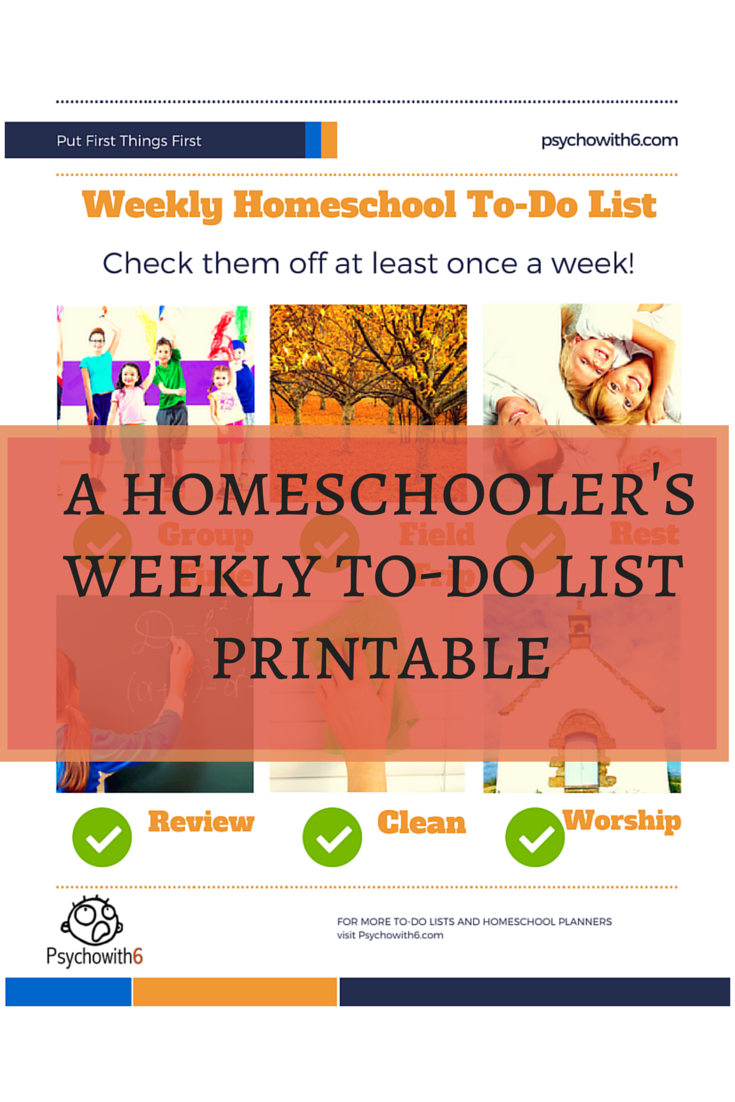 I shared a daily to-do list for homeschoolers, but that doesn't cover everything we should be doing, does it? This weekly list is a great goal for six other tasks. If you'd like a free printable copy, click the orange button below to subscribe to Psychowith6 and you'll receive it in your inbox lickety split! Current subscribers can find it in the folder linked at the bottom of your Psychowith6 email.
Click Here to Get the FREE Printable
Add your printable to your homeschool binder in a page protector, laminate it, or frame it and you can use it every week with a dry erase marker. It's a great reminder for me and I hope it is for you! Note that this is a PDF as pictured above and is not editable. If you want a to-do list that you can create yourself, check out the Homeschool Record Form or the Quarterly Checklist.
#1 Group Time
I admit that I once thought homeschoolers couldn't possibly get enough social time. How wrong I was. But it's a vital part of our homeschool to get together with other homeschoolers for co-ops and classes. We've also enjoyed having the kids participate in other sports and activities that aren't just for homeschoolers. I don't have to worry about forgetting this task. My kids insist upon group time!
#2 Field Trip
While we don't go on a formal field trip every week, I do aspire to regularly take the kids out where they can learn and explore. Nature walks, parks, museums, and even the grocery store can work. Ask questions of the different workers you come into contact with. We've learned so much from just doing that!
#3 Rest
Some of you laughed when you read my suggestions of group time and field trips, because all you do is go, go, go! But homeschoolers need a day of rest, too. Sunday is our day, but we all have different schedules. Allowing everyone to relax and do what interests them with no schedule is so important physically, emotionally, and spiritually.
#4 Review
I believe it's so important to review what we've learned–not through formal testing–but by discussing it and answering verbal questions, especially when kids are younger. I haven't done a great job with this and that's a shame, because review reminds mom how much she has actually accomplished and helps move information into long-term memory. Every day, write a couple of questions on notecards based on what you've learned and play a little Jeopardy game at the end of the week. It could be everyone's favorite time. That's my goal.
#5 Clean
If we didn't clean up twice a day, our house would be condemned in no time. But we still need time for more time-consuming tasks like dusting, vacuuming, and laundry. Build time for this more concentrated cleaning into your school schedule so you won't be stressed. I assign various tasks based on the kids' ages. We have been doing a little of these throughout the week for years, but we are going to try to knock these chores out on one day. We'll see how it goes.
#6 Worship
We see our worship as part of our homeschool. We all learn something in Bible class and from sermons, even though we study in depth as part of our studies. Church is something we don't want to miss! But when illness strikes, my husband will often read and discuss the Bible with us. I have some Bible study DVDs that I would love for us to watch together as well. We haven't made the time for them, so that's a goal, too.
How about you? What goes on your weekly to-do list? Let's chat at Homeschool Sanity on Facebook or on Periscope.