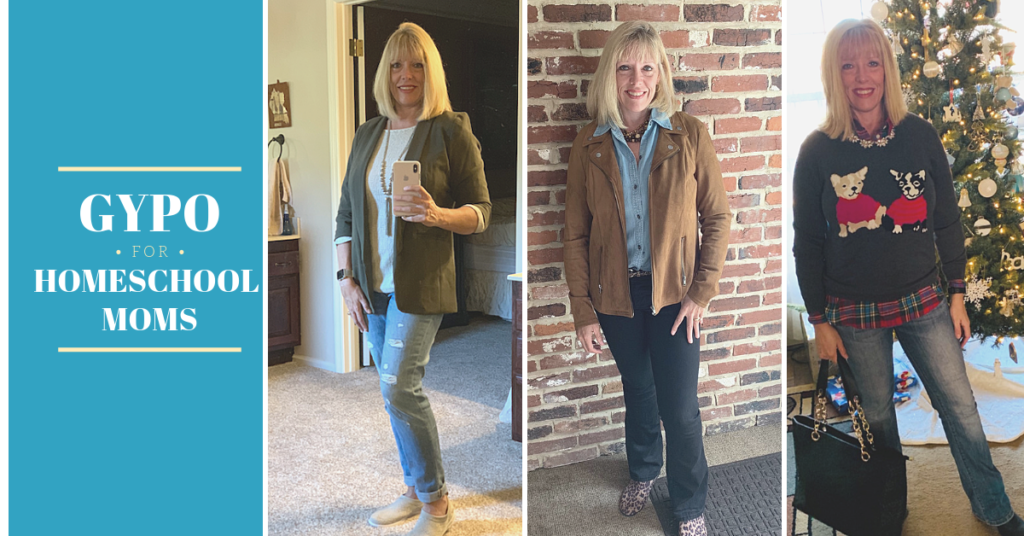 When I first became a stay-at-home mom, I lived in sweats and PJs. Until I discovered FLYLady, I didn't realize that my wardrobe was having a major impact on my productivity and self-esteem. With FLYLady's help, getting dressed to shoes became a part of my morning routine. But even though I found the key to organizing my homeschool life in routines and 15-minute missions, I quit dressing for homeschool success. My homeschool mom fashion formula was yoga pants and workout tops. Disastrous? Hardly. But when I began wearing pretty clothes again last fall because of Get Your Pretty On (GYPO), many areas of my life improved, including homeschooling. Here's how it can make a difference in your life too.
Listen to my interview with GYPO founder Allison Lumbatis
What Get Your Pretty On (GYPO) Is
GYPO is like a wardrobe menu planning service. You receive a shopping list of wardrobe pieces, not the clothing itself. There are lists of basics for stay-at-home moms and seasonal lists with trendier pieces added to the basics. With the shopping list, you are given a month's worth of outfits that can be put together from the list. Here's why I think you'll love Get Your Pretty On as a homeschooling mom.
Get Your Pretty On (aka GYPO) can make you feel pretty.
Before GYPO, I saved my nice clothes for special occasions like I saved my "good dishes." I figured it didn't matter. I'm a homeschool mom after all. But then I tried GYPO when I saw a friend doing it on Instagram. One morning I awoke feeling very low in energy. I put on my outfit of the day and suddenly I felt great!
Recently, a male friend of ours was over and asked where I was going looking so nice. My husband said, "She looks like that every day," and I couldn't argue with him. Wearing outfits that are flattering makes me feel pretty, confident, and energized and I want every homeschool mom to feel this way.
GYPO saves you money.
Before GYPO, I bought all kinds of trendy pieces that didn't go with anything I had. I still felt like I had "nothing to wear," so I was likely to shop for more. Now I shop for just a few new seasonal items that mix and match with the basics I already own. Knowing exactly what to buy is like shopping from a grocery list; you buy less! You'll discover a number of great pieces in your closet that will work with your wardrobe, and you'll finally know how to wear them. If you love shopping the thrift stores, GYPO is the list that will narrow your search. GYPO has given me a new passion for thrifting. My favorite find was a new-with-tags $165 dress for $5.
GYPO also saves you time.
Homeschooling moms are busy. With GYPO I don't have to figure out what to wear every day because I have a calendar of outfits. I was amazed by how easy it was to pack for overnight trips when my outfits had already been planned for me. It's so much quicker to choose items to give away, too. You know they don't look as good as your GYPO wardrobe pieces and they don't go with anything!
GYPO builds friendships.
When you purchase a wardrobe capsule, you are given access to a private Facebook group. Women (many of them homeschooling moms) share pictures of their outfits of the day there. There are women of all ages, shapes, and sizes, and they're all so nice. Members share about their personal lives and give style and shopping advice. I'm very picky about Facebook groups because I can't stand drama. The GYPO group I was in was wonderful and I think I know why. The creator of GYPO, Alison Lumbatis, is a member of the group and is humble, genuine, and loves to encourage women. Be sure to listen to my interview with her.
GYPO is good self-care.
I have told my husband and kids numerous times that dressing in my GYPO outfits makes me happy. They know it does. And as I've said before, our husbands and kids want us to be happy more than anything. When we're happy, we are better wives, mothers, and teachers. Taking care of our appearance often leads women to eat better, exercise, address depression, and work toward meaningful goals. We also model a healthy approach to parenting for our daughters when we make our personal needs a priority.
A bonus reason to dress in pretty clothes is you don't have to panic that the UPS guy will see you in your pajamas at 3 p.m. You'll be ready for anything!
Find the latest capsule wardrobes here. I would love to have you join me in dressing for homeschool success. Have questions about GYPO? Comment below and I'm happy to respond.