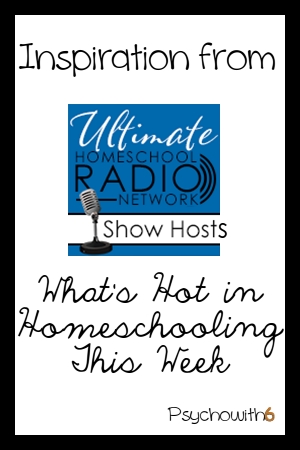 This week, in honor of the first episode of the Homeschool Sanity Show on the Ultimate Homeschool Radio Network, I thought I would feature encouraging posts from some of the other hosts. I figured October's about right for some encouragement! Note that some shows may not begin until later this fall or next year, but it's a great time to bookmark or subscribe for later!
Hope When You Feel Like a Homeschool Failure
Hal and Melanie Young host the Making Biblical Family Life Practical podcast. Most homeschooling parents have times like these and the Youngs have some encouragement.
Answering the Call to Homeschool
Reading Wendy Woerner's story will renew your commitment to homeschooling. Wendy will be hosting the Culinary Cohorts podcast.
Homeschooling Through Seasons of Sleeplessness
Carlie Kercheval provides encouragement and tips for dealing with a fact of life for most homeschool moms. I would have loved this article when I had babies who weren't sleeping through the night. She and her husband Michael are the hosts of Learning to Speak Life.
Homeschooling Through the Baby Days
Katie Horner, expectant mother and host of a Spanish homeschooling podcast, has put together a fantastic list of posts on homeschooling through every baby stage, including sleeplessness.
I love Kendra Fletcher's premise here. There is a certain kind of book that can drive us crazy. Kendra and her husband, Andy, host Homeschooling in Real Life.
A Family Rhythm for Functioning Faithfully
Jen Reyneri, host of Destination: Inspiration, shares her perspective on scheduling and a review of a program that has helped her and her children mange their day.
Raising Great Communicators the Co-op Way
I share Pat Wesolowski's enthusiasm for teaching kids speaking skills in a co-op setting. Pat is the host of Homeschooling Co-op Style.
If you'd like to keep up with more great articles from these hosts and more, be sure to follow the Homeschool Sanity Show and the Ultimate Homeschool Radio Network boards on Pinterest.