Regardless of your opinion of the election results, you've no doubt had some conversation about it. Perhaps, like me, you've also considered what to say to your children about these events. Or even more, what you should have said to them before these events. These are lessons I want to teach my children. I think they are lessons that every Christian homeschooler should teach, regardless of poltical leanings.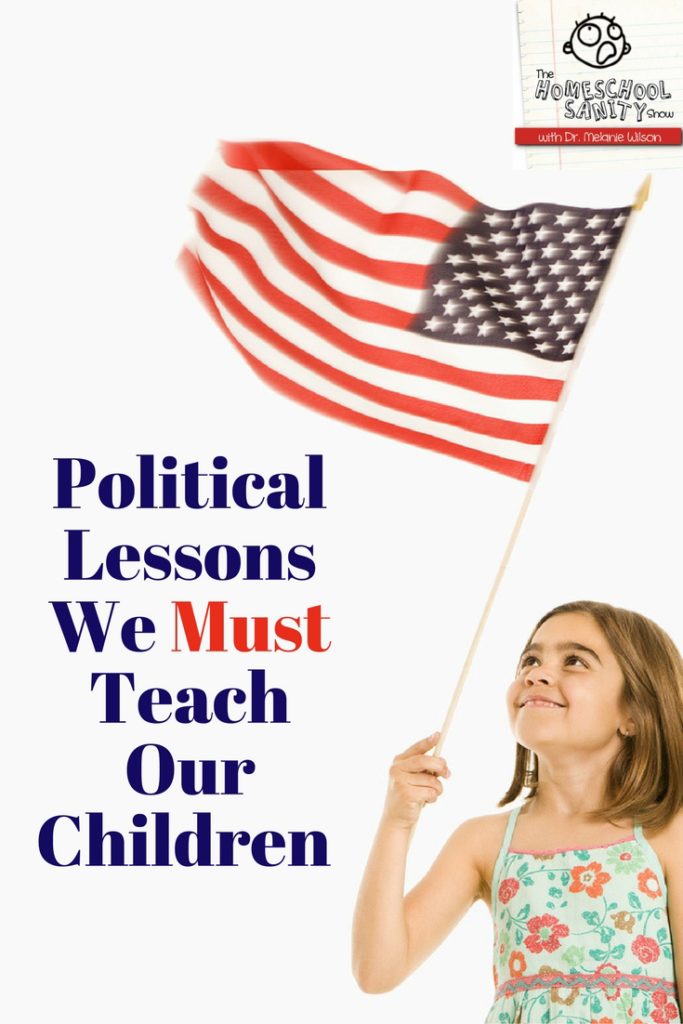 The first political lesson we must teach our children is that conflict like we have had recently is nothing new.
It's not the worst conflict in history. It's not even the worst conflict in our country. It's easy to feel like things are so bad, like they're so out-of-control when you aren't keeping them in a historical context. The United States was deeply divided over allegiance to England. It was deeply divided over states' rights, so much so that some consider the Constitution a miracle. I know I do. It was so divided over slavery and regional differences that family members were willing to fight and kill each other in the Civil War. The 1960s and 70s were rife with civil rights and anti-war protests. Here is a long list of protests and riots that have occurred in the United States over the decades. Your students will be convinced that what we are experiencing in our country today is nothing new.
It's important that our children understand that recent events are no reason to fear, nor or they a reason to give up hope for our country. The truth is there are many areas in which America has come a long way.
The second political lesson we must teach our children is that politics is a worldly weapon.
I love the New Living Translation of 2 Corinthians 10:4 which reads, We use God's mighty weapons, not worldly weapons, to knock down the strongholds of human reasoning and to destroy false arguments. Worldly weapons are debates, rhetoric, social media campaigns, and elections. As Christians, we still use worldly weapons. In the United States, we have freedoms that have come at a very high price. Not to exercise the freedom to vote, for example, is not expressing gratitude for the sacrifices that have been made. We have the right to participate in every aspect of the political process. We can campaign for our candidate. We can share videos that argue our view. We can even protest. But that's not where we put our hope. We don't have our hope in a democratic republic. We don't lose hope when our candidate doesn't win. We don't suddenly have faith in our country when our candidate does win. No matter who are leaders are, God is in control. The English Standard Version of Proverbs 21:1 says, "The king's heart is a stream of water in the hand of the Lord; he turns it wherever he will."
Because God is in control, we ought to go to Him first with our needs and concerns. We use His weapons which are detailed for us in Ephesians 6: 14-18. It reads, "Stand therefore, having fastened on the belt of truth, and having put on the breastplate of righteousness, and, as shoes for your feet, having put on the readiness given by the gospel of peace. In all circumstances take up the shield of faith, with which you can extinguish all the flaming darts of the evil one; and take the helmet of salvation, and the sword of the Spirit, which is the word of God, praying at all times in the Spirit, with all prayer and supplication. To that end, keep alert with all perseverance, making supplication for all the saints,
No matter what the political issue, we want our children to seek truth, righteousness, peace, faith, the mind of Christ, God's Word, and prayer. These are mighty political weapons.
The third political lesson we must teach our children is to look for logical fallacies.
These are errors in reasoning that we or our political opponents may make. As much as possible we want our children to avoid making these errors. We also want them to be able to recognize them in others' arguments. For example, the slippery slope argues that one small step in a direction will necessarily lead to a more drastic decision. For example, requiring a background check to buy a gun will lead to the banning of all guns. An ad hominem argument is an attack of the person rather than his or argument. A person's prior immoral act does not make every stance of a candidate invalid, for example. A red herring is an argument unrelated to the issue. For example, discussing China's environmental policy is not related to what the United State's should be. A straw man argument is when an opponent's argument is stated in such a way as it is easy to tear down. For example, people who are concerned with terrorists immigrating here are xenophobic and xenophobia shouldn't be tolerated. There are excellent books and curricula we can use to make sure are children recognize logical fallacies. Here is Cathy Duffy's list of logic and critical thinking curricula.
The fourth political lesson we must teach our children is that statistics can be used to support any argument.
Statistics aren't facts. I studied statistics for longer than I ever wanted to, but I'm glad to understand some of the difficulties in interpreting them. Hard science data like weight and temperature can be flawed. What instruments were used? Were they used in every measurement with the same conditions? Could there have been user or measurement error? When it comes to measuring human behavior or attitudes, the potential for error skyrockets. People often don't do what they say they've done or what they say they will do. Questions can be written or stated in a leading way.
A second major problem with statistics is that correlation is often confused with causation. I discussed right-to-work laws with someone who knew more about them than I do. And in case you have a strong opinion either way, let me just say that I have not yet decided what I think about it. The person I talked with told me that states with right-to-work laws have lower wages than states without those laws. Thus, right-to-work laws lower wages. So I did some investigating and discovered that more states with right-to-work laws are in the South where wages are already lower. This may be a case where correlation (the association of one variable with another) does not mean one variable causes another. Or that could in fact be happening over and above the lower wage levels that already existed. There are statistical calculations that can take that into account. But often the side making the argument won't use statistics that don't make the strongest argument for them.
Until your children are old enough to study statistics in depth, it's important for them to know that statistics are complicated. They may or may not be facts that support one side of an argument.
The fifth political lesson we must teach our children is that every argument has two sides.
I think one of the best ways to teach this is to teach your children how to debate. Even if they don't participate on a debate team, they can debate someone in co-op or even in their own family. The most learning happens when you are required to debate in favor of the opposite view that you hold. I've served as a debate coach many times and looking beyond debater skills, I've found myself very confused about which side is truly right. That's what happens when you look at both sides of an issue.
Beyond debate, I think it's important to talk to people affected by the issue at hand. It's easy to say that a program should be eliminated if you don't benefit from it. But after talking with someone who relies on it, you may change your mind. Just as with statistics, political issues are usually a lot more complex than what mainstream media make them out to be. If you as a parent have the opportunity to talk with different parties in a contentious political issue, do it. Unfortunately, you may end up more confused than ever. But at least you won't have an uninformed view.
The final lesson I think we have to teach our children with respect to politics is the benefits and responsibilities of nonviolent resistance.
There have been times and will be times when we object to something so strongly that we have to take a stand. We must protest and resist a policy or a law. These protests can make positive changes. They have throughout history. But we must resist nonviolently. Our actions must always be motivated out of love. 1 Corinthians 13: 1 says, "If I speak in the tongues of men or of angels, but do not have love, I am only a resounding gong or a clanging cymbal." No matter how well spoken our children are, if they protest to make themselves look good, to gain power, or to get revenge, they're just making a lot of noise. Resistance must always be motivated from love and it must always be nonviolent.
The list of examples we have of nonviolence resistance is long and prestigious:
Jesus
The Apostles
The early church
Luther
The Pilgrims
Ghandi
Martin Luther King Jr.
We have the right to resist immoral or unjust laws and practices. We can see immense positive change as a result. But we also have the responsibility to do so accepting the legal consequences. Did Daniel pitch a fit about being thrown to the lions' den? No. He had violated the law of the land and he knew it. He had to rely on God to save him. We and our children must do likewise. We have to know that when we choose to protest something that there may be negative effects. We must face them without complaint, relying on God to save us or not as He deems fit.
That's an advanced lesson, isn't it? But we are told not to worry about what we will say in that situation. The Holy Spirit will speak through us. He will speak through our children.
Which of these political lessons do you think is most important? Let's talk about it on Homeschool Sanity on Facebook.