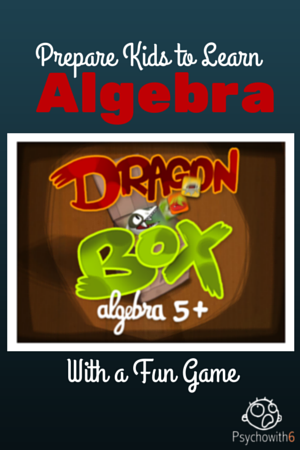 I received a copy of DragonBox Algebra 5+ for free and was compensated for my time. All opinions are my own.
Algebra. It's a word that strikes terror into the hearts of math-phobic homeschool moms everywhere. But it doesn't have to.
I'll admit that I like algebra. It's like solving puzzles. Now geometry is another story! But when I heard about DragonBox Algebra 5+, I was intrigued. I wondered how algebra could be turned into a game that my 9-year-old would enjoy. When we memorized geometry formulas for Classical Conversations last year, he looked at me like I was crazy. How could letters mean math? Right. Much of algebra requires abstract thinking which elementary students, as a rule, don't have. But DragonBox gets around that significant obstacle with gamification.
How DragonBox Turns Algebra into a Fun Game
In order to explain the game, I have to refer to an algebraic principle. I know I'm in danger of losing some of you right now, but bear with me. Solving equations for a missing number often relies on performing the same arithmetic on both sides of an equal sign. To this end, negative numbers (or negative variables in the form of letters) are used to cancel out positive numbers (and vice versa). The end result should be the solution for the missing number (often referred to as x). Are you still with me?
Even if that was gobbledygook, the game introduces kids to this means of balancing equations, which is a critical skill in algebra. Beginning with pictures in "equations," DragonBox eventually substitutes traditional numbers and symbols. This video will give you an idea of the enticing interface.
How My Homeschooled 3rd Grader Liked This Unique Math App
I've got to be honest and tell you my son thought it was a weird game. You know, where are the monsters you shoot at? This one has those pesky letters acting like numbers again. But he was quickly drawn into the game. He was especially taken in by the stars and levels.
He liked it enough to play it on his iPod. I didn't even know it worked on iPods, but apparently it does!
The most interesting reaction to the game wasn't from him, but from my 12-year-old. He couldn't keep his hands off it! He is using Life of Fred Pre-Algebra, so has a much better grasp of the point of the game than my 9-year-old. But that leads me to offer these:
Tips for Making the Most of Your DragonBox Algebra 5+ App
Allow your older children to play the game, too. It will keep it from seeming like a "school app" that your child is required to play.
Play the game with your child–especially if you're not an algebra pro. You may find that your math anxiety disappears! The added benefit will be motivating your child to play.
Treat playing like a privilege. If you don't allow your child to play until their other math work is complete, your student will view the game as the fun break it really is.
How to Get Your Own Copy of DragonBox Algebra 5+
If you're ready to prepare your student for algebra, you can purchase the app on iTunes or for Android for $4.99. It's also available for both Windows and Mac computers.
Finally, you can enter to win a copy! 100 fortunate winners will receive one of apps from We Want to Know.
Make sure to enter and follow them on Facebook, Twitter, and YouTube where there are more videos about their array of fun apps.
Do you think this fun game could prepare your child (and you?) for algebra?