Description
The Organized Homeschool Life is a practical guide for achieving homeschool success, even if you're not naturally organized. As you complete the weekly challenges, you will save time and money so you can enjoy teaching your children.
The Organized Homeschool Life provides you with:
-Short, daily missions that don't feel like a burden
-Help with creating systems that will get and keep you organized
-Practical suggestions for building stronger relationships with the Lord, family, and friends
-Reminders to prepare for holidays, celebrations, and homeschool tasks at just the right time
-Organizing ideas for all the areas of your life: church, hobbies, business, & more
You'll also receive:
-Printables needed to complete a variety of missions
-Checklists of each step
BONUS WITH PURCHASE FROM PSYCHOWITH6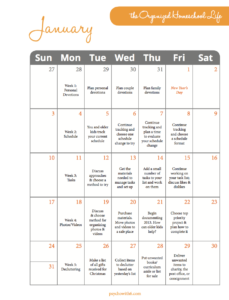 -A 2018 calendar with daily missions
"Melanie has adapted the FLYLady system for her homeschool and family. She's created habits and routines that allow her to be the less-stressed, confident mother and teacher she dreamed of being. Now she is blessing other homeschoolers with the peace she found through FLYing. — The FLYLady, Marla Cilley of FLYLady.net
To see the year's challenges and read a sample challenge, click here or on the graphic below.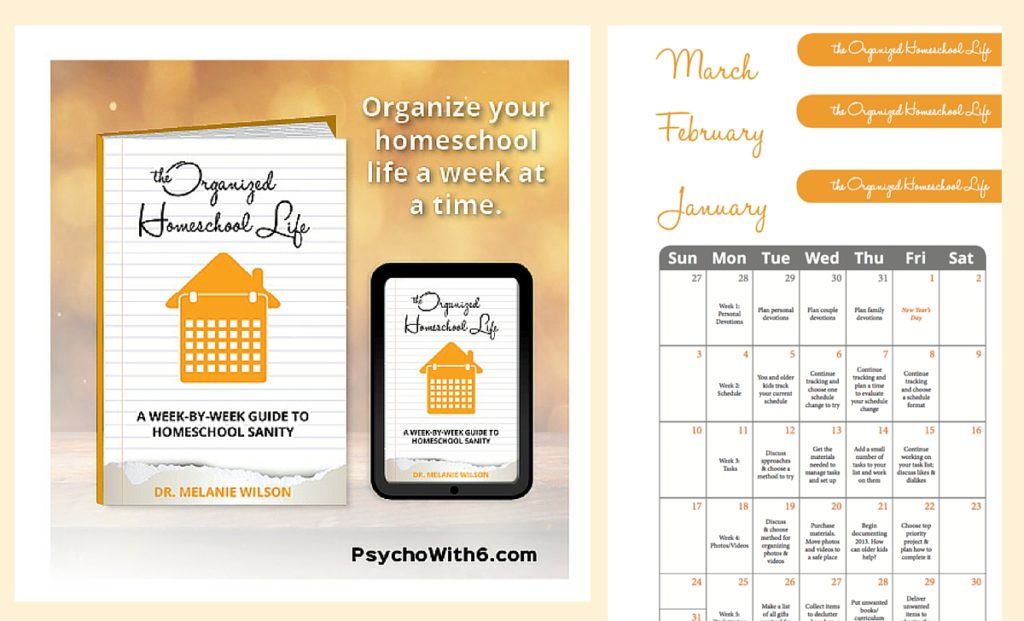 "Does your to-do list seem overwhelming? Or are your once-organized shelves bursting forth in chaos? Enter The Organized Home-school Life. Melanie breaks all those overwhelming tasks into bite-size chunks that leave one saying, 'I can do this!'"
Kathy Gossen
CornerstoneConfessions.com
"I am so excited to do the challenges Melanie has given us in The Organized Homeschool Life. I used to be organized–I think? But, as I've added more kids, more stuff, and more activ- ities through the years, I've become increasingly disorganized. I need a jump-start and know that The Organized Homeschool Life will do it for me!"
Gena Mayo Blogger at IChooseJoy.org Homeschooling mom of 8
"Homeschoolers are going to be elated to read Melanie Wilson's newest book, The Organized Homeschool Life! In her experience of homeschooling 6 kids for 16 years (and counting), Melanie gives an abundance of realistic action steps to help organize your homeschooling experi- ence. Her suggestions will create slight shifts with great rewards both in your household and in your teaching. This is a must read for any family seeking joy and peace in their homeschooling!"
Amy Michaels Author of ThriveHomechooling.com Educational Consultant
Shop for the planner made to help you get the tasks done!