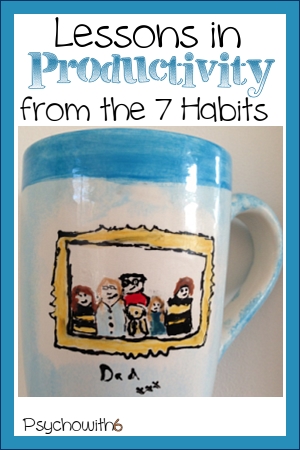 This is a guest post by Tim Sprosen from the UK who is a medical researcher at the University of Oxford, a husband and father and writes about his productivity journey at www.timsprosen.com. In this post, Tim returns to the wisdom of Covey's 7-habits to remind us all that being productive is not just about getting things done.
Stephen Covey's 7-Habits of Highly Effective People was first published 25 years ago and I can still recall the day when I picked it up from a newsstand at Chicago's O'Hare airport before catching a flight back home to London. This book had a profound impact on my approach to time management. As well as providing a practical framework for personal organization, where Covey clearly identified the next seven days as being the ideal period of time to plan and organize – the genesis of the weekly review – the book also recommended taking a very top-down approach to organization.
What that means is working out first and writing down what is important to you before dealing with the day-to-day tasks and other demands on your time. Unfortunately, as I recently pointed out, so much discussion of productivity today and, in particular, the false hopes of technology – what I call the app-trap – is entirely focused on task management. It is like we are relentlessly trying to run a little bit faster without first stopping to work out where we are heading (and also who we are heading there with – keep reading…).
But, what I think was really ground breaking about the book, particularly at a time when so much of the "success" literature was only concerned with money and material things, was the focus on building character and being more concerned with people rather than things. In practical terms, this meant drawing up a mission statement that included identifying the key roles in your life and then on a weekly basis reviewing each of these roles and setting the key things you want to achieve in that role for the coming week. While I am no fan of the concept of work-life balance, organizing your week around your key roles really helps to bring actual balance to life.
Let me give an example. Let's say the coming week I am traveling with work and will be away from home. Looking at my role as a husband and a father, I might set goals in those roles to book a table to have dinner with my wife when I return home and in the role of father I might make a note to pick up a gift for each of my children while I am away. Then when I look at my role of son this reminds me to make a note to call my mum before I go away. This simple list of my key roles, which I look at each week, really serves me well and like any productivity tip, it means I don't need to worry about trying to keep these reminders in my head.
So, for the week ahead, try looking at the things you want to get done not just in terms of your tasks and goals, but also through your key roles. Why I invest time in my personal productivity is very simple; it is to spend more of my time and energy on those people and things that matter most to me.
[Melanie here. I couldn't agree with Tim more and his post was very timely for me. Was it for you?]