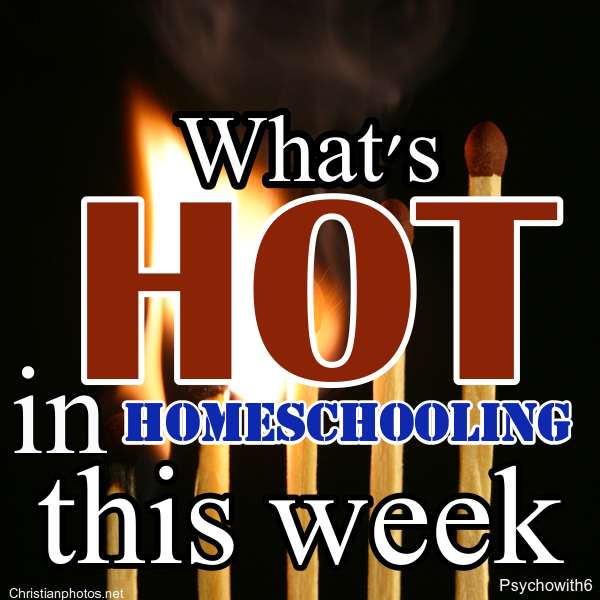 This week, I have some great get-real articles for you and an opportunity for fellow homeschool bloggers to link up and share what's hot on their own sites. I'll highlight the best articles in next week's issue. As always, click the article titles to read and if you love them, comment or share the hotness! God bless your homeschooling this week.
Elizabeth at the Hesitant Housewife offers no solutions. She admits, it's just hard. Having homeschooled with five different toddlers around, I will tell you that's the truth. Go ahead and try different approaches, but your best bet may be to hang on until the ride's over.
Real Life Homeschooling in Photos
In the same vein, Elizabeth shares an unretouched view of homeschooling on Hip Homechool Moms. I know you don't think so now, but those photos will become your prized possessions.
Raising Godly Children offers a printable for moms from IMOM that gives us teachers a bit of homework. I can't wait to work on mine.
Stick Figuring Through the Bible
Stick figure art is all the rage, and as an art underachiever, I couldn't be more thrilled. I love the idea of kids creating stick figures to help them remember Scripture. Check it out at The Curriculum Choice. It's on my list of Bible curriculum to explore for next year.
Whether you've read the book, seen the movie, or just plan to, Homegrown Learners has a neat unit study for you, complete with picture of the smiling owner of a project prize for completing it.
Dealing with physicians and other health professionals poses a unique set of challenges to homeschoolers. In short, it can be scary! Heather Laurie offers us an empowering perspective in this The Old Schoolhouse article.
Link up!
Have a hot article, tip, or resource to share? Please enter it below and either include my blog button or the link to this post in your own post or website. Please also visit at least one other link and thank them for the hot idea!
God bless your homeschooling this week!
<a href="http://www.psychowith6.com/category/homeschooling/whats-hot/" target="_blank"><img src="http://www.psychowith6.com/wp-content/uploads/Hot-HSing-Button.jpg" alt="What's Hot in Homeschooling" width="125″ height="125″ /></a>
read more