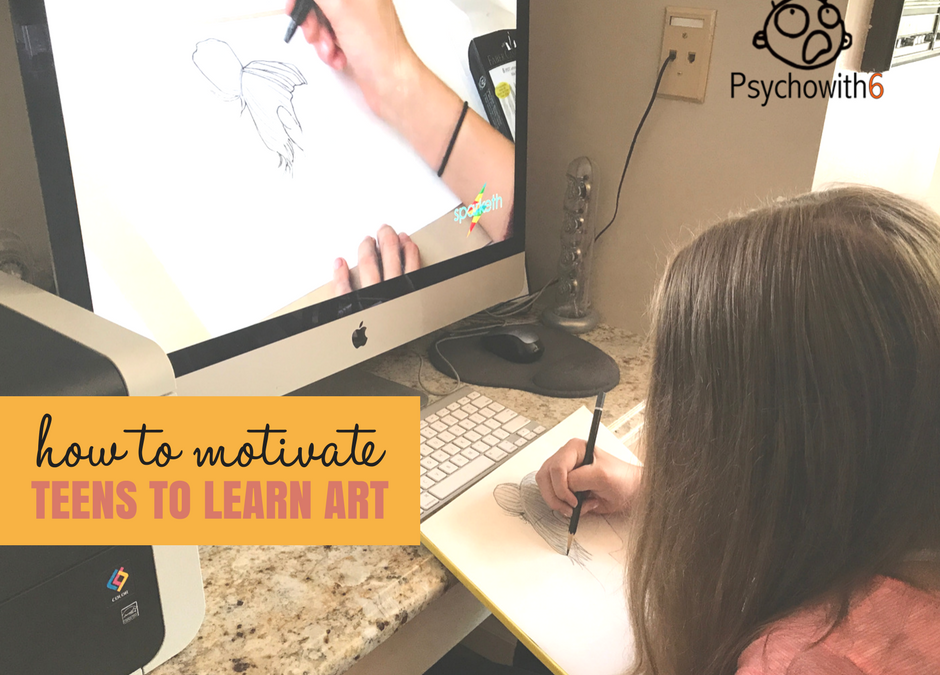 I received free access to an art course and was compensated for my time. All opinions are my own.
Whether you want art to be a part of your teen's homeschooling or you want art to be a part of your child's free time, you may need to motivate your child to pursue artistic studies. Or if you're like me, you have to motivate yourself to include art in your teen's studies. There are three ways that have worked for me to motivate my teens to learn art.
#1 Enroll your teen in a short-term class
My kids have enjoyed creating a project as part of one class or even a week-long camp. They have all been reluctant to participate in a full semester or one-year course — even those who enjoy art. Perhaps this is because art becomes a must-do, instead of a want-to-do activity. They also have a lot of other coursework and commitments. I can't say that I'm any different when it comes to learning something new. I much prefer a smaller commitment.
I have taught art class to my teens after learning from a book. My kids have been much more motivated to learn from an artist. Although I can teach art, I'm not the best teacher for that subject. My students have been motivated to please the art teacher by following instruction. As a result they've learned more.
#2 Make art social
I purchased a book-based art curriculum for my son, who is talented in art. I thought he would love it. Instead, I couldn't pay him to do it. When I had all of my kids do art together, he loved it. Part of the fun of art lessons is seeing what other people create. It's inspiring. I've learned this in scrapbooking and Bible journaling classes.
If you aren't homeschooling other kids, your child would likely enjoy having you do the lessons with him. You may surprise yourself and enjoy it too.
#3 Give your child choices
I hated piano lessons as a kid because I had to play the boring songs that were preselected. Art is very similar. If the lessons ask your child to create art that doesn't appeal to her, your teen won't be motivated. Provide many options from drawing to painting to mixed media. As our kids get older, choices become ever more important for motivation.
How Sparketh Online Art Courses Can Motivate Your Teen to Learn Art
Sparketh is an online art course platform that provides beginner, intermediate, and advanced courses. The courses motivate my teen to learn art because they are short courses. The first course she chose is just 15 minutes of videos.
I love that the courses are taught by younger instructors. They serve as great role models for my daughter, where I can't as much. However, the online platform allows me to participate too. We can choose a course, assemble the supplies according to the recommended setup, and have a fun finished project in no time.
The number of choices is amazing. My daughter loves doing her hair, so this hair-bun course was perfect for her. I am amazed by her nearly-finished drawing. It looks just like the example!
You can join Sparketh free for a month. That's a great way to see if these online courses will motivate your teen to learn art like they did for my daughter.
read more