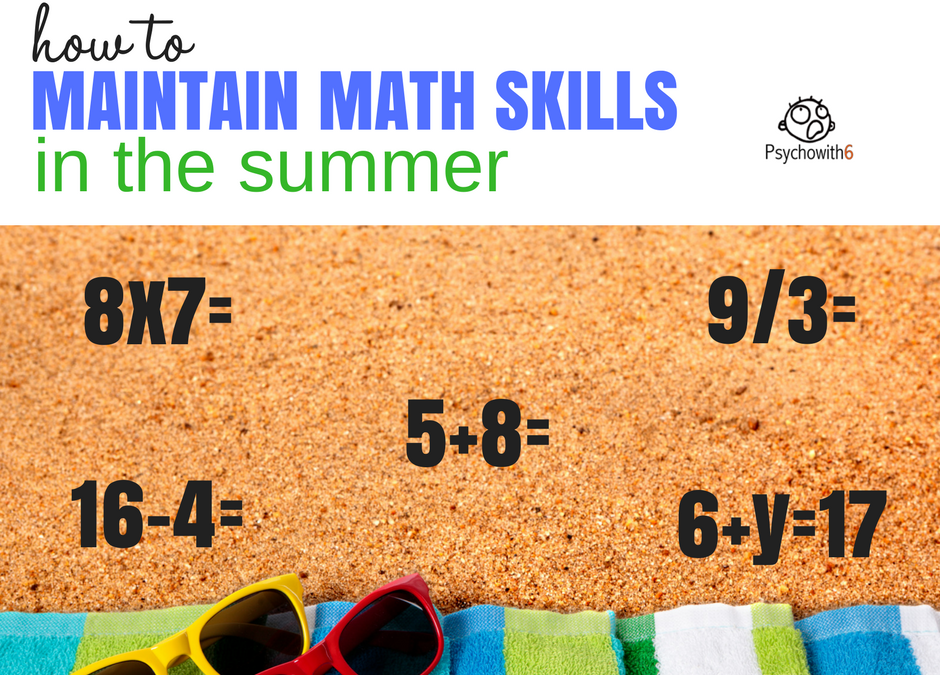 Reading skills can deteriorate quickly in the summer without attention and so can math skills. While summer is the time when many homeschooling families take a break, making time to maintain the math skills students have gained during the school year is crucial. Here are three easy ways to do it.
I received access to a math program and was compensated for my time in reviewing it. All opinions are my own.
#1 Focus on living math
You may not want to get the workbooks out in the summer, but you can easily incorporate math into your everyday life. Have your child calculate how many cans of water will be needed to make lemonade. Double a recipe. Measure a sports court for badminton. Determine the diameter of a beach ball by measuring its circumference with a tape measure. Have your child keep a running total as you grocery shop or determine the best deals based on size of products. Make a graph of the most common plants, bugs, or creatures seen on a nature walk. Determine the volume of a jar of sand or work math problems in the sand with a stick. Calculate gas mileage from a road trip. The possibilities are endless!
Be sure to review math facts as you travel. Listen to math fact songs or skip count together as you do chores. (Unfortunately, summer doesn't mean a break from chores!)
#2 Play math games
Play games to maintain your child's memory of math facts. Children who struggle with higher-level math usually haven't mastered their math facts. CTC Math includes a speed skills game and a times tables video game interface that are perfect for maintaining math fact memory.
On rainy days, break out the math board games. On sunny days, do some active math games outside.  Do math hopscotch. Or have a broad jumping contest. Have the kids calculate their percentage improvement for successive jumps. Maintaining math skills doesn't have to be boring!
#3 Use a new curriculum to keep skills sharp
Kids usually have no interest in using the same math curriculum in the summer that they've used all school year. And who can blame them? Summer is a great time to change things up. The benefits of trying a new approach are:
filling in gaps in your child's math education
help explaining concepts that weren't mastered
more motivated students
If you've been using a computer-based curriculum, consider using a workbook or print worksheets as needed. If your child enjoys online math, look for a different program for summer.
If you've been using printed curriculum, consider using a video or computer-based approach.
Why I'm Using CTC Math to Maintain My Kids' Math Skills This Summer
CTC Math is a computer-based math curriculum, which is new for my younger students. They use workbooks during the school year. Because it's online, there are videos that explain math concepts in depth.
I love that I can select just the topics my kids need to review. Each video and set of questions take just minutes to complete, meaning that I can keep summer lessons short. My kids aren't bored reviewing concepts they have already mastered.
I tend to lose track of my kids' activities in the summer, so I love that I can view exactly what my kids have completed (or not).
Finally, during the summer I don't have time to do a lot of lesson planning. CTC Math makes it easy for me to assign lessons to keep my kids' math skills strong. Giving the kids lessons requires just a few mouse clicks!
Of course, CTC Math isn't just a curriculum for summer. Its benefits make this complete curriculum the perfect choice for the school year, too.
What are you waiting for? Do some living math, play a math game, and consider an alternate curriculum for the summer. CTC Math is an excellent choice.

read more