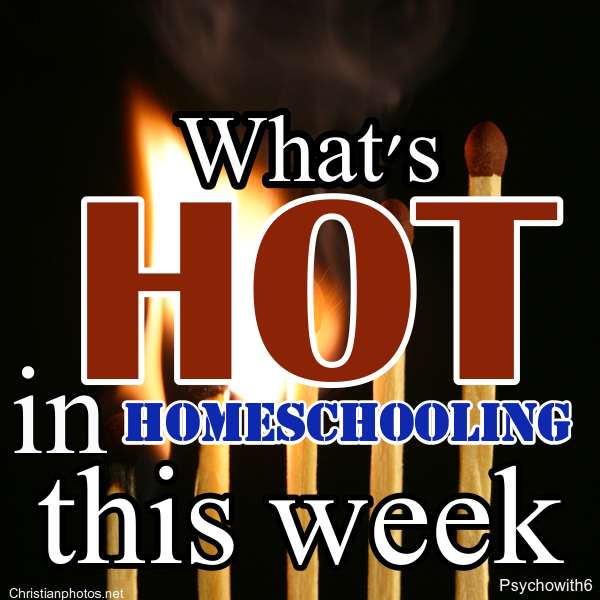 Here's what's hot in homeschooling this week–at least according to me. And since it's my blog I get the only vote. Love that!
But if you have something to add, I'd love to check it out. Share in the comments or contact me for inclusion in next week's issue. Click on the orange links to read the articles and have a great homeschooling week!
8 Tasks for Now Before Sending Your Kid to College Later
I can't believe I have a child who will be applying for college next year! You always hear that the time flies, but it really does. Belinda at The Blessed Heritage has some great ideas for what we can be doing well before the college admission process.
Finishes College in Less Than a Year
Speaking of college, this young man is an inspiration! It really is possible to complete a college degree in less than four years for not as much money. I tried to convince my oldest to go this route, but I think I overdid it with the homeschooling and he'll be a student for life.
You know those reward punch cards you used to get at restaurants (you know, before the iPhone)? Joyce and Jeannine at Waddlee-ah-chaa have the great idea to use them as chore rewards. And they're offering a free printable! (Many of you are clicking over right now; just make sure you come back!)
Homeschool Blogging is a Family Affair
Blogging is very popular among homeschoolers whether as a business, a writing platform, or a way to share homeschool adventures with family and friends. Jennifer Janes shares how to keep your family involved in what seems like a solitary pursuit.
Chris of Campfires & Cleats made me smile by writing about making gingerbread houses in February. Why hadn't I thought of that? We're not bound by school schedules; we shouldn't be bound by holiday craft schedules either. I also appreciated her link on finger knitting. I think this may be the only kind of knitting I'm suited for.
Using Pinterest as your only Curriculum
Do you love Pinterest like I do? I hope you'll follow me if you haven't already and I'll return the favor. Following in His Footsteps shares her ideas for using Pinterest as her only curriculum. I have no doubt that with time, that will become even easier to do.
read more