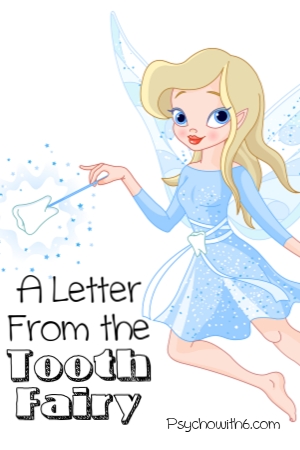 Dear Mrs. Wilson,
I realize this letter may come as a bit of a surprise as I am not in the habit of writing parents. But I had no choice but to respond to some serious issues that have recently come up in your home. Please understand that I would like to continue to take your children's teeth and leave them money, but I need your cooperation.
First, be aware that I do not visit in the midst of a stomach flu outbreak. Ever. Please tell your child to save missing teeth for a day when I feel bet–I mean, when I am sure you are all well.
Second, I do not visit the same child more than once in the same week. Believe it or not, I do not use technology to remind me to pick up teeth so when I find myself at the same house in a short period of time, I am sure I have made a mistake and do not leave any money.
Third, for the same reason, I cannot pick up teeth from two children at your house in the same week. I am especially indisposed to doing so during a stomach flu outbreak.
Fourth, please do not allow your children to place their teeth under their pillows themselves. I am only so magic after all. Having to feel around in the dark for tiny teeth that are not in any substantive container makes me less inclined to visit next time. Know what I mean?
Fifth, please share this letter with your husband. It seems he has been occasionally leaving money for your children under their pillows. The pillow is my territory. If he wants to give your children money any other way, that is fine. But spoiling your children this way risks disappointment and a strained relationship with me in the future. Please ask him to cease and desist or he will have to play the tooth fairy full-time.
Finally, please stop disparaging me to your children. I am not too lazy to come in a snowstorm. I am not a forgetful airhead. I am trying to make the process of growing up an exciting adventure for your child.
Work with me, ok?
Sincerely,
The Tooth Fairy
read more