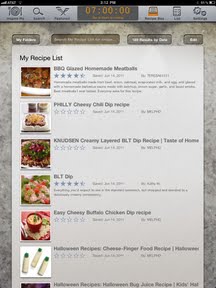 I have a kitchen filing drawer full of recipes. They are a mix of precious heirloom recipes, old Specific Carbohydrate Diet recipes I no longer use, recipes from friends, and recipes culled from magazines. While this system of organizing recipes has served me well, I wanted to adopt a new approach in keeping with how I use recipes today.
Unless I am searching for an old family favorite, I am unlikely to go drawer diving for a recipe anymore. I typically go to AllRecipes.com and then follow the recipe on my iPad. Although I like the website, am a supporting member, and have their iPad app, I did a little research to see what was the best method of accomplishing what I wanted. Some approaches I considered:
– Scanning my recipes to Evernote
– www.plantoeat.com
– Paying BigOven to convert my recipes for use with their website from an iPhone photo
– Scanning my recipes to specific computer folders
– Emailing myself recipes that would then be archived in Gmail folders
– Entering everything into the Shop 'n Cook software I have on the Mac
Ultimately, the time, expense, or lack of features (e.g., no way to menu plan or create shopping lists) made me decide against each of these. Here is the super fast and effective method I decided on:
1) Go through recipes section by section and throw away any that I know I won't use
2) Check on AllRecipes.com for the recipe. If I haven't tried the recipe I am searching for, I look for a top-rated recipe for the same thing and throw away the original. I add the digital recipe to my AllRecipes box.
3) If I can't find the recipe by name, or if I can't find a close enough match, I click on ingredients and search for the signature ingredients. If a find a match or something close enough, I make the addition to my digital recipe box.
4) If I can't find what I want in AllRecipes, I add a new tab to my browser and search for the recipe by name or ingredients on Google. If I have the recipe from a magazine, I include its title in my search terms. I typically find not only the recipe, but a great photo to go with it. I scan several search results until I find the recipe I want. I highlight the URL in the address bar. Right click and choose copy. Now return to my AllRecipes.com tab. Click on my Recipe Box. Click on options at the top and choose Add Weblink from the Dropdown options. Left click in the URL box, then right click and choose paste. Enter and I have the option of selecting no picture or from the images on the website. Categorize my link at the bottom as appetizer, main dish, etc. Save it, preview it, and add the link. The recipe now appears in my box. I throw away the paper recipe unless it's a keepsake.
5) Make a pile of recipes that I can't find. Hand enter these on AllRecipes.com (I don't have many). I will scan the picture to add to these recipes if I have one and care to take the time. I throw these recipes away when I'm done unless they are heirlooms.
6) Scan or photograph precious recipes. I should have a digital version of these in my recipe box now, but typically the handwriting and stains mean a lot to me. I will make sure I have a backup of these scans. I will add the originals to a recipe scrapbook I am creating.
7) Access my recipes from my AllRecipes iPad app and get cooking! I love seeing the modifications people make to recipes, having a shopping list, and just letting the app inspire me with yummy-looking recipes that I may want to add to my box. I also love the built-in timer. If you are an AllRecipes user, look up melphd. By the way, I haven't been given anything in return for this promo.
8) Enjoy or utilize the freed up recipe space.