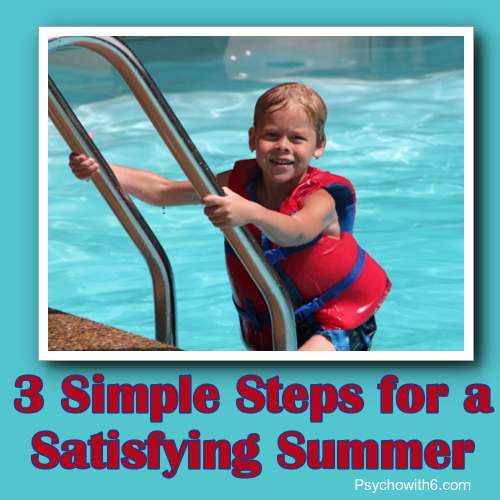 Have you ever gotten to the end of a summer and been disappointed? I have, many times.
I'm a homeschooling mom who takes time off in the summer and I hope to get so much accomplished. Somehow very little of it gets done. I'm not talking about the fun activities we always manage to squeeze in (barbecues with friends, float trips, swimming, etc.). I'm talking about the projects I can't get around to doing the other nine months of the year.
This summer I am determined to have a different outcome. I am so excited about the simple solution to my end-of-summer blues that I want to share it with you. In just three steps, you can make a satisfying summer a reality.
#1 Create a wish list.
Dream a little. What would you love to accomplish this summer? Are there any projects that you've procrastinated doing that would feel great to get out of the way? Are there things you could do to make life much easier the rest of the year? Or is there something you've always dreamed of doing that you've never made time for? Add all of these things to your list. At this point, don't worry about adding too many things.
#2 Consolidate.
Look at your list and combine tasks into weekly projects or areas of focus. For example, would you like to defrost the freezer and clean out the pantry? These tasks can become Organizing or Cleaning. Each weekly project will include a number of tasks required to complete it. My consolidated weekly projects for the summer should give you the idea:
sort clothing

sort and sell books
organize
deep clean
book project #1
book project #2
school prep
video editing
blogging
scrapbooking
freezer cooking
#3 Schedule
This step is critical to making your summer satisfying. Make a list of each week this summer. Because I start school the second week of August, I have 11 weeks from 5/26 to 8/4. I have assigned each of the above projects to a week. If you will be on vacation for a week, that will be your week's project. Assign projects to logical weeks. For example, freezer cooking is my last project because I want dinner in the freezer before I start school. Otherwise, start with top priority projects. For me, that's sorting the kids' clothing for the season and selling books we no longer need.
Schedule time at the beginning of each day to work on that week's project. If your schedule doesn't permit you working at the beginning of the day, make sure you work on these projects during the first part of your work period. Why? You're more likely to accomplish your wish list if you work on it first.
What if you want to do something that will take more than one week? You can either assign it to more than one week or schedule it on a daily or weekly basis. I will be spending more time than a week each on blogging and book projects, but those weeks I will devote extra time to them.
What if you planned to finish a project in a week and you don't? I don't anticipate spending every day of the week on my planned projects. Things come up and I love being spontaneous in the summer. If I spend just one day a week on each of these projects, I will be thrilled! But if it's really important that you finish a project before moving on to something else, you can definitely edit the schedule. If you have your projects in order by priority, you'd simply move everything back a week and the lowest priority project would be dropped from the summer schedule to be worked on another time.
I can't wait to hear about the projects you have planned and to see if these steps make this summer a more satisfying one for you. What's the first project on your list?