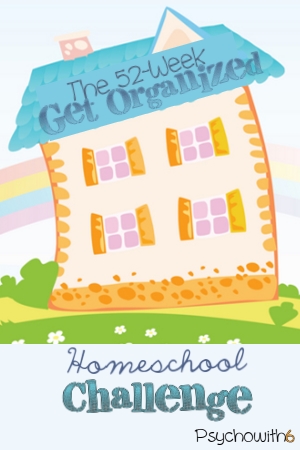 If you're anything like me, you find dozens of great ideas you could use to get and stay organized in your homeschooling and life. The problem is overwhelm! Where do you start? It often feels like you aren't organized enough to get organized.
I've been there. In fact, when I gave homeschooling a try by teaching preschool 14 years ago, I was convinced I had to quit because I was so disorganized.
I was constantly forgetting appointments
I couldn't find anything
The laundry piled up
I didn't follow through with my curriculum
The stress made me short-tempered with the kids
Little did I know that homeschooling was the perfect remedy for a disorganized mom like me. I saw how incapable I was of doing what God had called me to do. It didn't happen overnight, but today people consider me an organized person.
I've come a long way, but I still seek ways to make our homeschooling, home life, and work function as efficiently as possible. I've noticed that there aren't a lot of organizing missions tailored to families who homeschool, and that's too bad. We have specific organizing needs.
If you can relate, I invite you to join me for a year's worth of challenges that will help us get organized enough to do all God has called us to do.
Find all the challenges at the Organize Your Homeschool page.
On Mondays, you can read the post, then do one 15-minute mission each remaining weekday, do an hour session over the weekend, or anything in between. One thing I forbid you to do is beat yourself up for not doing every mission. I'm telling you right now that I'm not going to do every single mission as scheduled! There are more important things in life than organization.
But if we do even a few of these missions this year, we will have a better homeschool than we had last year! That's something to be excited about.
Please also follow the Organized Homeschool board on Pinterest for up-to-date great ideas for each challenge. Be sure to tell your friends about the challenge, too. Getting organized is always more fun with friends. If you haven't already heard it, I invite you to listen to the Easy Way to Get Organized podcast on The Homeschool Sanity Show. I share ideas for how to get the most out of this challenge and share my fellow homeschoolers' and podcasters' best organizing tips.
I'm looking forward to getting organized with you this year! 
Please share your organizing progress, tips, or related blog posts in the comments or on Facebook.
Linked with Happy and Blessed Home