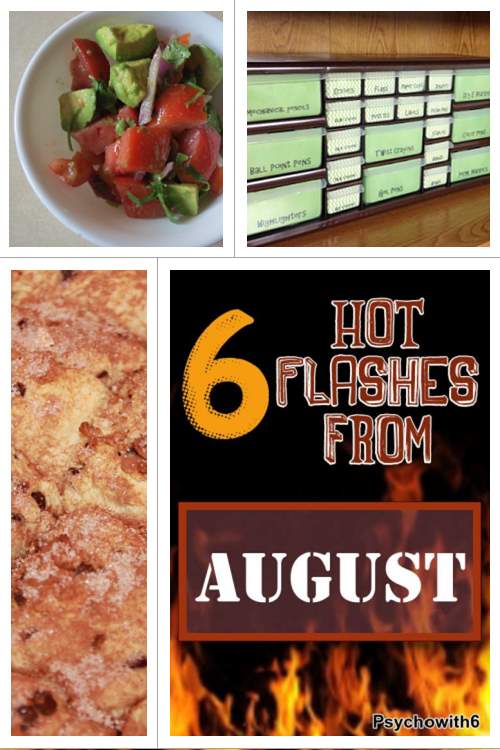 I love writing these posts. I feel like I'm having lunch with my friend, Deb, and updating you on what's been going on. At least I'm writing to you and not talking at warp speed like I do with her. You can scroll at your own pace! I'd really love to hear about you, too. I don't want to hog the whole conversation. (Well, actually I do, but I will restrain myself.)
#1 Blogging
August was the best month ever for this blog with page views up 28% from the previous high in May. I am so blessed by that. It just isn't as fun to write when only your mother is reading (not that I don't appreciate you, Mom).
In August, the most popular posts were:
Everything You Never Wanted to Know About Being Pregnant – this still makes me laugh, not because it's a humorous piece, but because I had read that if a pin doesn't go anywhere in the first 30 minutes, it's sunk. This pin went absolutely nowhere the first month and now has been read thousands of times. It's not "viral" by any means, but it demonstrates the power of Pinterest to keep content alive.
Everything You Never Wanted to Know About Being a Mom
The sequel to the above post, this is another pin that didn't do much at first. Now all of a sudden it's taking off. Pinning on Pinterest is a lot like putting notes in helium balloons. You never know where they'll end up!
Why Classical Conversations Should be a Part of Your Curriculum – this post ranked in the top 3 again this month via Google searches.
My favorite post of the month was 5 Lessons Our Foreign Exchange Student Taught Me. If you missed it, I think you will enjoy it.  Saying good-bye to Lucas was really hard, but we are so blessed to have established a friendship with his family. Elaina now has his sisters as her Spanish pen pals!
Sadly, I am having to let The Inspired Day go for now
I have some other projects that I feel led to pursue (one of which I will tell you about below). If you don't subscribe to that blog, I would love for you to read The Last Blog Post. I think it communicates the essence of what I wanted to share there.
#2 The Homeschool Sanity Show Podcast
I am super excited to be hosting a podcast as part of the Ultimate Homeschool Radio Network that will be launching September 19th. I have to wait to give you more details until the website is up and running, but I think you're going to love it. I've been a guest on radio programs for two decades, but I'll get to be the interviewer now. Please like the network page on Facebook and be watching this blog for details about the show. Have I mentioned I'm excited? 🙂
#3 Back to School
Every year is a better school year. I'm delighted with how things are going. I'll explain one reason our schedule is so much more functional in my productivity post at the end of the week. I love our curriculum choices for the year, too. I'm planning to share more curriculum reviews with you because my homeschool readers seem to love them.
#4 Music
I'll admit it. When I started homeschooling, I dreamed of being one of those families that had all the kids playing a different instrument so they could perform together. That idea was dead very quickly. With as busy as I was having babies, homeschooling, writing, and speaking, music education took a back seat. My three oldest took piano lessons for a while, but quit. Then Caleb took it up again a few years ago with a vengeance. I started to wonder why I had wanted him to play? Then last fall, Sam started guitar lessons. This past Sunday both boys played as part of our youth praise band at church. That on top of Andy starting drum lessons, and giving the youngest three piano and voice lessons at home is making me wonder if we'll be one of those families after all. (More on the curriculum I'm using later.)
#5 New Recipes
I did manage to get some new recipes made this month. It helped that I publicly committed to making this one on Facebook. It's from Set Your Fat on Fire Fitness. I really, really loved this. In fact, I ate a LOT of it. The rest of the family, not so much. If you love avocados, you'll love this, too. If you don't, scroll down quickly.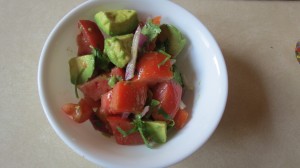 Avocado and Tomato Salad
4 cups avocados, diced medium
2 cups grape tomatoes or 2 cups cherry tomatoes
2 cups cucumbers, peeled and diced medium
1 cup red onion, diced small
4 tablespoons fresh cilantro, chopped
2 teaspoons fresh garlic, minced
2 tablespoons lime juice
1/4 cup olive oil
salt
fresh black pepper
Lettuce (if you want)
Toss all ingredients in a bowl and top on a bed of lettuce (if desired)
Makes 8 servings
Calories 201.9 Total Fat 17.9 g Sodium 10.2 mg Total Carbohydrate 11.6 g Dietary Fiber 5.8 g Sugars 1.8 g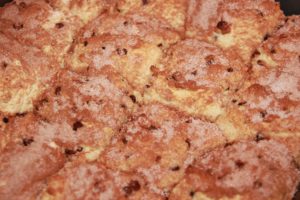 Chocolate Chip Coffee Cake from Hungry Jack
When I think of coffee cake, I think of my grandma. Every time we went to her house, we got to have coffee cake. With those warm fuzzies in mind, all I had to hear was "chocolate" in connection with coffee cake, and I was sold. This recipe is easy and a hit with my whole family. I made it without the nuts and used light sour cream.
Ingredients:
•
Crisco® Original No-Stick Cooking Spray
•
2 1/2 cups Hungry Jack® Complete Buttermilk Pancake & Waffle Mix (Just Add Water)
OR
2 1/2 cups Hungry Jack® Complete Extra Light & Fluffy Pancake & Waffle Mix (Just Add Water)
•
1/3 cup sugar
•
1/2 cup miniature semi-sweet chocolate chips
•
1/2 cup water
•
1/2 cup sour cream
•
1/2 teaspoon vanilla extract
•

TOPPING

•
1/4 cup sugar
•
1/4 cup walnuts, finely chopped
•
1/2 teaspoon ground cinnamon
Preparation Directions:
| | |
| --- | --- |
| 1. | HEAT oven to 375°F. Coat 8 or 9-inch square pan with no-stick cooking spray. |
| 2. | COMBINE pancake mix, 1/3 cup sugar and chocolate chips in medium bowl. Add water, sour cream and vanilla. Blend well. Using an ice cream scoop, shape dough into sixteen 2-inch dough balls. Place in 4 rows of 4 each in prepared pan. Combine 1/4 cup sugar, walnuts and cinnamon in small bowl. Sprinkle over dough. |
| 3. | BAKE 24 to 26 minutes or until golden brown. Cool 10 minutes before serving. Serve warm. |
| TIP | To use Hungry Jack® Original Pancake & Waffle Mix (Add Milk, Oil & Eggs), replace 1/2 cup water with 2 large eggs and 2 tablespoons milk. Proceed as above. |
| TIP | High Altitude: add 1/4 cup flour to dry pancake mix. Bake as directed above. |
Prep Time: 12 min
Cook Time: 24 min
Nutritional Information Per Serving:
Serving Size (1/8 2 rolls), Calories 290 (Calories from Fat 90), Total Fat 10g (Saturated Fat 4g, Trans Fat 0g), Cholesterol 5mg, Sodium 620mg, Total Carbohydrate 47g (Dietary Fiber 1g, Sugars 19g), Protein 5g; Percent Daily Value*: Vitamin A 2%, Vitamin C 0%, Calcium 6%, Iron 10%.
*Percent Daily Values are based on a 2,000 calorie diet.
#6 School or Office Supply Organizer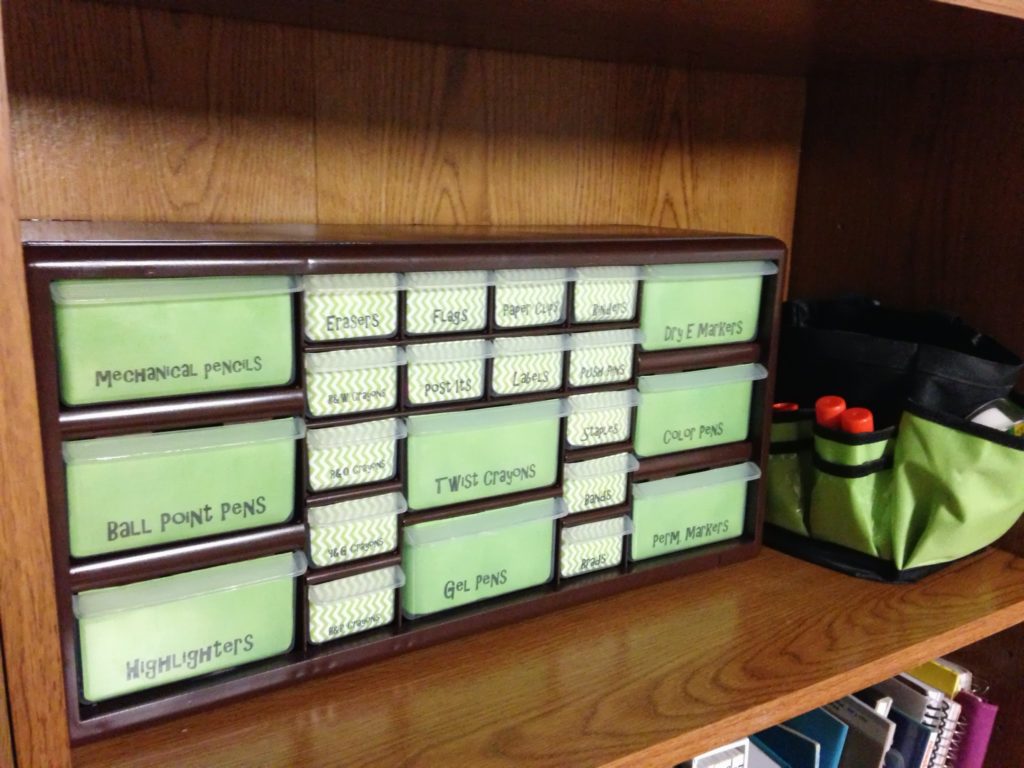 I am so proud of myself. I actually made something really useful from Pinterest. I shared this idea in one of my What's Hot in Homeschooling posts and got to work. I had no idea how popular these things are until I searched "Teacher Toolbox" on Pinterest. Wow! I spray painted mine brown. The one thing you need to know is that you can't fit full-size pencils in it. Mechanical pencils and many pens work great, however. Filling this up was a trip down memory lane. I have office supplies I bought 20 years ago and never used. If any of you locals need some gold brads, please don't buy any. I have enough for several elementary schools.
I'd love to know about the hot flashes you're having! Let me know in the comments, your favorite social media format, or have your kids tell my kids. That's always an interesting way to get news.