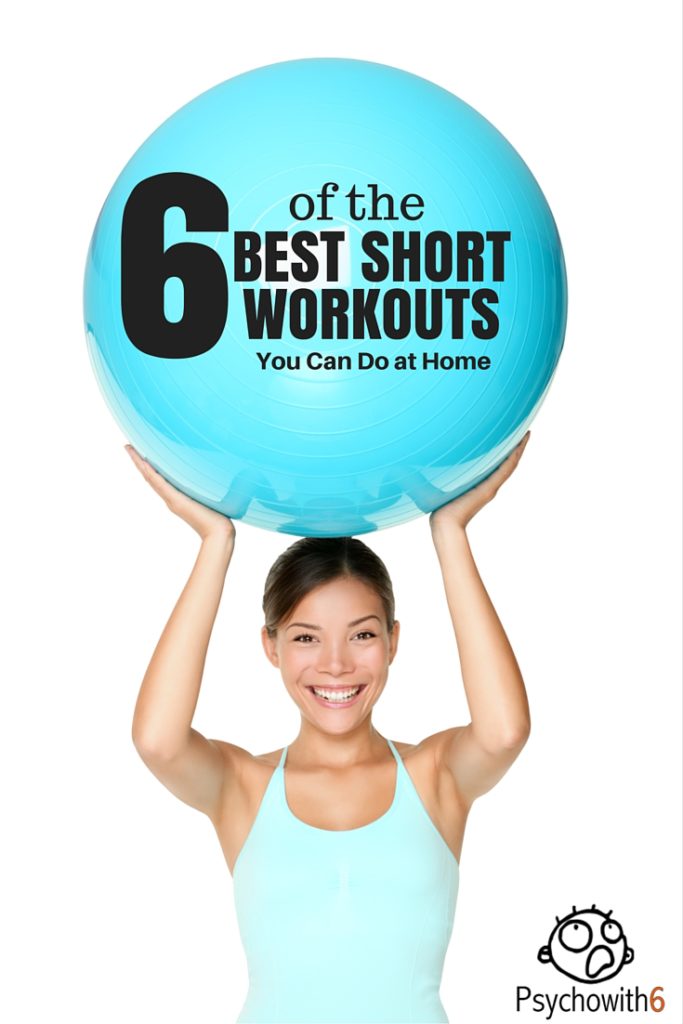 Exercise is one of the best things you can do for your physical and mental health. We know that, but it can be tough to do long workouts with our busy schedules. As a homeschooling mom, writer, and speaker, I know all about being time pinched. That's why I love short workouts. If you choose the right workouts, they can be just as effective in helping you get fit and reduce stress as longer workouts. Here are my top six picks for short workouts you can do at home.
Scroll down to watch the Periscope broadcast of this post.
#1 Bill Phillips' 20-minute HIIT
Ever since I completed the 12-week Body for Life challenge, I have continued to enjoy the high-intensity interval training that is part of the program. Each interval is one minute long. Your intensity is rated on a scale of 1-10 with 1 being no difficulty and 10 being as hard as you can work. You do two minutes at a 5 intensity to warm up. You then do a 6-7-8-9 intensity rotation four times. You end with a 10 intensity and a 5 to cool down. I usually take longer to cool down.
Why I'm Crazy About It:
This workout can be done with almost any form of cardio you enjoy. It automatically adjusts for days when your energy is low. You can buy Body for Life or you can just follow the instructions above for free.

#2 Shawn Phillips' 21-Day Fit
There is no question that the 45-minute weight training plan espoused in Body for Life is effective, but I wanted something quicker. When I learned about his brother Shawn's plan, I knew it was perfect. You lift a challenging weight for a 30-second interval followed by a 30-second rest. You will need some dumbbells, but that's all. You can sign up to get the exercise list at 21 Day Fit for free (Link is no longer active). I have used this workout for years and love it. I listen to music on my phone and use the Interval app so I know when to start and stop. I set the app up to change songs as well.
Why I'm Crazy About It:
It's short, free, and provides the weight training that is critical to fitness and weight management. I also love that I can listen to my own music while I do it.
#3 Jillian Michaels's 30 Day Shred
This video uses Jillian's hallmark rotation of cardio, strength training, and abs. It's challenging, but she provides modifications and reminds viewers that she has 400-pound people doing these exercises. There are three levels of difficulty.  It's 20 minutes plus a short warm-up and cool down.
Why I'm Crazy About It:
I love the rotations and Jillian's motivational style. It's short, intense, and effective. This workout succeeded in eliminating the back pain my friend had suffered with for years. It retails for under $7. You can't beat that!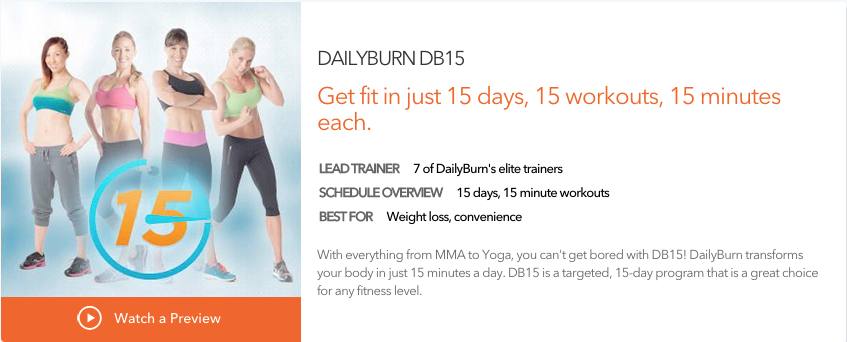 #4 Daily Burn 15
These subscription online workouts are really just 15 minutes long. But don't be fooled. They're challenging! There are a number of 15-minute workouts to choose from. I watched them from an older Mac, but you could watch by attaching a computer to a bigger screen. Daily Burn offers a free trial to see if it's for you.
Why I'm Crazy About It
I love that it truly is just 15 minutes long and that there are a variety of instructors to choose from. It's cool that you can chat with instructors on Facebook via the website, too.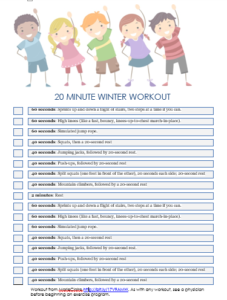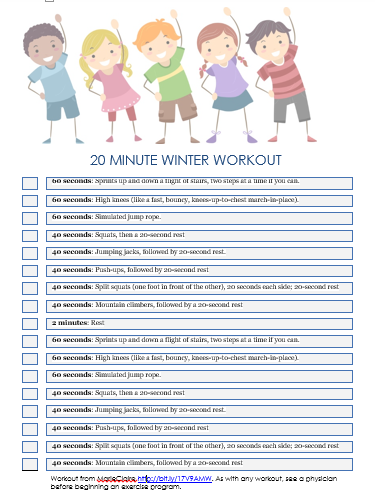 #5 Marie Claire's 20-Minute Workout
I wrote about how great this workout can be for kids, but it's great for anyone who wants a short workout. It requires no equipment except for a time keeper.
Why I'm Crazy About It
It's a great workout to do when you travel because you do stairs. It's also easy to make it a ten-minute workout by doing just one round.
#6 Chalene Johnson's Turbo Fire
The complete set of DVDs in Turbo Fire includes 15-, 20-, and 25-minute high-intensity interval workouts. You'll get your heart rate up and can get on with your day. This is the most expensive option I've listed at about $70 at the time of this writing. BeachBody does have sales, however.
Why I'm Crazy About It
Chalene has a way of making you feel like exercise is great fun. She's the most energetic fitness instructor out there.
Choose one of these workouts to start with OR simply modify a tougher workout. Just because a workout runs for an hour, you're not required to do it all. I often do just 15-20 minutes of a longer workout. Right now I am doing that with the excellent workouts from Roca Body Fitness.

Want more fitness inspiration? Follow my board on Pinterest.
Follow Dr. Melanie Wilson @psychowith6's board Fitness Inspiration on Pinterest.