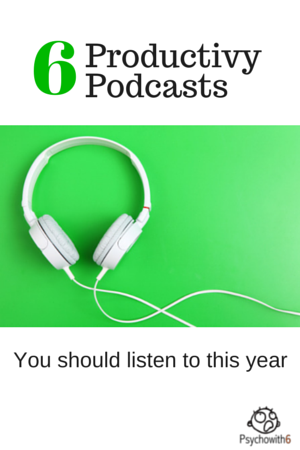 Even though I had my own podcast, I wasn't much of a podcast listener until this last year. Now I'm crazy about them! These are six productivity podcasts I enjoy and you may, too.
I do NOT get up at 5 AM, but I don't have to in order to enjoy this fabulous podcast. Jeff talks about a variety of topics such as exercise and nutrition, but is focused on productivity. I love the quick tip he shares each episode and the experts and books he introduces to readers. He motivates me to get up early and get things done first thing in the morning.
I wish I had listened to Jeff's podcast before I started my own and it would have been much improved. (My Homeschool Sanity Show podcast is currently on hold as I work on developing homeschool curriculum).
Hugh has not been producing new episodes in the past month or so, but if you're anything like me, you'll enjoy a binge listen of the archives. Like Jeff, Hugh does a great job of sharing basic principles in a personal, motivating way.
I come away from his podcast feeling that productivity is really quite simple and nothing to be stressed about.
I have gotten so many great book tips from this podcast and I've benefitted from the wisdom of Michael Hyatt as well. I love the fact that he is willing to be honest about his own failings.
As a blogger and author, I really appreciate the content directed to this portion of his audience. Others may enjoy the leadership principles he discusses.
I really enjoy listening to Erik's interviews with top productivity names as well as people I don't know. Whereas many other podcasts go off-topic frequently, this one doesn't. So if I need a shot in the productivity arm, this is the podcast I listen to.
Erik has a very guy-next-door persona. You come away thinking, "If he can do it, so can I."
I'll admit it. I love Francis's accent. But even more, I love the enthusiasm he brings to his interviews. He seems honestly fascinated by his guests and their expertise and having been one, I can tell you it's a pleasure to share with his listeners. He hasn't taped interviews in several months as he has completed his new book, but there is plenty to entertain and inspire you in the archives.
I love how Gospel-focused Loren's podcasts are. You come away from listening feeling refreshed, as though you've spoken to a trusted friend. He did a three-part series with Matt Perman of What's Best Next that you may enjoy and shares how he lost 100 pounds in another episode.
What are your favorite productivity podcasts?
This post is part of a 5-day series on productivity favorites. You may enjoy the other 5 Day Hopscotch posts from iHomeschool Network bloggers. Check them out!