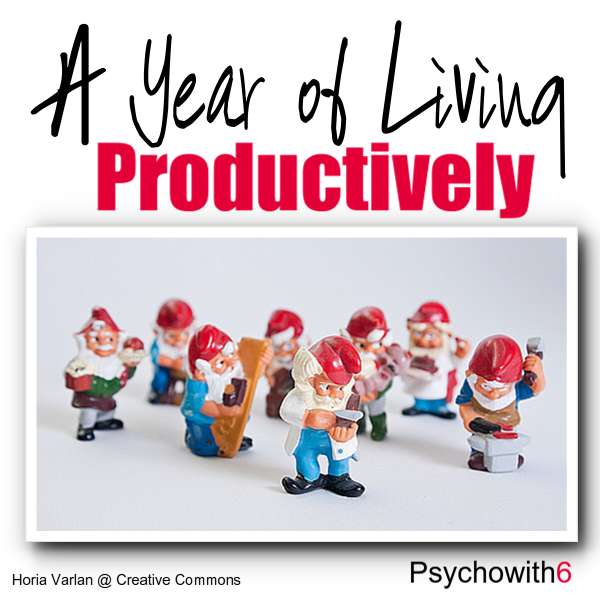 Have you wondered if a new approach to productivity could help you in your home management, homeschooling, or business? I have.
My Passion for Productivity
My life is full with being a wife of an active husband, a mother of six, a home educator, fitness enthusiast, scrapbooker, tennis player, church volunteer, speaker, writer, and more. Over the years, many people have told me that I need to learn to say no. So that's just what I say to them: "no!"
I love everything I do and I don't want to eliminate any of those roles or activities. What I do instead is seek to make the most of every precious day I've been given. That means I try lots of productivity tips, techniques, and tools. People who know me best laugh when I talk about my latest-and-greatest way of working, because they know it won't be long before I'm on to the next thing.
Can You Relate?
My guess is you can. Posts on productivity are some of my most popular here on Psychowith6 and I couldn't be happier about that. I have to write to you about my passion, because my friends won't listen to me anymore!
It used to bother me that I couldn't just stick to one approach to time management. It doesn't anymore. As Loren Pinilis of Life of a Steward reminds us, God is okay with us finding what works for us. Doing that may require lots of exploration to fine-tune your system.
My Mission for the Year
I've read and heard about people doing crazy things for a year: using a crockpot every day, traveling the world with their young family, and living out old Testament laws for women. This blog is Psychowith6 and I think it's high time I do something crazy, too. So I'm going to:
Use a different productivity approach every week for a year
I'm going to rate each method and write about it here. I know, it's nuts. I'm sure the crockpot lady asked herself what she was thinking after the first week! But I'm going to lay down some ground rules that I think will help:
If I need to quit doing something because I absolutely hate it, I will. The point is not to torture myself, but to discover what works for me and maybe for you, too.

I won't completely abandon strategies I've come to rely on. For example, I use Google Calendar alerts on my iPhone to keep me from forgetting appointments.
I'm committed to writing about the approach I'll be using for the upcoming work week each Friday, but I'm more committed to my family and my sanity. If something comes up, I'll try to let you know on the way to the hospital. Not.
I reserve the right to take vacations and the right to call the end of December 2013 "a year." So I didn't start this January 1. Sue me. I'll return your money.
Care to Join Me in a Year of Living Productively?
If you prefer to read as you're able and silently snicker at my shenanigans, feel free. But if you'd like to take the adventure with me, I'd love the company! You'll have the weekend to prepare to use the given method. Come Monday, give the new approach a shot and report back on your results, rating it for its ability to help you be productive on a 1-10 scale. If you're a homeschooler, you could even try some of these methods with your older kids and get their feedback. And if you have a method you'd like me to test for you, I will certainly be your productivity guinea pig.
Week 1
Because you don't have much advance notice,Week 1 is going to be the Old Faithful paper to-do list. Nothing fancy! You can use a sheet of paper, a pretty notebook, or a note card–just no sticky notes. Write down anything you have to do on your list and cross it off as you complete it. There are no other rules than that.
Click Week 1 below to read my results!
Would you like to read all of my year's experiments at once? Try this PDF.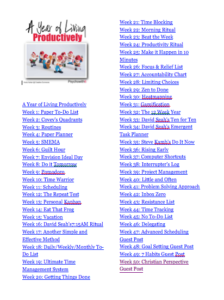 Be very careful, then, how you live—not as unwise but as wise, making the most of every opportunity… Ephesians 5:15-16