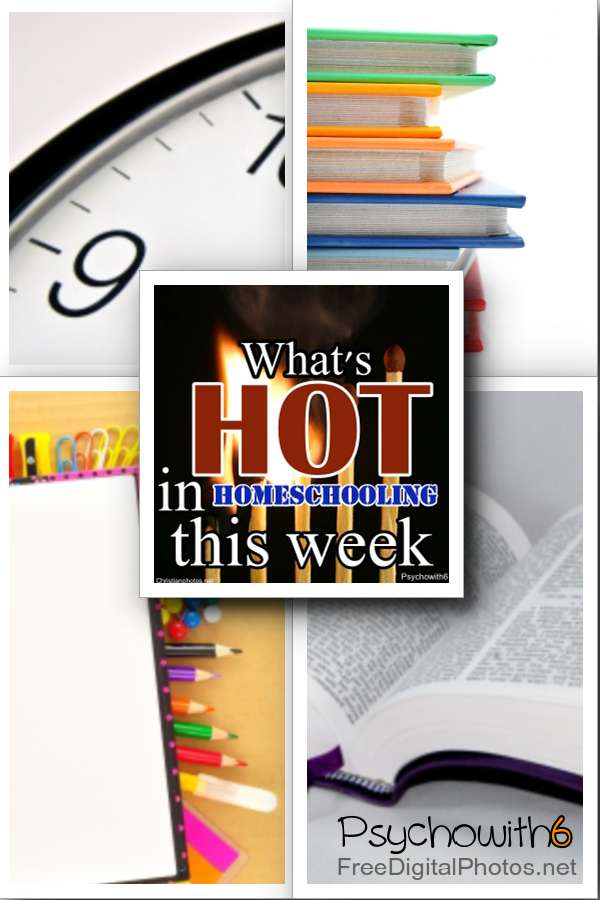 What's Hot in Homeschooling is back! We haven't started back to school yet, but it's definitely time to share the best articles so we can all have the best school year ever.
3 Things to Consider Before School Begins
Homeschool blogs are abuzz with talk of goals for the school year. I'm exhausted just trying to come up with multiple goals for the five kids I'm still homeschooling. That's why I really liked the approach described in this article which isn't a homeschool blog. See if you do, too.
Homeschoolers love printables and Jill of Blessed Beyond a Doubt delivers with this free set that will help you write out your goals (if you prefer), make it fun with a back-to-school scavenger hunt, and more.
Finding School Supplies at Dollar Tree
I always like to give the kids something new for school, but I don't want to spend a lot. Free Homeschool Deals shares the impressive back-to-school booty she got at Dollar Tree for just $15. You'll want to subscribe to her site for even more money-saving ideas.
Why You Should Simplify Your Homeschool
I was inspired by this post from Bible Based Homeschooling. I have found the most overwhelming part of homeschooling is making choices. Decluttering what you have to choose from is a great tip you'll get here.
How to Start Your Homeschool on Time Daily
I think Jill's been peeking in my windows to see us sleeping in on school days! Few things impact your schooling more than starting on time. You'll love these tips.
Five Places to Find Homeschool Encouragement
You won't need encouragement to keep homeschooling until after you've taught for fifteen minutes. When one of my friends had just started homeschooling, she bemoaned that her son just wasn't a fan of her plan. We've all been there. Renee Gotcher of Next Gen Homeschool has some ideas for places to go when the going gets tough.
Be sure to follow the What's Hot in Homeschooling board. If you're a blogger, please comment with your Pinterest account link below to contribute to the board.