This is a guest post by Esther Littlefield of WellnessMomLife.com. Be sure to grab her great freebie!
When my husband and I first decided we would homeschool our daughter, I had a few stipulations. He had always thought homeschooling was a good idea. I, on the other hand, thought it was crazy. Not because homeschooling is crazy – but I knew myself, and I knew my daughter. I anticipated that it would be a big challenge for me to tackle the homeschooling thing.
Between my husband and I, we have 2 businesses, plus I have my blog. I also lead a women's Bible study, run a local business networking group, and help out at our church. So when we discussed it, we had to come up with a plan that would allow to us balance our marriage, homeschooling, and both our businesses.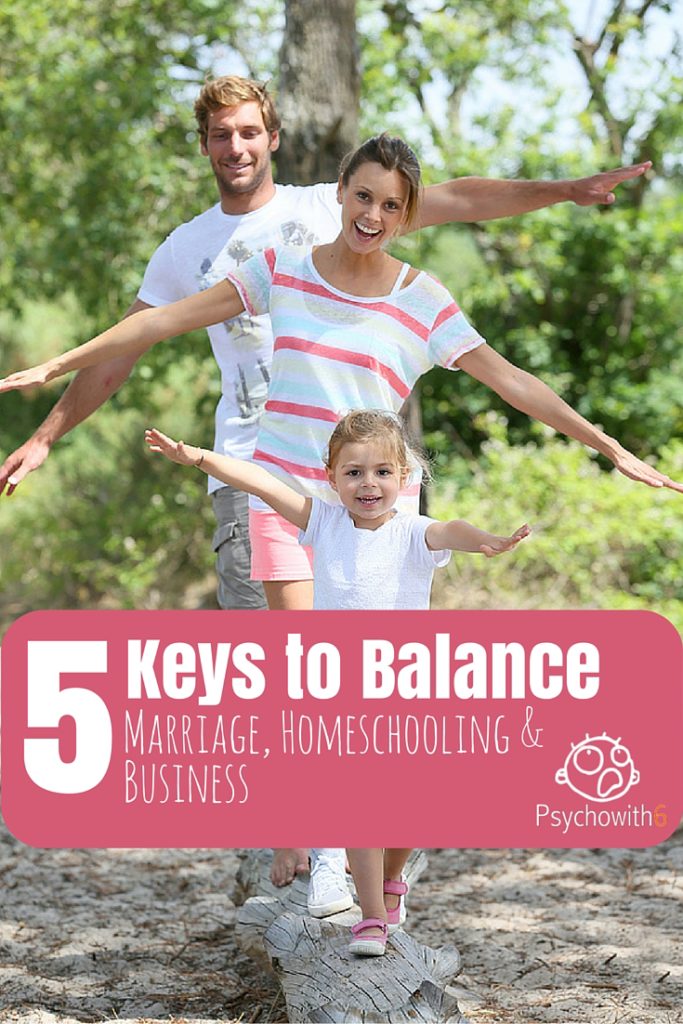 All three of these things – marriage, homeschooling, and having a business – are hard work in and of themselves. They can also be an absolute joy. But when you combine them together, you can create a potential implosion if you are not intentional about how to balance them all.
Here are a few tips that we have found to work for our family, and I hope they might help you, too, if you're in a similar situation.
5 Keys to Balancing Marriage, Homeschooling, and Business:
Be willing to frequently evaluate your roles and time commitments.
When we first started this adventure, we agreed that I would be the primary homeschooling parent. However, we both wanted my husband to be involved on some level, and so our plan was to have him do the homeschooling one morning a week.
Since my husband's hours are flexible, and he works from home on Fridays, we decided that Friday mornings would be his time to do the schooling. This allows me to attend my networking group, as well as run errands and have a little bit of time to myself.
There is no magical solution for this, especially if you both have businesses or other responsibilities. The key is to have frequent conversations about how it is going, and be willing to make adjustments as needed.
Give each other space for free time.
Due to our situation and our schedule, we have more time together and with our daughter than the average family, and we love that. However, we also both have outside pursuits that allow us to have breaks and enjoy things that are important to us.
For me, I have a weekly Bible study I lead, and that has become something I look forward to every week. He has his time to play video games with friends or go play his guitar with some other guys. This free time is important for both of us, and this is key to both of us maintaining wellness (and sanity) in our lives.
On the other hand, since we do spend more time together than the average family, it's easy to neglect spending intentional time together. My husband and I spend a lot of time around one another, but how much of that is truly engaging in quality conversation? Or time away from our daughter?
We have found that scheduling a couple nights a week to spend time together – instead of working on our businesses – is important. We also make it a point to have a date night at least once a month. We have to be intentional about maintaining our connection and improving our communication.
For each family, it may look different. But just because you may spend more time together at home doesn't mean that you are actually focused on each other. Scheduling this time shows that you value each other and your family.
Show respect and appreciation for each other's roles.
Finally, it's incredibly important when you are balancing marriage, homeschooling, and business(es) to be sure to respect each other and the work that you do.
The best way you can respect each other is to show appreciation for the things you each do every day. Whether it's little or big, taking the time to show appreciation can make your spouse feel incredible.
Put your spouse's needs before the kids and the business.
This is always a tricky one. But clearly we homeschooling moms love our kids. We spend all day with them, we teach them, we take them places – we invest A LOT into our kids. Sometimes this dedication to our kids can come at an expense: we end up neglecting our husband because by the time he is home, we are spent.
I'll admit that there are days that I completely fail at this. As soon as my husband walks through the door, I want to tap out. I want to be done, and I'm not very invested in him or his needs.
But the truth is, if I neglect my husband, I'm actually neglecting our family. If I push him to the bottom of my priority list, I am slowly killing my marriage. And this is not good for my kids or for me.
If this is an area you struggle with, I can relate. I've created a free download for you: "10 Tips for Putting Your Husband Before the Kids", which you can grab right here.
This job of parenting and homeschooling is not easy. Having a business can have huge risks, stressors, and it can be an emotional roller coaster. Marriage can have it's challenges. Using these 5 keys to balance all of this can produce less stress and more wellness for you as a family!
Which of the 5 keys that I mentioned do you need to implement today? Share in the comments!