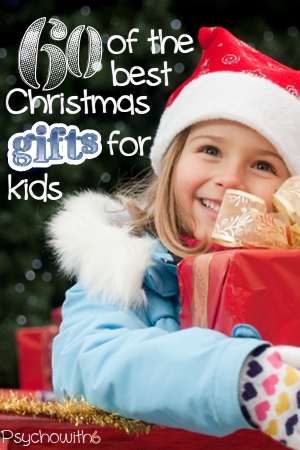 I've been buying gifts for my now six children (five boys and one girl) for 16 years and I've had the opportunity to see which gifts last. Not only have I been able to determine which gifts my kids remember, use, and love, but I've also had the chance to see which gifts are popular with their siblings and friends. I hope this list blesses you as you plan and shop for your children and grandchildren for Christmas and other gift-giving occasions.
Stocking Stuffers They'll Love

1. Amscan Punch Latex Balloons
No matter how expensive the other gifts my kids have received are, they've never failed to enjoy punch balloons. Make sure you have extras for the popping that invariably occurs!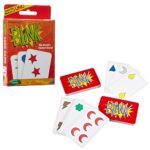 2. Blink Card Game
This game of perceptual speed is just as much fun for adults.
I'm not sure what it is about this game, but it's what they pull out time after time to play with friends and even older siblings.
4. Uno
I think this game is a winner because it's easy for even young kids to play and the adults enjoy it, too.

5. Rubik's Cube
I personally hated the Rubik's cube when I was a kid because I couldn't solve it. My kids have loved it, but I suspect that has something to do with YouTube teaching them how to solve it!
Memory-Making Gifts
6. Experiences
My children have treasured the opportunity to see a play with a grandparent, to go out for lunch with an aunt, and going to the driving range with dad.
7. Scrapbook
The kids are not only excited to look through a scrapbook when they receive it, but take it out over and over again to reminisce. Shutterfly is a great website for making photobooks if you'd like to make a digital book. Look for discount codes this time of year.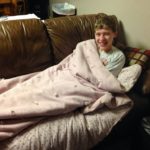 8. Blanket
I saved my money to buy a satin comforter when I was in 6th grade. My aunt took that comforter and used it as the lining for this blanket she gave me as a high school graduation gift. It's now a blanket my kids fight over. A homemade or personalized blanket makes a treasured gift.
I once donated a box of my old shoes to a missionary who took them to a remote part of Africa. She sent pictures of elated women wearing the shoes I had carelessly thrown in a box. I cried and cried. Giving children the opportunity to give a gift to someone in need is a memorable gift. Even more powerful is to allow a child to get to know how his gift makes a difference. Sponsoring a child through  World Vision (this is my friend, Deb Wolf's sponsorship page) will allow a kid you love to see the impact of her gift.
10. A Family Vacation
Our homeschooling schedule has allowed us to take vacations in early December, when rates are low. My children still talk about those trips, that were extra special because they were taken at Christmas time. If you can't go in December, a trip scheduled later can take the place of other gifts that would quickly be forgotten.
Gifts That Engage Imagination
Even when the electronic part of this toy quit working, my boys played and played with these. If they're not familiar with Star Wars, any kind of play sword is likely to be a toy they'll play with for years.

12. Girls' Luggage
Girls love to carry their stuff around. The less character-specific the luggage, the more likely they'll use it year after year.


13. Mr. Potato Head
A simple, well-built toy set that kids can't seem to keep their hands off! It's great to add some other pieces to this set to keep them playing.


14. Dinosaur Toys
My first son was crazy about dinosaurs and his brothers and any boy visitors to our house since then have spent hours playing with these "terrible lizards."

15. Doll Umbrella Stroller
I'm not suggesting that these strollers will stand up to years of abuse, but they're inexpensive and will be played with so much that you can afford to replace them.


16. Fisher Price GeoTrax Train Set
We've had a lot of train sets over the years, but for the money, this is my favorite. Very durable and EASY for kids to put together themselves.
17. Fisher Price Imaginext Eagle Talon Castle
While this isn't the same model we bought years ago, it appears to have the same features that had dozens of kids playing with it for hours. I still have this play set and will probably keep it for my grandchildren.

18. Fisher Price Loving Family Dream Dollhouse
Are you noticing a theme? Fisher Price play sets are durable and keep kids engaged for years. We just gave ours away and it's in almost new condition. If you knew my daughter, you'd know that means this set is built to last!


19. American Girl Doll
If you're like I was, you may be wondering if this pricey doll is worth it. All I can say is that we have gone through many, many dolls that have not captivated my daughter like her American Girl dolls.


20. Step 2 Lifestyle Deluxe Kitchen
Both boys and girls have played with this set for years and it's in great shape. It's been well worth it to spend more for a set that lasts (we still have it).

21. Child's Clone Trooper Costume
My kids have worn costumes even when they were too small, because they absolutely love them. Pajamas that double as costumes are another well-loved gift.
Building Toys for Creative Play
22. Duplo Lego Set
I've been through lots of Lego sets over the years, but this Duplo set outlasted them all. The bonus is they are easy to keep organized.


23. Marble Run
These things are so fun for kids to put together. You may want them to play on a blanket so you don't miss any of the marbles!


24. Domino Race
Yes, the excitement of knocking down your dominoes lasts just a moment, but the great thing is that setting up the race can take them hours!


25. Zoobmobile Car Designer Kit
Little boys love building cars and this kit makes it easy for little hands to do just that. This set has been very popular with the boys at a P.E. class we attend.


26. Jumbo Blocks
We bought a set of these used and because they were on the expensive side, I wasn't sure it was a good investment. Kids of all ages (yes, even teens) play with these, so my investment was a great one. The boys love to use them to create barriers for battles. I love these so much, I plan to keep them for future grandchildren.
Board Games for Screen-Free Fun

27. Candyland
I'll admit it. I don't love this game. But my kids always have. If you're looking for a game for the younger set, you can't go wrong with this one. You might have to hide a card or two to bring the game to a close, however.


28. Don't Break the Ice
Another great game that even the littles can play. You have to have hand strength to put it back together, but the game is short. I've always appreciated that.


29. Connect Four
I remember playing this with my brother. While I was writing this post, I saw my younger two playing Connect Four. This game is definitely a winner.


30. Bingo
My kids play this Disney DVD Bingo game weekly. As I write, its price is exorbitant on Amazon. My kids have enjoyed many different Bingo games over the years, and I bet yours will be just as happy with an inexpensive set.


31. Jenga
Jenga was in a condo we rented for a few days and the kids played with it constantly. They continue to play Jenga frequently now that we own it.


32. Apples to Apples
I didn't realize how popular this game was with my kids until I tried to take it to a women's retreat with me. There was a revolt! It's especially popular when the kids have friends over.


33. Chess, Checkers, Backgammon
The kids love playing these classic games with their dad and loved playing with their grandpa when he was alive.


34. Scrabble
Scrabble has worked well for us for all ages as long as we play in teams–and as long as we refuse to play with people who know all the 3-letter non-word words. You know what I mean.


35. Cribbage
You may not be familiar with cribbage, but I grew up playing the game with my dad, who was a cribbage master. It's a wonderful game for encouraging conversation with your child and it even builds math skills!
Active Toys They'll Enjoy for Years
36. Nerf Guns
I've come a long way from a mother who wasn't going to let her sons play with toy guns to a mom whose boys have an entire arsenal of them. My teenagers will still play with these and when it's time to declutter toys, these never go into the giveaway box.


37. Hula Hoop
Our homeschool support group has hula hoop contests throughout the year (with prizes). That has motivated my kids to be very skilled with this, but it's motivated me, too! Buy one for your kids and you can use it to get a good workout in, too.
38. Hop Ball
I've kept two of these in my basement for years and they are used, even when I don't want them to be! There's just something irresistible about them.


39. Twister
Another game I remember playing as a kid, Twister gets kids giggling, even if they don't finish it.

40. Juggling Balls
My husband can juggle and now my teen is juggling, too. These balls have been great for keeping the kids busy when they're restless, even when they're not working on juggling per se.

41. Shuffleboard
Shuffleboard is a great game for kids of all ages. My family and the kids' friends have all enjoyed this reasonably priced shuffleboard game.


42. Jump-O-Lene
We bought one of these inflatable trampolines for our basement when our oldest kids were little and they had a blast concocting fun new ways of jumping into it. My kids and their many friends were quite hard on the Jump-O-Lene and we had to replace it a couple of times. But it was worth it for the fun the kids got out of it.


43. Football
All of my boys love the sport of football. They've played flag football and haven't met a football they didn't like. They're playing with the neighbor boys as I write.


44. Baseball Bases
The boys all enjoy playing baseball, too. All of the equipment has been used, but real bases make throwing a backyard game together with friends that much more fun.


45. Soccer Ball
My daughter enjoys soccer, but our soccer balls get used for many other games.


46. Basketball Hoop
My family isn't big into basketball, but we've used our basketball hoop so much for quick games of HORSE and when we have parties, too.


47. Badminton Set
Badminton is a fantastic game to play as a family. We love it and the neighbor kids do, too.


48. Limbo Game
Our homeschool support group also has limbo contests throughout the year and my kids are crazy about it. Don't tell them, but I think they may get a set of their own this Christmas!


49. Tennis Racquet
We're a tennis family, but even if we weren't, I'd recommend a racquet as a gift for kids. Many municipalities have free courts to practice on or you might consider a driveway tennis set.


50. Step 2 Roller Coaster
I wondered if I was wasting my money buying this toddler toy. I couldn't have been more wrong. We kept this outside and it was played with by our kids until they were in late elementary school. It was a very popular attraction with guests and it stood up to tons of abuse.


51. Disc Golf Set
We are fortunate that we live near a park that has a disc golf course. It's been a great family activity and one the teens like to do with their friends, too. No course nearby? You might want to try this Mini Disc Set to use at home.

52. Razor Scooter
My husband has always had a "no powered vehicles for the kids" policy. We've had the same inexpensive scooter for years and I just backed over it. Amazingly, the kids are still using it.


53. Step 2 Climber
I bought a model similar to this 15 years ago and kept it in our basement. I just asked my kids if I could get rid of it. They wouldn't hear of it. This climber is just part of our castle it seems.


54. Seesaw
I bought a different model of this seesaw and kept it in the basement where it became a source of years of fun. Even though only two could ride at a time, friends and siblings had a blast spinning the riders as fast as they could go.


55. Ping Pong Table
I enjoy having a ping pong table for crafts, but I can rarely use it for that purpose, because our whole family loves ping pong. It's been a great activity for our teens and their friends.

56. Trampoline
I was a little worried about injuries getting a trampoline, but we've been blessed to have only a few minor ones. This is another gift that has occupied dozens of kids of all ages and has been worth every penny.
Electronic & Music Gifts That Bring Families Together
57. Mahalo Ukelele
My daughter purchased this and I figured it would end up in the junk pile. Boy, was I wrong! Most of my kids play it constantly and it's the first thing teenage guests in our house pick up. A big winner for the price.
58. Karaoke Machine
We had a CD-player karaoke machine for years and years and while the karaoke part was used a lot, the microphone was used even more. Someone might be getting this new version this year.
When it comes to listening to karaoke, playing games, or watching movies together, we needed more seating in our basement. I purchased this bean bag chair and it's been a hit, but not for the reason I expected. The kids run and jump on it, have guests sleep on it, and do their homework on it. It's stood up to abuse, too.
60. Epson MovieMate
We bought a previous version of this movie projector and have gotten years' worth of use out of it. We enjoy watching movies together outside using our garage door as a screen, projecting family video games on our basement wall so even Grandma can play, and projecting workout DVDs so we can all get fit together.
Whatever gifts you choose for the kids you love, I pray that you and your family will enjoy a very blessed Christmas! If you'd like more helpful resources, I invite you to get a copy of my free meal planning ebook and to follow me on Pinterest.
Dr. Melanie Wilson @psychowith6's profile on Pinterest