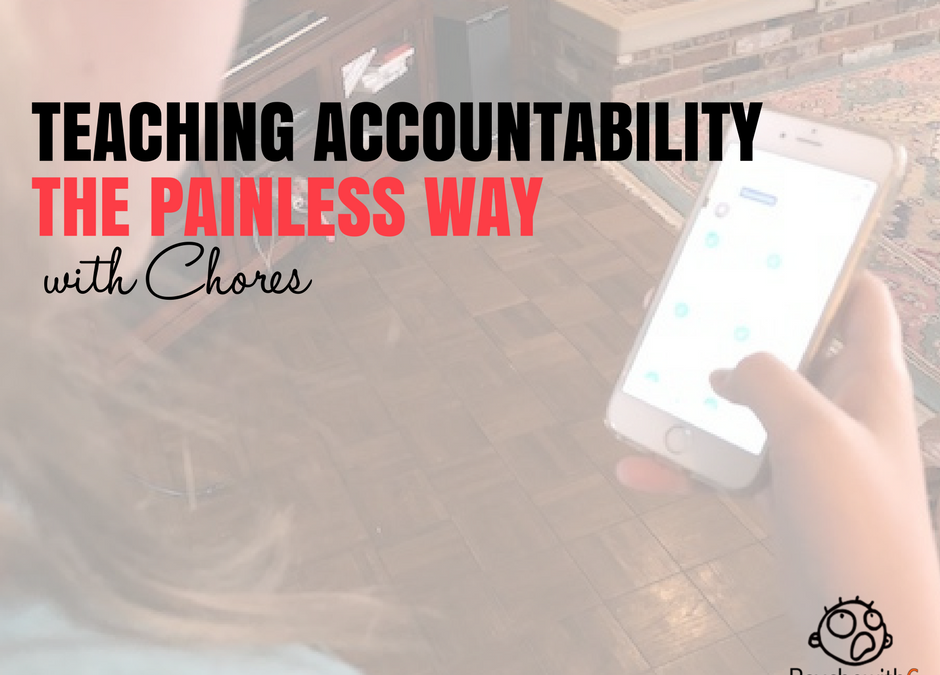 I was given free access to the premium version of a chore management app and was compensated for my time. All opinions are my own.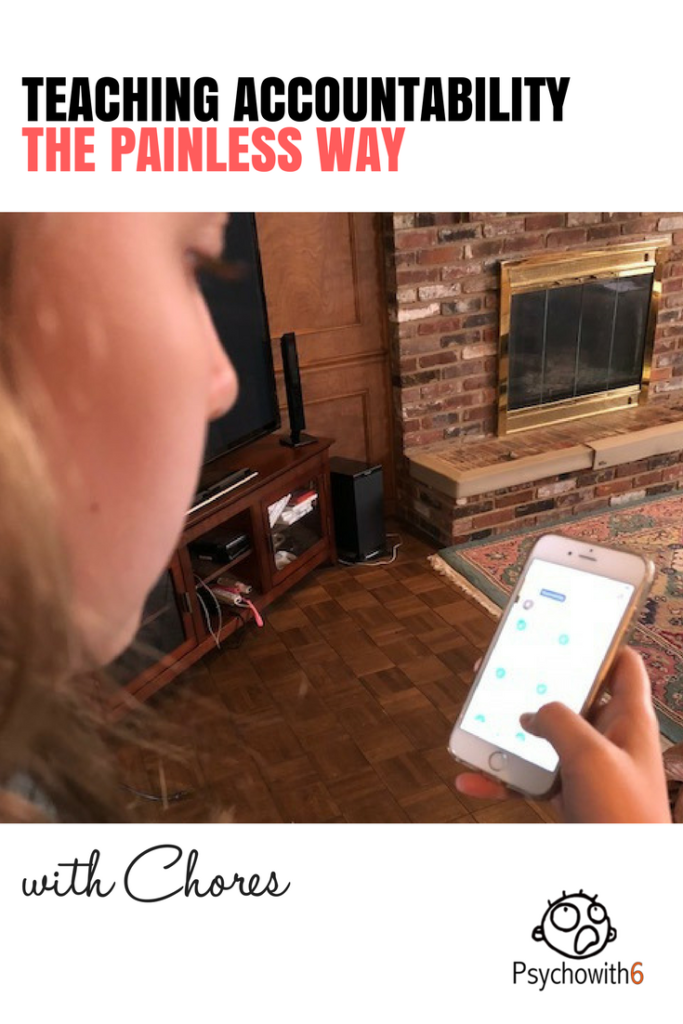 We all want our kids to be responsible people who can care for themselves as adults. One of the best ways to teach responsibility is to require chores. That's simple enough. You create a list of chores that must be done around your home to keep it functioning and you assign them to children who are old enough to complete them. Your children now have responsibilities that will not only make your life easier but will make them better people.
The Trouble with Teaching Accountability with Chores
If only it were so simple! Giving children chores or responsibilities is meaningless without accountability. There must be some way of determining that the chores are complete. As the saying goes, "You must inspect what you expect." If you have one child whose sole chore is to feed the dog, it's easy to check that it's been done. But accountability becomes much more complex when a child has multiple chores assigned at various times of day in addition to independent school work. When you have multiple children with these responsibilities, teaching accountability with chores becomes PAINFUL.
As a mother of six (three of whom who are grown men living at home at least part of the time), I can tell you how painful it can be to inspect what I expect. I feel like I'm running another small business with six employees who are slacking. I don't discover until the next day that the trash wasn't taken out on time. I realize only after a guest has used our bathroom that the toilet hasn't been cleaned. The failure to complete chores is invariably blamed on another child, who may or may not be available to defend himself. When my husband discovers an incomplete chore, there is a lot of analog communication (aka yelling) to determine who didn't do what they were supposed to do.
I have used multiple approaches to assigning chores to my kids. All of them work when it comes to determining who is to do what. None of them has helped me with the accountability piece. I don't have the time or patience to inspect every person's chores and neither does my husband.
How the Homey App is Teaching My Kids Accountability with Chores
I jumped at the chance to try the Homey App, a chore and allowance app available for iOS and Android. My kids are older now (12 and up) and all of them have mobile devices they use daily. An app for managing chores makes perfect sense for them.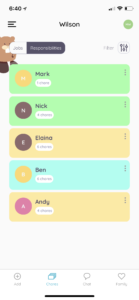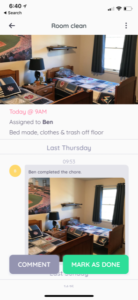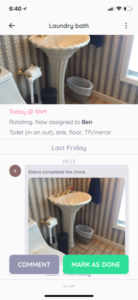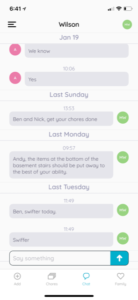 Homey has you set up a family account. I added my husband to it as well. Everyone can see from their mobile device who is supposed to do what. If the chore hasn't been completed, instead of shouting for them to please come do it, we use the family chat feature. Everyone in the family sees the message, allowing them to respond to any blame shifting.
Homey allows your child to provide proof of completion. I am so happy about this benefit of using the Homey App, I could cry. In the past, my child would say, "Yes, I cleaned my room." Later I would see what looked like a Hoarders before episode going on. As soon as your child marks a chore complete (and you've set it up to require photo proof), their device's camera opens. When it comes to the bathrooms, I am going to start asking my kids for a close-up of the toilet. I receive notifications of their completed chores and the photo proof on my phone. I don't have to stop what I'm doing and run up a flight of steps ten times to make sure the kids are being accountable with their chores.
Homey allows you to connect an allowance to chores and jobs. I have always given my kids an allowance that isn't connected to their chores. I require them to use that money to purchase things they want. I deduct money for offenses and incomplete chores. It has been an excellent disciplinary strategy. I had an app I used to manage their money that was discontinued. I started using Penney Owl but never liked it as well as the old app. When I realized that I could transfer the kids' money to Homey, I was ecstatic. Instead of deducting money for individual chores not being done (which I rarely remembered to do), Homey allows me to set a percentage of chore completion required before the allowance is granted. I can still deduct money for other infractions without having to use multiple apps.
Homey allows me to assign jobs as well. These are responsibilities with a salary that may or may not be ongoing. In the spring, my son will start mowing again and he is paid for that. When my husband says it needs to be done, I'll assign it to him in Homey and he'll be paid when it's complete. If your child has a checking account in the U.S., you can connect Homey with it and make an actual transfer of money, rather than a virtual one.
Other Reasons I Love the Homey App and You Will Too
Homey automatically rotates chores. My kids hate to be assigned the same chore all the time. They want the chores to be rotated. Homey is hands down, the easiest way to assign rotating chores. It's not a college-level logic puzzle!
Homey makes it quick to create chores. Homey has built-in chore packs, so you don't have to come up with them from scratch. You can even save your own list of chores as a pack. Have a chore that is shared or you want assigned as an individual chore to multiple kids? It's crazy easy to do.
Homey allows you to add school assignments too. While it wouldn't make sense to schedule a year's worth of lessons in the Homey app, you can create an assignment as a job with no pay. Here is how I used it. I read the kids their history lesson and then took a picture of the assignment that went with it. I assigned it as a job to each student. The only adjustment you have to make, depending on the age of your child and your preferences, is giving your child permission to complete a job before chores and permission to complete it after it's due.
Homey helps me stay accountable too. I have assigned myself the clean room task (with photo proof!) and have the task of prayer and Bible time with the rest of the family. I love getting the reminders. This feature can be used for establishing any habit.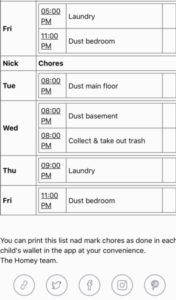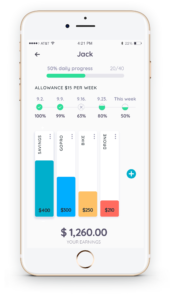 Homey provides you with a weekly chore list you can print for younger children and other family members not hip on using mobile devices. This print-out could be highlighted or marked with a star by the little helpers.
Homey allows you to teach financial responsibility. Your child can set up a savings goal and can add money to a spend, save, or give jar. I was taking out a giving amount for my kids automatically. Homey will allow them to decide how much to give on their own. I love that!
Download the Homey App Today!
The basic Homey app is free for families with up to three accounts. Homey Unlimited allows the addition of unlimited family members, connection of banking accounts in the U.S. and customizing the app for each child. Homey Unlimited is just $4.99 a month or even less if you pay annually ($49.99). Try out Homey Unlimited free for a week! Be sure to enter to win a year's subscription to Homey Unlimited below.
In the meantime, follow Homey on Facebook, Twitter, and Pinterest to learn more tips for teaching accountability with chores.
read more