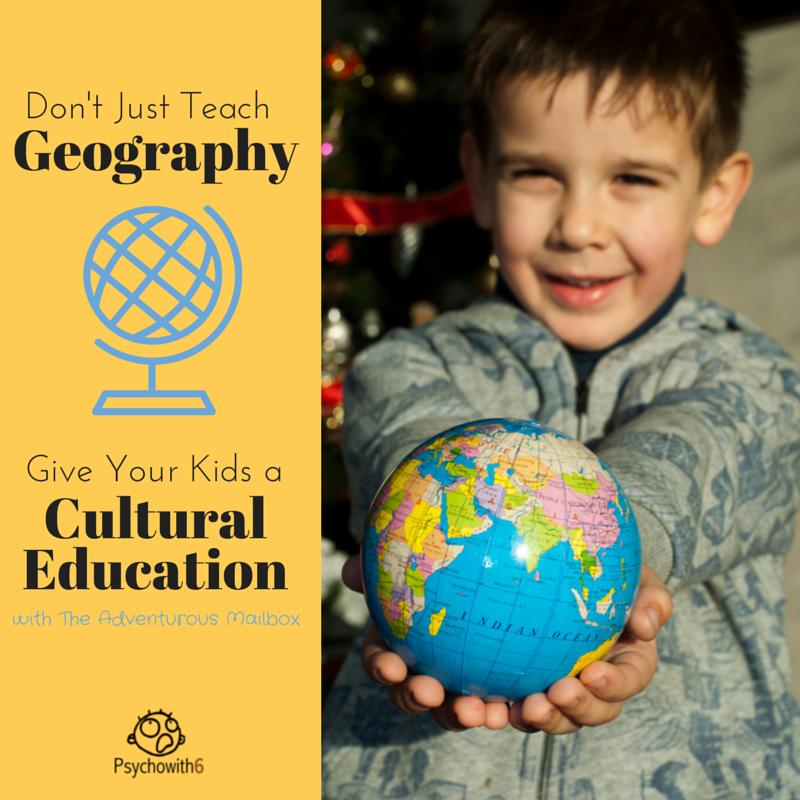 I received the Adventurer Package for free and was compensated for my time. All opinions are my own.
I knew my kids would love to get something fun and educational in the mailbox. Look how my nine- and eleven-year-old tore into the package when it arrived! They were especially thrilled to receive a personally addressed letter.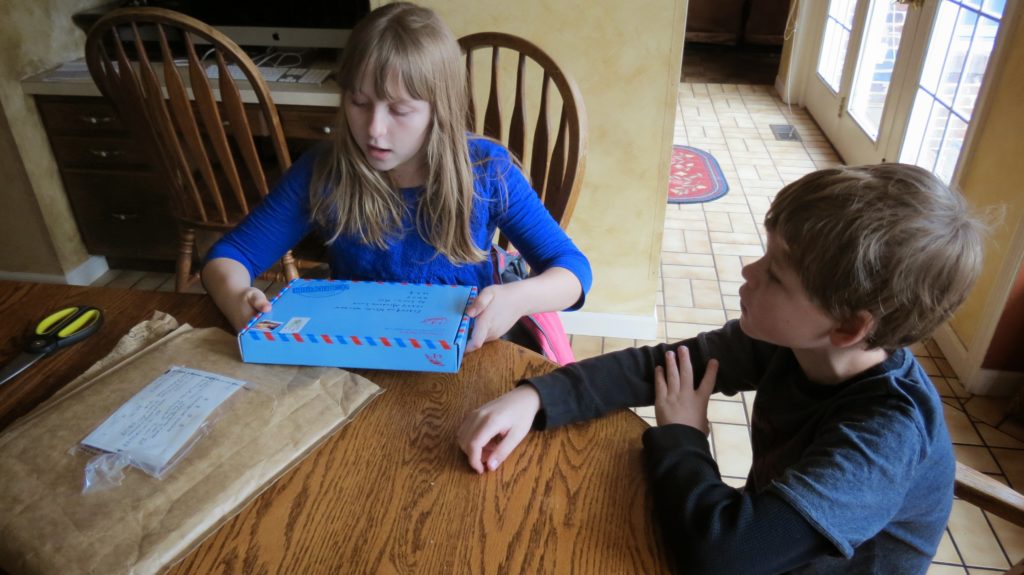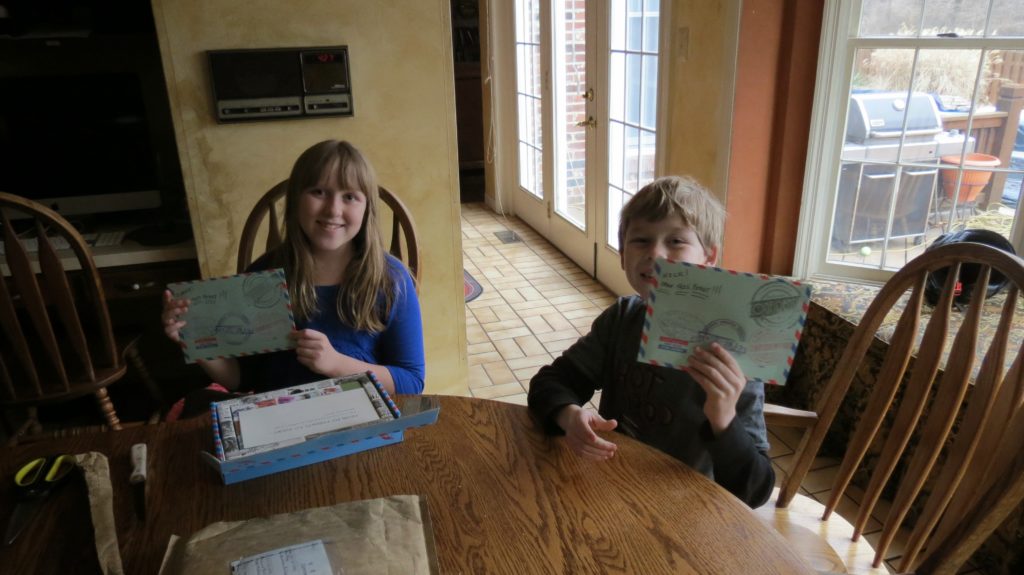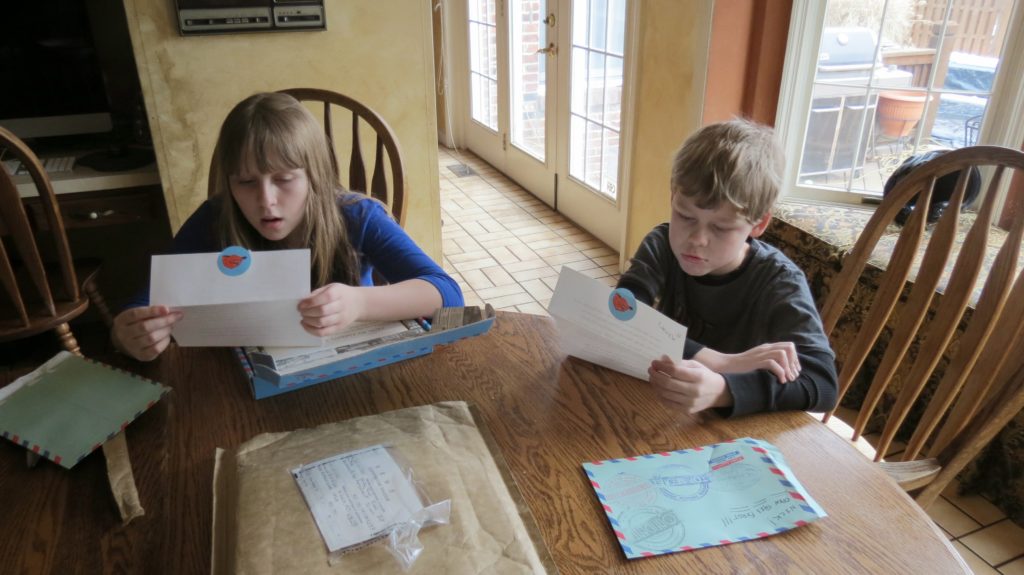 What is Adventurous Mailbox?
The Adventurer Package from Adventurous Mailbox is a set of eight books written like letters from Crameye Junker to your 8-12-year-old child. Crameye and his family (who homeschool) experience adventures in the countries of Finland, Taiwan, Brazil, Thailand, Greece, Tanzania, and Peru. In the process, kids learn about the geography of these countries (its location and climate), but even more importantly, what it's like to be immersed in the culture. Readers learn about the language, traditions, and schools of each country as they follow the characters.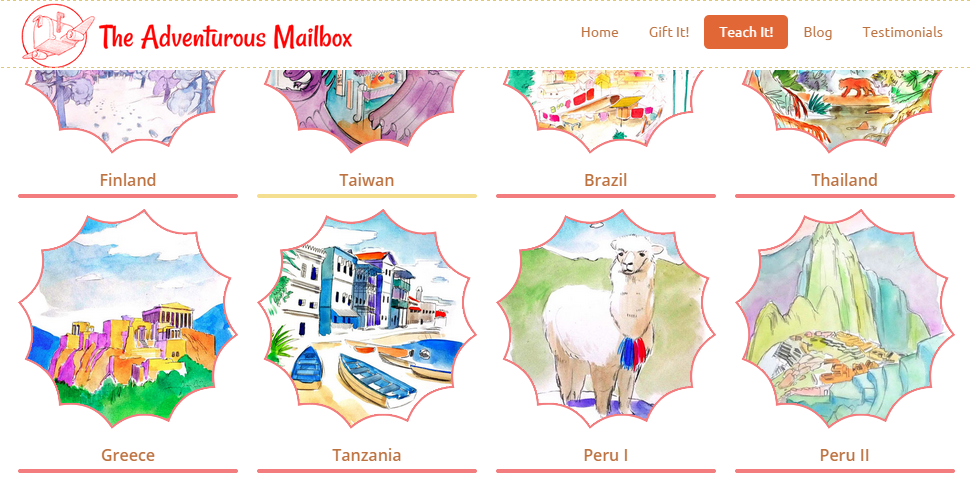 Painless Geography and Cultural Education, Too
As I am still homeschooling five children, I find adding geography studies to my day challenging, even with the great tips I have shared on the blog before. Adventurous Mailbox makes it easy! Simply reading these engaging books (that are full of mystery and intrigue) will give your kids an excellent cultural education. And in my book, that's even more important than memorizing facts like capital cities. But kids learn traditional geography along the way, too. If Adventurous Mailbox were only a set of books that counted as a literary and geographical education, I would be very happy. But there's more…
A Complete Education with the Teacher's Lounge
I received access to the Teacher's Lounge with my package (which can too — see details below!). I'm going to be honest and say I wasn't expecting much. I just reviewed a huge list of grammar websites to determine the best of the best to share with my readers, so my standards are high. When I looked over the material available for each book, my mouth hung open. Here's a list of lessons available for Taiwan JUST FOR VOCABULARY.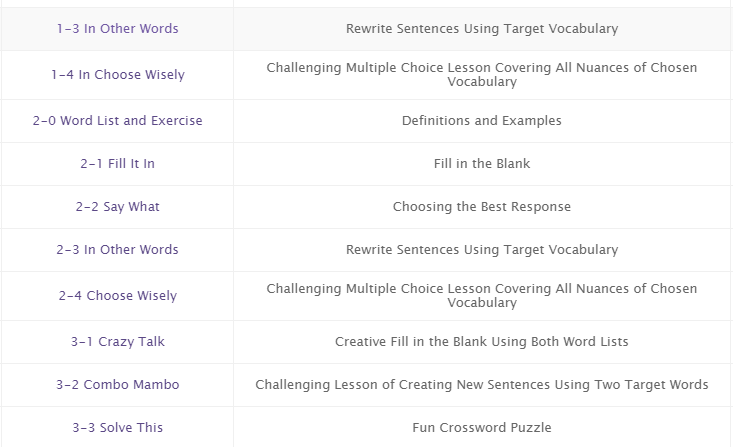 I love to teach language arts. In fact, I'm writing my own curriculum! Again, my standards are high. I cannot overstate the quality of the materials available with Adventurous Mailbox. I am shaking my head as I write! I'm amazed. In addition to vocabulary, your Teacher's Lounge membership will allow you to download lessons on reading comprehension (which is vitally important), writing (which actually TEACH numerous forms of writing!), critical thinking, online research, country-specific projects (like learning to write Chinese), and even group projects (making this a great option for co-ops).
But wait! There's still more. No really, there is! For each country, safe research links are shared along with a list of other lesson and activity links. Are you starting to see how you could use Adventurous Mailbox as a thorough, year-long unit study?
Safe Online Learning and More
Your child will receive a code allowing them to access Crameye's World. Here they can read the main characters' blogs, see pictures of each country, learn more about languages, and see foods popular around the world. There is a forum for kids (which isn't active yet, but could be really fun when it gains momentum) and a section planned for games to go along with the books. My kids accessed Crameye's World IMMEDIATELY, but thankfully the books have remained the focus. My daughter, in particular, totes them around everywhere!
Ebook versions of the books are coming and Adventurous Mailbox plans for 40 books total. My mind is blown thinking how smart my kids could be, having finished all this material!
Don't Take My Word for It
When I am considering an online purchase of curriculum, I want to be able to see as much of it as possible. If you're the same, you will love the Adventurous Mailbox site. You can see significant previews of everything, including the book text. Unless you want to surprise your child (hint: this would make a GREAT gift), you could have her read the samples online and see what she thinks.
The Details
By now, you're probably wondering how much this cultural and all-around education is going to cost you. Don't worry! You don't need to be sitting down. The Adventurer Package, which I reviewed, is just $79. The Teacher's Lounge is just $20, which is a BARGAIN. But my readers won't pay that!
Using code HSadventure, you'll receive 10% off and the Teacher's Lounge for FREE! But hurry…this offer is valid until 6/30/15 only.
I hope you'll follow The Adventurous Mailbox on social media, so you know when their new books and ebooks are available: on Facebook, Twitter, Pinterest, and Google+. I hope you'll also follow them on Instagram and me, too!
What do you think? Do you have readers ages 8-12 who would love to get some adventure in their mailbox?