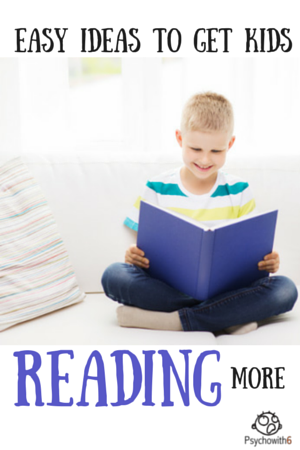 You know it's important for your child's future to have him read as much as possible. But what should you do if your child is a reluctant reader?
As a busy family who has made it top priority to raise six readers, we have discovered a few ways to encourage reading that can work for you.
#1 Create a reading environment
Research on academic achievement suggests that students who experience the biggest declines over summer break have the fewest books at home. Unfortunately, these declines tend to persist even once school has resumed.
What we can learn from this (even if you're a homeschooler like I am) is that it's important to have a generous variety of books in your home. Fortunately, that shouldn't break the budget. Between libraries in your community, church, and home and lots of free digital titles, you should be able to create a rich reading environment.
Once you have the books, make sure you create spaces that invite reading–even if that's your child's bedroom. Make sure the lighting is adequate and furnishings are comfortable. Consider creating a reading nook for kids, too. Find some great ideas here:


#2 Find the right books
You are your kids' most important librarian. When you invest the time to find titles that your child will enjoy, you will reap the rewards of having an avid reader.
Get advice on popular titles, especially those in a series. When you get your child hooked on a book in a series, most of your work is over. He will want to keep reading and then it's fairly easy to find other series he would enjoy. Start by getting advice from parents whose kids are avid readers, look for top kids' titles on Amazon, and check out book lists on Pinterest. One thing I've learned is that even if I really like a book, my child may not. I have to find something that really gets him excited.
The right books have to be at the right reading level for your child. To get kids reading more, choose books that are below their reading level. If the books seem easy, reading will seem effortless and fun. Save the challenging reading for school time. One tip for determining if it's the right level is to have your child read one page of the book to you while holding up five fingers. If she comes to a word she doesn't know, have her put one finger down. If she finishes a page with at least one finger up, it's an okay book for her. However, if your child says it's too hard, listen. If your child is really excited to read a book that is pretty challenging, absolutely let her give it a try.
Search for books from Capstone Publishing. Their titles are specifically designed to be high interest and lower reading level. Most libraries carry them.
#3 Buy an eReader
I'm a big believer in having all the reading formats available to a child. Printed books still form the majority of books kids read.
However, kids appreciate the novelty of digital books and some of their unique features, including: being able to get books instantly, being able to look up words at a touch, having an estimate of how long it will take them to read a book, and the ability to listen to a title while looking at the words.
These advantages have made our one Kindle Fire very popular around here.
#4 Sign up for a reading incentive program or create your own
I agree with the critics of reading incentive programs that reading is a reward in itself. But when it comes to unmotivated readers, I have no problem rewarding reading if that's what it takes. There are many reading incentive programs to try. Check with your school or homeschool support group for information about enrolling.
It's also easy to create your own reading incentives. My husband likes to promise the kids a shake for reading a certain number of books. Whenever he starts this program, the reading gets intense around here! Reading Rewards is a website you can use to create your own program.
#5 Allow reading in lieu of other activities
My kids have to read as well as complete math, science, and other language arts assignments. Reading is always what they choose to do first.
Give your kids alternatives that encourage reading. Ask them to complete a dull worksheet or read; require either reading or an extra chore. With time, reading will be viewed as the pleasurable activity it is.
#6 Read yourself
Make sure your kids see you reading or hear you talk about it. I do most of my reading when the kids are in bed, so I frequently talk with them about what I read. They know I am not asking them to value something that I don't.
Encourage your spouse to model reading, too. My husband reads the Bible and the news at breakfast, reads for pleasure in the evenings, and recommends titles to the kids that he has read or heard about from the librarians he calls on. If your spouse doesn't have the time to model reading, ask him to talk about what he's been reading with the kids.
#7 Listen to audio books
Audio books count as reading! For auditory learners, those who have reading challenges like dyslexia, and those who can't stand to sit still for long periods, this is a blessing.
It's easy to get more reading time in by listening to books in the car and at bedtime. If you have a bluetooth-enabled device, the kids can even listen to books in the tub or shower using this speaker.
You can also have audio book family time when you're not traveling, where you listen to engaging titles like these.
#8 Make time for online reading
Young kids shouldn't be reading online unsupervised. The problem with that is that it requires your time. That means the best way to make it happen is to schedule it.
Make fun, online reading part of your school schedule. I reserve Friday mornings for more of an unschooling approach where we can study things we're interested in. It's a perfect time to not only watch YouTube videos, but to find safe websites on the subjects of interest. If you don't homeschool, schedule some time for this after school or on weekends. Try these research sites recommended to school librarians.
#9 Find purposeful nonfiction
Kids will read when they really want or need the information. What is your child into? Find a book, magazine, or website that provides information on that topic. For example, this website on Minecraft tips may be just the ticket for your game lovers. Sometimes, even an instruction manual can end up fascinating a reluctant learner. Game manuals, Lego instructions, and cookbooks encourage reading, too.
#10 Read out loud
Just like audio books, books that you read to your child count as reading. Many kids who aren't yet fluent readers appreciate the speed and accuracy of a parent's reading. Have your child sit next to you as you read for even more skill building.
Have fun with the reading. Kids love it when you use different voices and dramatize fiction books and you are making positive associations with reading in the process.
#11 Have kids read to you
Even excellent readers need plenty of practice reading out loud. Practice helps prevent anxiety over reading in public, improves fluency, and teaches correct pronunciation. My kids have often been silently mispronouncing words as they read. Reading out loud gives me a chance to correct mistakes. One tip: let your kids choose the book they read to you. Yes, it will probably be No, David! one more time, but your child will be saying yes to reading.
#12 Have kids read to younger children
Having kids read to younger siblings or other kids offers the same benefits as reading to you, with the added benefits of building a child's confidence and encouraging story telling. Even if kids are reading books for kids much younger, the time counts as reading. And that makes all the difference.
Try these tips and your kids will be spending more time reading and maybe you will be, too!
Be sure to follow my Pinterest Reading Ideas board for more tips and check out iHomeschool Network's Ideas for Real Life Learning.
Follow Dr. Melanie Wilson @psychowith6's board Reading Ideas on Pinterest.