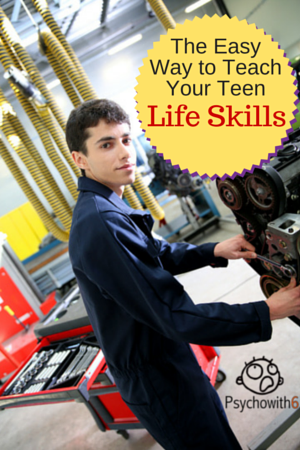 I received curriculum to review and was compensated for my time. All opinions are my own.
I jumped at the chance to review Paradigm Accelerated Curriculum's Character & Skills for Home & Careers because I want my teen sons to have training in basic automotive and home maintenance. My father was gifted in this area, but my father-in-law was not. And my husband? Let's just say that when I asked him to do the projects with the boys for the course, he emailed me back, "Are you joking?"
What is Character & Skills for Home & Careers?
This 75-lesson course is a high school, homeschool,  elective course that is especially suitable for boys. That's perfect, because I have a slew of 'em! (Check 'em out on my About page). But if you have a handy girl or a daughter who would like to be, there's no reason she couldn't complete the course, too. Your teen will learn automotive, electrical, plumbing, carpentry, time management, and finance skills. What's not to love about that?
The material is covered in digital format or in five softcover texts and five softcover workbooks. We used the printed materials. If you liked, you could easily three-punch the softcover texts and store them in a binder. We found the material seemed less overwhelming when broken out into five separate units.  What's very unusual about this curriculum is that you can buy the units separately. Maybe your son knows carpentry, but not plumbing or electrical. You could purchase only these units. If you're like me, though, you're going to want the whole course.

What I Love About PAC's Character & Skills for Home & Careers Homeschool Material
It's easy reading. My sons have strong reading skills, but this curriculum is designed for all reading levels. The text-to-speech version makes it perfect for students with dyslexia or other reading challenges.
It's in story form. Half the battle in education is convincing young people of the value of the skill. Story is used to provide that context and is more memorable than a standard text.
It teaches character. It would be enough for this curriculum to impart information about practical skills, but it goes further in providing examples of men with values. How refreshing!
It provides practical application that is doable. I love curriculum that tells me exactly what to do when it comes to application and PAC does just that. If you need to utilize people with strengths in these areas to go over the projects, they'll appreciate having this structure as well.
It would make for a great co-op course. In fact, I was so excited about this aspect of it that my friends and I are going to use it with our boys next year. We will ask the people we know with skills in the various areas to do the projects. (My husband will be so disappointed that we won't ask him. 🙂 )
To Make Best Use of PAC's Character & Skills for Home & Careers High School Course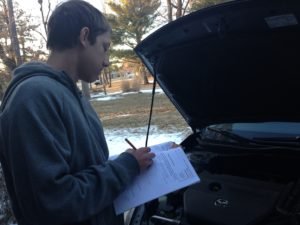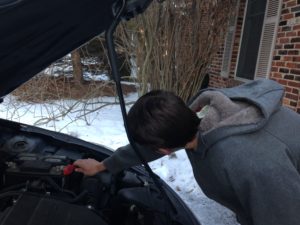 Motivate your teen. I spent time explaining why I think this is essential training. Otherwise, this is a course that can get put on the back burner. You can tell your teens that they will be able to save a lot of money by being able to do their own simple repairs. You can also motivate them with responsibility. My 15-year-old will be getting his driver's permit soon, so I motivated him to study the automotive material.
Plan for projects. If you are going to bring in other teachers for the practical applications, you will want to arrange dates with them ahead of time. If dad is going to be in charge, it may be even more important to get projects scheduled so they are completed. When you have dates planned, make sure your son knows when he has to have his written work finished.
Give your son responsibility. Once he has completed a unit, allow him to put his new knowledge to good use whenever possible. If nothing comes up, help him get involved in a project in his area of interest. If he's really interested, arrange an apprenticeship. He may even have discovered a potential career.
Want to Learn More?
Check out a sample of the text and a sample of the work text.
Paradigm Accelerated Curriculum plans to incorporate QR codes into the curriculum in the near future which will enable students to access more material via their smart phones. That's just cool!
When you're ready to buy, the teacher's kit is $18.95. Individual units are just over $15.00 each. Or purchase everything for $95.95–a great price for a course that's so well put together AND could end up saving you and your son a lot of money long-term. But Paradigm offers these discounts:
40% off for
● homeschool groups (minimum purchase $1000)
● single parents
20% off for
● ministry families
● military families
● farmers and ranchers
● first responders
● foster parents
Call Paradigm at 325­-649-0976 for a discount code to use during the checkout process if you fit into one of these categories.
Be sure to follow Paradigm on Facebook, Twitter, Pinterest, and YouTube. They have other courses you should check out!