Are you ready to end the What's for Dinner Woes once and for all?
If you've tried other meal plans and found:
You didn't make the recipes and the ingredients you bought for them went to waste
You didn't like all the recipes
You didn't have the time required to keep making healthier recipes
The Once-and-for-All Meal Plan is for you!
As a busy homeschooling mother of six with a work-from-home husband, I have to have a meal plan that enables me to save time and money while still keeping us healthy. After trying many, many plans I finally discovered a commonsense approach that works for us month after month.
You Can Find the Balance Between Family Favorites & Your Passion for New Recipes
The key is being prepared to make quick-to-fix meals you know your family loves while also indulging your desire to try that new Pinterest dish. The Once-and-for-All Meal Plan can help you feel ready for the busiest week night while still enjoying the rainy day when whipping up a culinary masterpiece is your goal. While my focus is helping you identify tried-and-true recipes, I share some of our family favorites. You'll also have the opportunity to share your favorites with other meal planners.
It Isn't What You Think
Most free meal plans are a calendar of meal ideas, many of which you couldn't get your family to try. While you might get some ideas, you will still be wondering what to make for dinner tomorrow, next week, and next month. The Once-and-for-All Meal Plan isn't a calendar of ideas or a five-page PDF, but a comprehensive method for organizing and improving your family meals. You will have to plan just once, but you'll be able to eat for months!
Author, Diana Brandmeyer says the book has saved her money:
I've read through it and am already working on planning my menus. It is so easy and makes so much sense.
If You're Ready…
to save hours meal planning, shopping, and cooking
to save money by shopping less often
to painlessly improve your family's nutrition with meals they love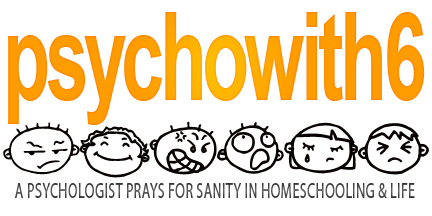 Join the mailing list for Psychowith6. It's that simple!
You'll be able to download and read the Once-and-for-All Meal Plan for free on any computer or mobile device. You'll also receive updates from Psychowith6, helpful resources, and free printables just for subscribers.
Click the button below and get cookin'!
Send My Free Ebook!