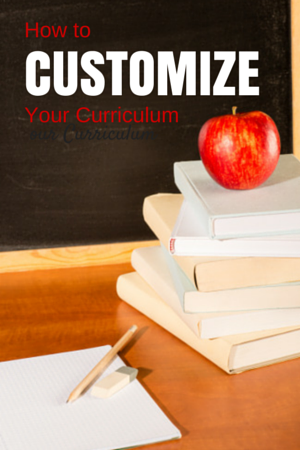 One of the things new homeschoolers struggle with most is choosing curriculum. Even after they've made their choice, they doubt themselves.
Truth be told, we veterans do the same thing. I know I will even revisit the same decisions I made long ago, just to make sure I made the right choice. In the process of doing this once again, I discovered a means of customizing curriculum that has put my mind at ease.
Start with What You Love
If you have seen an approach at a homeschooling conference, at a friend's home, or online that you just love, honor that. Years ago, I researched Sonlight as a complete solution for my family. Why? Because we are readers. My husband sells library books and we are happily buried in them. I thought Sonlight would be the perfect fit for us.
But then I saw Konos in a Box at a homeschool conference. As I looked through the fun, hands-on activities I could do with my young boys, I knew I had to use it and we did. I let Sonlight go in lieu of the activities that would make literature and learning come alive. Over the years, our relationship with Konos has matured. We moved from doing the box units to doing almost all of the units and meeting with friends weekly for related co-op activities. Last year we abandoned Konos for a year-long geography unit with our co-op and this coming year we are doing co-op a la carte with each mom choosing a subject to teach.
The shift in curriculum had led us to do less literature, especially with my youngers. The two middle schoolers are using Lightning Literature this year. That got my thinking about my long-lost love, Sonlight. I returned to their site, only to decide once again that while I loved their literature selections, I just couldn't do their complete program. Then I realized I didn't have to!
Take the Best of It
We are all going to be studying American History this year, using various curriculum such as: American History, Lightning Literature, Classical Conversations Cycle 3, and Answers in Genesis's new America from the Beginning. I started with a list of Sonlight's recommended books for American History. The book selections are what I love most about Sonlight. They would make an excellent complement to our history curriculum, but I still wasn't satisfied.
Add it to Something Else You Love
I had found a new writing curriculum for my youngers–Brave Writer, The Arrow. This curriculum offered the best of what I loved about Character Quality Language Arts from last year–specifically, dictation and in-context grammar teaching. It also offered something more–classic literature and free writing. But here is where it gets really exciting. Brave Writer's Arrow has units on many of the books listed by Sonlight for American History. I chose the books (and honestly there were too many to do in one year) listed by both Sonlight and Brave Writer, focusing on books I already owned.
Use Your Custom Curriculum and Continue Tweaking
I have yet to use my custom curriculum. I have done my best to plan it by day, just as a complete program would do. I have written down how many pages I have to read of each book to finish it that month (even taking into account vacation days, which is more than other programs can do!). I don't know if it's going to be just right as planned, but I do know that I can keep making changes until it is.
No one knows you, your kids, and your circumstances better than you do.
If you believe that you're the problem, instead of the curriculum, you're operating out of a traditional school mindset. Stop and consider how to customize curriculum so it fits your homeschool, while still providing the best education possible.
What kinds of customized curriculum have you created?