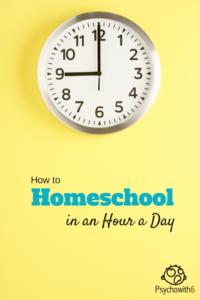 Home educators have a lot of demands on their time. We may have multiple children, some of whom are babies or toddlers who require extra care. Some of our children may be teens who aren't yet driving, yet are involved in numerous outside classes or activities. Then there are homeschooling parents who have a home-based businesses or work outside the home. We want to teach our children well, but we wonder:
Is there a way of providing a quality education in less time?
Some homeschoolers think so. The idea is that you teach the essential material in just one hour a day, leaving the rest of the time for the children to do independent work, related assignments, or pursue their own interests in an unschooling approach.
What Would an Hour a Day Homeschool Look Like?
Teach one subject or do memory work for six subjects, ten minutes each
Teach four subjects (math, language arts, Bible, read aloud) for four subjects, fifteen minutes each
Teach two subjects (math, language arts) for thirty minutes each; these could be switched out daily
Teach one subject for an hour each day on a rotation
Teach an hour for older students and an hour for youngers
Teach for more than one hour using any combination above
Teach this way when you're pressed for time
I have used the latter approach many, many times. A repair person comes, the phone rings, I have to pick someone up from the airport–you name it–and the time I have left for teaching is down to an hour. I often use the ten-minute per subject approach. Most of the time I teach for three hours using a combination of approaches. I have six children, some of whom require more intensive instruction in reading. As they mature, less of my time will be required.
But Don't Students Need More of Your Time?
Yes, they often do. That's why every teacher who uses this method must make themselves available to tutor and answer questions. You may be spending only an hour of focused time "teaching" your students, but they will be spending many hours relying on your tutoring and learning on their own.
Want More Information About Homeschooling in an Hour?
Check out Homeschooling-Ideas and Homeschool.com that reference a father whose six children were homeschooled in an hour a day and attended Stanford. He notes that he used this approach with older children.
You can cover many of the essentials in LESS than an hour a day with Classical Conversations.
What Do You Think? Could You Homeschool in an Hour a Day?