Last week my husband and I shared about how to keep a homeschooling marriage strong. I think that's such an important topic. But a few months ago, a listener pointed out that it's hard for her to hear homeschooling advice designed for moms whose husbands are supportive of homeschooling when hers isn't. That got me interested in talking to single homeschooling moms and married homeschooling moms whose husbands aren't supportive. I want those of you who are homeschooling without help to have sanity, too!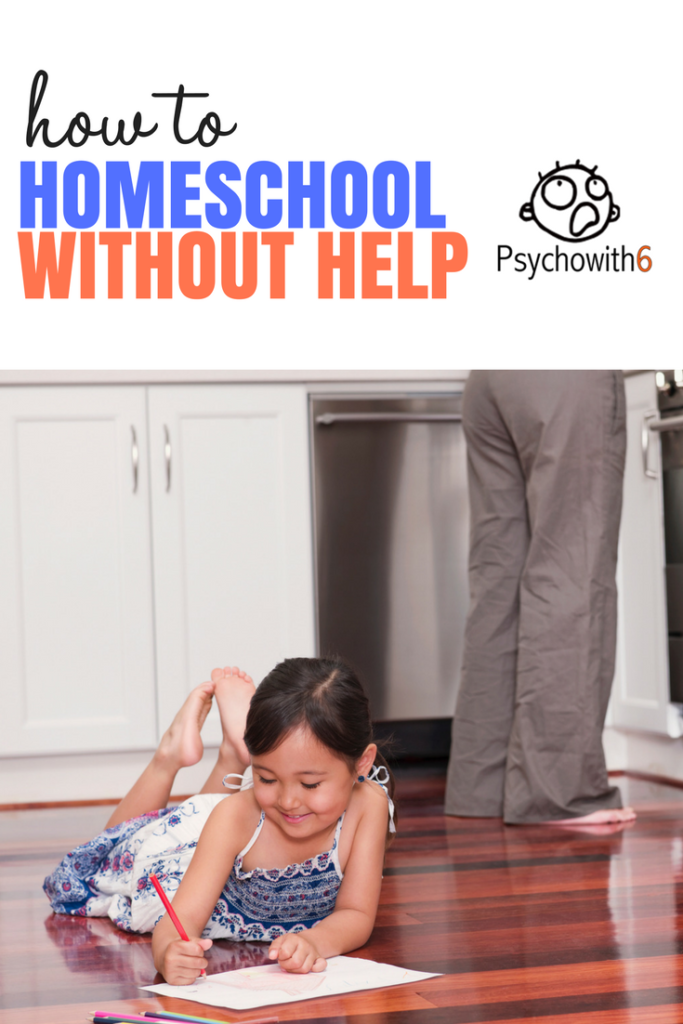 Listen to the podcast     Watch on YouTube
I interviewed Jessica Binkley (of Let's Break the Rules and DearPennyJane.com), a newly single homeschooling mom, and LaToya Edwards, a mother who was single when she began homeschooling, for The Homeschool Sanity Show podcast. These two ladies helped me to realize that homeschooling is an excellent choice for children whether their parents are single or married.
For Jessica, putting her children in school after her divorce didn't make sense. LaToya met a single, homeschooling mom before making her decision to teach her kids at home, so she knew it could be done. Both women opened my eyes to the need for married, homeschooling moms like me to be more supportive. Unfortunately, other married homeschoolers were some of the loudest voices telling Jessica she couldn't keep homeschooling. Jessica and LaToya had these tips for single, homeschooling moms:
#1 Keep a flexible, relaxed schedule.
You may have to teach at unconventional times because of your work schedule or to accommodate your children's father's schedule. The blessing of homeschooling is being able to find a routine that fits your family. LaToya advises giving yourself time to find that.
#2 Make time for you.
Having time for self-care and refreshment can be very challenging. Jessica has made Sundays a completely free day on which she will not schedule anything. She still has her children with her, but it's a time when she can relax. Consider trading childcare with another homeschooling mom so you can have a few hours alone.
#3 Let go.
Jessica emphasized the importance of crying when you feel like it. She said things got better for her when she stopped expecting friends to help her. She determined to stop being hard on herself.
LaToya noted that homeschooling improved for her when she stopped trying to make her school look like a traditional school or even a strict homeschool philosophy. She feels comfortable blending approaches that work for her family now.
#4 Get support.
LaToya pointed out that when she attends homeschool activities, the other mothers don't know she's a single mom. That allows her to feel comfortable in groups. Jessica has found support through Facebook groups for homeschoolers that aren't necessarily for single moms. Single homeschooling is becoming more common and you will feel great in giving other women support as well as receiving it.
I hope you'll listen to the podcast for even more tips from my guests.
Married and Homeschooling Without Help
I also asked married homeschoolers whose husbands don't help with homeschooling to answer some questions. I think their reponses will be enlightening if you're in the same situation.
Describe your husband's involvement in homeschooling and parenting.
My husband is often at work for most of the day. I am usually the disciplinary figure. I involved my husband in the Principal role so when I had times where my son did not want to fully attend or focus I would intervene with Dad.
******
I had the idea that my husband would teach the kids some of his interests on a regular basis. For example, he would have an archery class or wilderness survival class every Saturday for an hour or so. However, he was never really on board with the idea of teaching the kids on a regular basis. My husband is pretty busy with work and generally does home improvement projects on the weekends. He did spend a little time with the kids and their bows right after they first got them for Christmas in 2015, but the bows were really heavy duty, and the kids tired quickly, so that was the end of that. He now wants to hold off with the bow training until the kids are older. His involvement with parenting happens in the evenings when he gets home from work, usually only an hour or two before their bed time. He is the fun dad who loves to tickle and wrestle the kids but most of the time he's exhausted and needs to relax after a long 10-12 hour day at work. The kids completely depend on me for almost everything, but I don't think it's unique to our homeschool household vs. our non-homeschool household. It's always been that way for us.
******
There is no involvement in homeschooling other than to ask how his day went. As far as parenting, he does back me up on most decisions… but he is not really actively involved in much with my son. My husband retired from the military 10 years ago and it seems he retired form everything. He spends most of his time on his phone playing games. He occasionally plays video games with my son but he does not respect my wishes no not have them play violent games like tour of duty or the likes… instead he tells my son to keep it a secret and he plays it with him. My son spent a lot of time when he was younger looking for a father figure in other men like his boy scout leader or his head master when he was in school. My husband does play board games at dinner and sometimes he goes places with us… He does love our son… of that I am sure but he is kind of done parenting I think. We have grown daughters ages 30, 28 and 26 and our 11 year old son. Our son was very wanted, and he is my husbands and my only biological child his daughters are from a previous marriage although we raised them as their mom was not around. I do a lot… I work 1 full time and 1 per diem job, homeschool and run the house cooking (even when I am not home) and cleaning and running errands… its overwhelming.
******
My husband has been more involved with parenting in the last few years, but he is almost completely hands off with homeschooling. I work 3-12 hr shifts per week, and occasionally my husband is home before I am. When he does get home before me he will ask the kids, "did you guys do you school work today?" If they say "yes", all is good, if they say "no" he will tell them "better get it done." Occasionally, If I ask, he will listen to our 10 yr old son read. He will also listen if they recite a poem or bible verses. He does not help with any lessons, shopping, grading etc.
Have you discussed your desire for more involvement with your husband? If so, what was his response?
I have talked to him about being a little more involved but it does get tough due to responsibilities. I know he tries his best. Every time I have reached out to him and expressed my overwhelmed feelings he doesn't hesitate to help out more than usual.
******
I have discussed my desire for him to be more involved in our homeschool but his response is usually as follows, "I don't teach. I've never had the desire to teach and I don't think I ever will. This is your thing." I began this journey knowing that this was going to be all on my shoulders. Even though I secretly wish he'd be more involved and sometimes catch myself comparing our situation with others who have husbands who enjoy teaching their children, I do my best to appreciate this opportunity. I know our situation isn't my ideal situation but still consider myself very lucky to be able to do what I do. I know single moms who work full time and homeschool on their days off and just know that I have got it pretty good.
******
I have not really spoken to him about becoming more involved because I don't want to have arguments about the curriculum, if I am teaching it right, if our son is understanding it… My husband has very little patience and does not tolerate mistakes well and my son has a terrible tendency to talk back (I am trying to get my point across he says) so having my husband involved would most likely end in disaster. I do wish he were more involved, but a lot of him would need to change before that happened. That is not to say that I am without fault… I have many a day where I lose my cool as well.
******
We have been married for 17 years, I know what to ask for and what to let alone. I would actually prefer if I needed help, that he help in another area of our life (parenting, yard work, home maintenance, even cooking).
What have you done to compensate for a lack of partnership that has NOT worked?
I have complained directly to my husband that he doesn't help me enough with the kids. This usually starts a fight. Complaining to your husband that he doesn't help out enough when he works more than full time is usually a bad idea. Especially when you don't work. Yes, sharing responsibilities is a great idea, but there's definitely better ways to discuss concerns so you don't end up sounding like you don't appreciate what he does do for your family.
******
Listening to many podcasts and reading many blogs for advice is good but can get overwhelming… I tend to compare myself to them and their lives… failing to remember that my life is not like theirs… my circumstances are different. I tend to feel pressure to do it like them, to have the amazing schoolroom and the books and the reading and the laughter and the sunshine, unicorns and rainbows… and end up disappointed when I don't… I change curriculum because someone recommends it, I am easily swayed to try something new because I cant see what is working… I spend a lot of time in tears. I think doing this past year without some form of community like CC has not worked as well for us…
******
Buying every curriculum that floats by my computer screen! Asking my husband to do more within our school than I know he wants. I knew from the beginning this was ALL on me. Asking him to check math answers or help with grammar is just met with his obvious frustration, resulting in me becoming frustrated too.
What have you done that HAS worked?
Communication is key in anything but knowing also the right words to say with love is important.
******
I make sure to thank him for what he does for our family. I will ask him to do the dishes or give the toddler a bath while I'm busy with something else and trust him to do a great job. I don't complain about the way he does things or nit pick if he does things differently than I would do them. I always make sure to thank him with extra affection. A little affection goes a long way in a busy lifestyle. We make sure to take time to be together as a couple on date nights a few times a month. I know neither of us are perfect and in order to have a happy family, we have to have a happy marriage. If he doesn't want to be involved in teaching, I will respect that and remember to be thankful that I can work from home and teach my kids this way. I know I'm so blessed to have a wonderful family and a husband who provides for us so I can stay home and homeschool the kids.
******
There are no co-ops in this area, so last year I joined CC just for the language part… it was out first year schooling and he needed some other people to be around as he transitioned… It worked well but we didn't continue this year because of my job and traveling. (I work full time as well as a travel nurse and we tried homeschooling on the road… but that was not a good decision for us at this point) I have found other homeschoolers and try to get together with them… I am trying to form a book club for the kids as well… but that is going slowly… I have friends to run ideas by and I listen to a lot of pod casts! I talk to my minister, my sister and friends as well as other homeschoolers for ideas in inspiration.
******
Reflection on what seems to be working and not working. Talking with our kids about what they like and don't like and what they want or need. They know that I make all the final decisions, but I will ask their input. Actually, I have asked my husband to listen as I read from three different history books in order to help me decide which one I would use for the upcoming year. He enjoys history and gave good input regarding what he thought about both kids and how they would or would not like each of the history books.
What do you recommend to other married women who are homeschooling without help?
Set a schedule, make sure to stick to it. 
*******
I recommend meeting with other moms who are in your situation. You can search for facebook groups of homeschoolers in your area and ask if there are others in your situation who might want to chat for encouragement. It always helps to know that you aren't alone. I like to watch "homeschool in real life" or "a day in the life" videos on YouTube for ideas and encouragement and listen to podcasts about homeschooling. We all need constant reassurance and confidence boosts to continue on our journeys so we don't burn out, doubt ourselves, and give up. 
*******
If you are married take the time to try to get your spouse involved… a little bit at a time… even if its reading aloud. Get them to take something off your plate. Maybe have them take them on weekend field trips or something… they don't have to grade papers or teach the lessons, but have them part somehow… even if they don't know they are! If your spouse is good at something, have them teach it to your child. Shift roles, maybe since you're schooling they can do the cooking… or the cleaning or run the errands. Tell them you really want this to work and even if they cant participate in the schooling could they help you out by doing other things that will free you up to teach? Don't take this on alone… if you cant get your spouse on board, find a co-op or a community where others are joined and use them as your sounding board. Ask others for help… use every resource your community has to offer in order to find what works for you. Pray daily… ask God for guidance… Don't forget tot take care of you. Find time for you to have time with friends… or do an activity for yourself… something you enjoy. Don't get consumed by all of this… learn to let some things go… you're human and we are all bound to make mistakes. Forgive a lot… be humble and realize that time is precious… don't work so hard on schooling that you forget about creating memories as well… I have spent the past year not doing the above and looking back, I wish I could go back and do it over… but I can't. I ask for forgiveness, and I move on to the next lesson.
*******
Homeschooling is not easy. I wish I did not have to work so that I could provide the environment that I envision. But that is not where we are right now, so facing reality is not easy, but it's doable. We eat out way more than we should, the house is certainly not as clean as I'd like it, and I'm always in a panic that I've forgotten to pay a bill. But I have all the equipment that I need to get the job done and we just keep plugging away. The one thing that I think is quite helpful to me is listening to other homeschoolers. Note: Pinterest is great, but stay away! I also think that all media gets in the way. If someone is already struggling in their homeschool life, getting sidetracked with devices is not helpful. I have to constantly remind myself. I have a VERY limited amount of time to complete our schooling; I absolutely do not have time to waste on the computer. There are several podcasts that I listen to during my commute or while cooking dinner. I also have some conference talks that I just love and have listened to several times. 
What other advice do you have for those homeschooling without help? Comment and let me know.