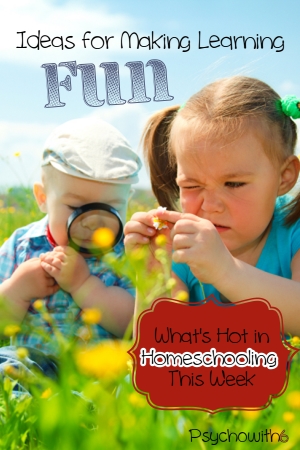 Honestly, homeschooling isn't always fun. Some days we need inspiration. These links provide just that!
The Beatitudes of Homeschooling
Holy Spirit-Led Homeschooling provides this free printable that can encourage us any time we need to remember why we do what we do.
School is a lot more fun when you have everything you need in front of you. Homeschool Creations provides this ingenious way of keeping critical information in front of a first grader. But you could do this for each of your students.
Free Science Plans Using Magic School Bus DVDs
Magic School Bus videos (available on Netflix and YouTube) can be a fun way to change up your science curriculum. Homeschool Belle provides lesson plans to go along with each video.
Buggy and Buddy has created this printable calendar that can not only teach younger students about the calendar, but can be used to plan fun learning activities for the month.
Outdoor Bible Verse Scavenger Hunt
What's more fun than a scavenger hunt? The truth is, it isn't always fun for mom if she has to plan it. Rachel Wojo has made it fun for everyone by providing the clues and using Bible verses, too!
After teaching all day, you may be fresh out of creative ideas. My Kids Adventures is a website to the rescue! They offer easy ideas for having fun with the kids that are designed for dads, too.
You can find all these pins and more on the What's Hot in Homeschooling board!