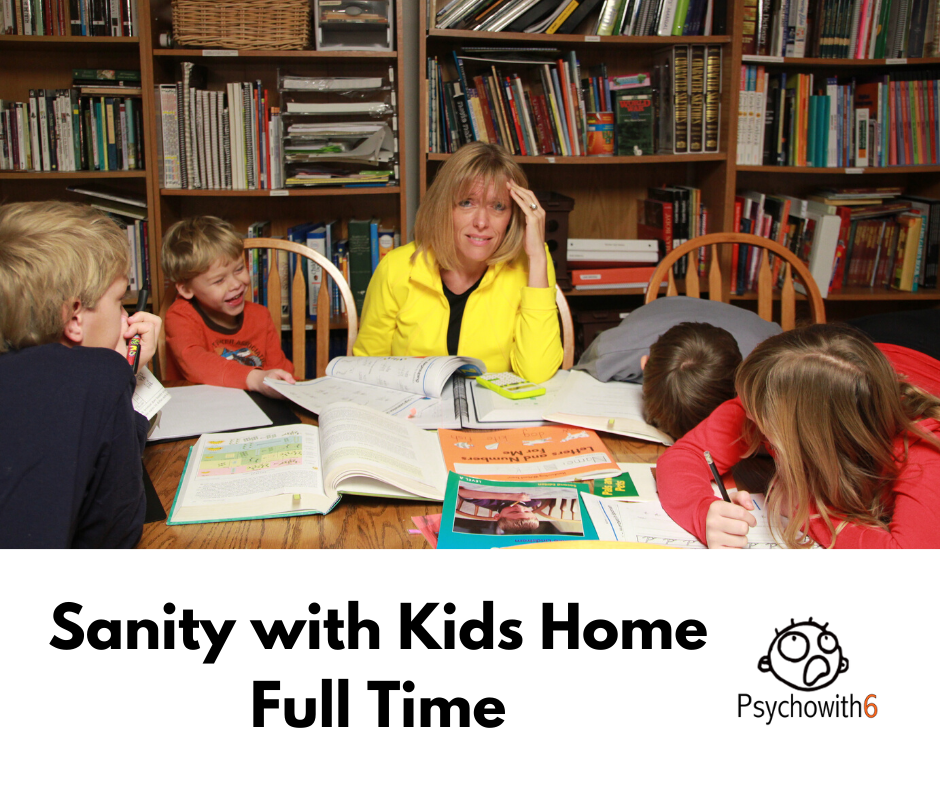 I have been at home with my kids full-time for 23 years. It wasn't what I wanted at first and I've had my share of challenges, but now I'm so grateful for the time I've had. If you're a homeschooler whose kids are now home from outside classes and activities because of sheltering in or you're new to having your kids home from school, this episode is for you. I want to share simple tips that will have you not just surviving but thriving with your kids home full-time.
I didn't want to stay home with my kids full-time originally. I planned on working as a clinical psychologist part-time. But my first baby kept getting ear infections while in daycare, and I kept having to cancel my appointments. I moved to having sessions two evenings a week and then quit my practice entirely when I had my second child. When I had three children, I felt called to homeschool. I gave it a try with my preschooler.
I had struggles both with staying home with my kids and with homeschooling them that you can avoid with the tips I'm going to share with you today.
The first tip is to adjust your expectations.
I thought I would be able to get things done while home with my young children. I had freelance writing deadlines and conferences I was keynoting at the time. I counted on nap times to get my work done. Whenever I counted on nap time, I could be sure that my child wouldn't sleep or something else would happen to interrupt me.
If you are currently working from home while trying to manage your children's education, God bless you. What you are doing is not easy. There is no trick you are missing. Other people are not doing it well while you struggle. The truth is you are unlikely to get as much work done as you did before your children were home full-time. If you accept that, your days will be smoother.
I thought that staying home with a toddler would be a delight. I took my little guy to the mall to walk with a friend in the mornings. My expectations set me up for a lot of disappointment. My strong-willed child hated to be buckled into his car seat. The Herculean effort required to buckle him did not start the morning off well. Then he would deftly extricate himself from his stroller and would stand up in it as I pushed, looking like Kate Winslet on the bow of the Titanic. Even after I got him a stroller with a 5-point restraint, I let him out and he ran into Victoria Secret and flung the neatly folded lingerie out of the drawers as quickly as he could.
Homeschooling him went no better. I expected to have a darling little cherub of a student who would rise up and call me blessed. I didn't get that. My son had not signed off on my educational plan. He wanted to avoid anything that required him to sit down and pay attention to me when there were so many other fun things to explore.
And I am not an outlier. I don't know anyone whose high expectations of their children and homeschooling have been fulfilled. And that was in a time when the entire world wasn't reeling from the impact of a pandemic. Our children are just as disoriented by all the changes as we are. Instead of believing that you'll be able to get all your work done and your children will cheerfully, independently do their school assignments and chores and will seek out plenty of educational enrichment activities, adopt this motto: what can go wrong will go wrong. Then when you experience the unexpected gift of accomplishment, you'll rejoice.
With low expectations, you can create a routine or schedule that has the best chance of success. Trying to accomplish two objectives at once is destined to fail. If you're going to try to work and parent or work and teach, you'll do neither well. Arrange a routine in which you first spend time with your kids to get them going on activities. Really attend to them. Go over the chore, the worksheet, or the activity. Have them repeat in their own words what they are to do. Explain that when the activity is complete, they will get to have a break to do something pleasant: play outside, play a board game, or have screen time.
That is when you are going to have time devoted to work. Explain to your children that interruptions of your work time for non-emergencies will result in shortened free time. The younger your children, the shorter your work periods will have to be. Consider alternating child supervision with a spouse or older children. And remember to expect the worst.
My second tip for staying sane with kids home full-time is to reserve time to recharge.
When I began staying home full-time with my child, the loneliness for this extrovert was a killer. I became depressed because I didn't have work colleagues to talk to. I wasn't allowing myself time for hobbies, either. Later, homeschooling limited my social contacts as friends put their kids in school and spent more time with other school parents.
I was able to recharge by first starting a stay-at-home-mom Bible study for women at my church. The Bible study, social, and scrapbooking time made a huge difference in my mood and in my ability to be a patient, loving parent. As a homeschooler, I created a home-based co-op so I could do the same with homeschooling friends. My kids loved spending time with other children and my visits with moms helped me stay sane and manage my expectations with a veteran homeschooler's counsel.
I wrote How to Be Happy and Homeschool Too in which I argue that we need time to recharge doing something other than homeschooling. I think that's just as important as we shelter in place. Unfortunately, socializing has become a lot more difficult. But it's not impossible. We can use apps like Houseparty to get together with friends and have that book club, Bible study, or craft time. Aside from socializing, we can make sure we have time alone for devotions, reading, or exercising by communicating our need for it with our family. Take turns with a spouse or reserve screen time so you can have the quiet you need to be recharged. If you're not sure about self-care, read my recent article on Is Self-Care a Snare. I urge you not to skimp on sleep now to meet other needs. I've made the decision to stop staying up late during this time and the difference in my mood is dramatic. The other thing I do to recharge is get dressed every day and share in the Get Your Pretty On group on Facebook. I love having the outfit and the interaction to look forward to each day. Find free outfit formulas to use with the clothes you own.
My third tip for staying sane with kids home full-time is to focus on what your kids need most.
When I started homeschooling, I was worried that I wouldn't be able to teach my kids because I'm not a trained teacher. I didn't know any of the tricks I was sure teachers had learned for teaching my kids to read or do math. I was also worried that my pregnancies in which I was so fatigued and the constant interruptions in education caused by my toddlers and preschoolers were doing my kids irreparable harm.
Soon I will have four graduates, all of whom have earned A's in college courses. More importantly, they are well adjusted adults who love God and are close to their families. I have to give all the credit for that to Jesus. Even though I am a psychologist, I am naturally lazy, disorganized, and prone to anger. That leads me to share what I think kids need most. It happens to coincide with the greatest commandments: Love the Lord your God with all your heart, soul, mind, and strength, and love your neighbor as yourself. Our kids need to see us loving God, loving our spouse, and loving them. Our current situation is like a final exam with that. If you can keep loving in the midst of fear and uncertainty and disruption, what an amazing lesson that is for your kids. We provide them then not just with love but security.
Take the time to pray and read the Bible together each day. You can use a prepared devotional, but you don't have to. We still pray prayers of thanksgiving, repentance, and supplication for ourselves and others in need and it has been time well spent. I always come away from our family devotional time with more peace.
Also give your children individual time. Our kids need time with us to connect and share. Spending time with each child doing what he or she enjoys most will pay dividends in better behavior and less sibling squabbling. It doesn't have to be a lot of time and each child doesn't have to have that time daily. With six kids, I gave each child a day of the week. That was their day to have the choice seat, make decisions, and have time with me. In your individual time, ask your child about their adjustment to sheltering in. To draw them out, ask about their least favorite things about it and the things they enjoy about it. Ask what if anything you can do to help them adjust.
The next best thing your children need now is reading. The worst thing that happens educationally for children is what teachers call the summer slide–a break during which kids quit reading. Don't allow sheltering in to be a time your children put the books down. If your school district doesn't provide online instruction or at-home curriculum, have your children read, read aloud to them, or listen to audiobooks. Public libraries have digital books to check out. Numerous classic books are available for free online. And consider Grammar Galaxy, a short, fun curriculum you can read aloud or listen to as a family. Reading in any format improves vocabulary which is the best predictor of academic and life success.
Finally, what your children need now is memories. None of us will forget this time of being home together. But how will we remember it? Let's make the memories sweet. I think we can do that by shared activities, celebrations, and games.
Our college boys are home for the year. One of our sons loves going on challenging bike rides. My husband has been going with him, even though our son pushes him to his limit. They both love it and the relationship that is being strengthened in this. The first Sunday we stayed home from church, my family planned a huge breakfast. Several of the kids helped prepare the food for it. I don't think we've had a more memorable meal outside of Thanksgiving. Easter is coming up and the kids are already asking me for special foods. I plan to dress up for watching the livestream of our service together. I don't know if I can talk the kids into dressing up, but I'll try! Finally, we have been playing indoor and outdoor games together and having so much fun. We had a blast playing spoons and the app Psych!. We have played pickleball and four square outside. We got out our stilts that have been sitting for years and I was even using them.
Use this time to create shared experiences. Cook together, exercise together. Plan celebrations for your family. Have extended family join you via FaceTime or another video app. And play games together. Make a list of games you have. Try some you haven't played much and give any away you don't enjoy. Consider playing some of the free grammar games I share on my site. Or sign up for the Grammar Guardians mission calendar for free.
Conclusion
When you adjust your expectations, reserve time to recharge, and give your kids what they need, you'll not only survive this time, you'll thrive during it.