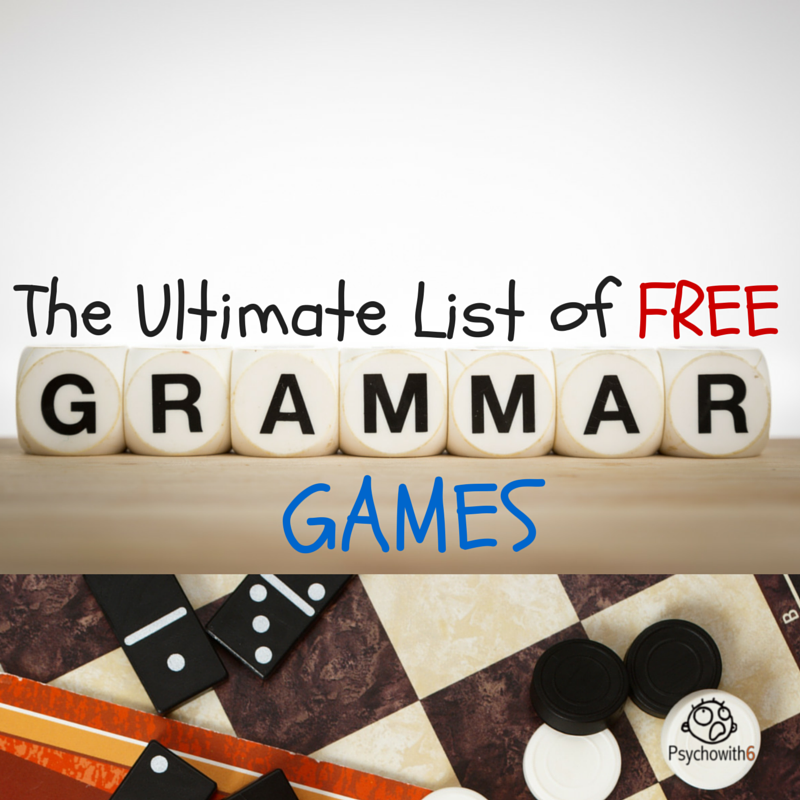 Grammar and writing can be a tedious subject to teach. Fortunately, there are so many amazing free games available to make teaching them fun. Until now, you had to Google your heart out to find them. No more! Below is an organized list of FREE grammar games for teaching parts of speech, punctuation, sentences and writing. I've described each game so you can decide if it's for you. Following each section is a Pinterest board including those games. Follow them and be sure to pin this post so you can reference it later.
More Grammar Game Sanity
None of these games are online games. For a great list of online games, instruction, and quizzes for grammar, see The Best Free Grammar Websites. Many of the following games are appropriate for both classroom and homeschool use. I love to use games that require multiple players in our family co-op.
Free Parts of Speech Games
Adverb & Adjectives Game – Players must correctly identify adverbs and adjectives and use them in sentences to keep cards.
Go Fishing for Grammar – Play Go Fish with parts of speech cards.
Grammargories – Students compete to write words for parts of speech the fastest.
Jenga Review – Students have to answer a corresponding grammar question before placing it on top of the tower.
Play the Bag Game – students win a point for each part of speech (drawn from a paper bag) used correctly in a sentence.
Grammar Hopscotch – Students have to think of an appropriate word for the part of speech when they stop to pick up their marker.
Hot Potato Grammar – a cross between the Hot Potato game and musical chairs to identify parts of speech.
M & M Challenge Code – A chart for M & M colors and parts of speech that could be used for games of your choice.
Penguin Parts of Speech Game – Students move around the game board after identifying the part of speech in the sentence.
Race Around the Nouns, Verbs, and Adjectives Game – players must move to a word on the game board that fits the part of speech drawn.
Roll, Say, Play Adjective or Adverb Game – Students roll a die and write a word using dry erase marker in the correct column. Winners have the most cards correct.
Solve It! Parts of Speech Game – this game treats parts of speech like a mystery to be solved.
Spaced Out Adjectives and Adverbs Game – two teams divide into aliens and spaceman. Drawn cards must be identified as adjectives or adverbs. Words modified must be identified as well. Players who draw a planet card lose all their cards.
Students as Props – Three students have either noun, verb, or adjective taped to their foreheads. Other students tape appropriate words to each student.
Word Dominoes – Cards with words and parts of speech on them are played like dominoes.
Word-Eating Whale Game – an empty milk jug is transformed into a whale and is used to eat caps that have verbs on them (and not nouns) in the tub.
Nouns
Basketball Pronoun Game – basketball-themed board game teaching he and she pronouns to young or special needs learners.
Make it Plural! – Students have to give the plural form of nouns in this board game.
Post It Note Noun Hunt – Players find Post It Note nouns and sort them into person, place, and thing categories.
I Have…Who Has? Plural Nouns Game – This game is played like Go Fish.
Irregular Plurals Card Game – This game is played like Go Fish. Students ask if the other players have the singular or plural form of the noun to make a match.
Grammar Game for Plurals and Possessive Nouns – Students compete with different colored markers on a dry erase board to write the most plurals and possessives in categories.
Pick a Dot Pronouns – Students remove a dot to reveal a pronoun that they must then use in a sentence.
Plural Nouns Four Corners Game
Possessive Nouns Game – Uses illustrated cards.
Possessive Nouns Sorting Game – Students can time their sort to make it a game.
Pronoun Slap Down – identify and collect types of pronouns.
Pronoun Word Detective – Includes a matching a board game to teach pronoun identification.
Proper Noun Sit Down, Stand Up – Power Point slides of common or proper nouns are used to have students sit down for common nouns and stand up for proper.
Proper Noun Tic-Tac-Toe – Players must write a proper noun for the listed common noun as their X or O.
Pumpkin Common or Proper Noun Scavenger Hunt – players look for pumpkins hidden with common or proper nouns on them and record which they are when they find them.
Shining Plurals – Players must identify the plural form and can then keep the card. If they draw a string of lights, they have to return their cards to the pile.
What Gets a Capital Letter? – Students use this board game to determine which words should be capitalized and why.
Verbs
Gator Grammar – Players must identify the past, present, or future tense verb to finish the sentence. Drawing a gator results in loss of cards.
Grammar Sandwiches – Can be played as a matching or Go Fish game for irregular verbs.
Phineas and Verb – Students have to use the correct verb tense in this card game based on the Disney show.
The Verb Game – Students compete to write as many unique verbs that can be associated with a place as possible.
Slap It! Irregular Past Tense Verb Game – Students compete to be the fastest to slap the past tense form of the verb and win the cards underneath.
Verb Balloon Pop – Students pop balloons that contain paper slips with verbs that must be taped onto the correct tense. This could be a race or just for fun.
Verb Race – Students have to write the correct past tense form on dry erase boards to advance on the game board.
Verb Relay Race – Each leg of the relay uses a different action verb.
Verb Freeze – Students act out verbs like charades.
Verb Vine – Players must make the changes to the verb directed by the game board.
Adjectives
Adjective File Folder Game – Students use picture adjectives to prompt them to give thorough descriptions.
Adjective Game Time Filler – Players answer questions about themselves. They sit down if the adjective doesn't apply, leaving one winner.
Adjective Mystery Bags – Students use adjectives to describe objects in mystery bags.
Alphabetical Adjectives Connect the Dots – You could have students race to complete their pictures by connecting the adjectives in alphabetical order.
Apples to Apples Adjectives – Players draw picture cards and try to submit the best to match the adjective card drawn.
Monster Adjectives – Monster picture adjectives board game.
Roll the Dice Adjectives – Students have to use 10 vivid adjectives to describe the noun picture they roll.
Adverbs
Adverbial Action – Students play charades with adverbs
Adverb Jeopardy – Played like Jeopardy with students identifying the adverb in the sentence.
Adverbs of Time Snakes and Ladders – A Chutes-and-Ladders type board game for adverbs.
Adverb Sort – Players time themselves as they sort adverbs by the questions they answer.
How Often Adverb Game – Board game in which players must answer personal questions using adverbs of time and frequency.
In the Manner of the Adverb – One player leaves the room. The remaining players draw an adverb and act it out when the missing player returns. The returned player must guess the adverb.
Miming Adverb Game – The student draws a verb and adverb card and acts them out. The remaining players must guess both words and use them in a sentence to describe the student's action.
Walk the Walk Charades – Another adverb charades game
Prepositions
Back to School Prepositions Bingo – using pictures of school-related objects
Bug Prepositions – bug themed cards can be used for Go Fish or Lotto.
Cowboy and Cowgirl Preposition Game – cute board game using a cowboy and cowgirl moving around based on preposition cards.
Games for Teaching Prepositional Phrases in Middle School – Games include Knock Once, Sentence Wars, Weave a Tale, Bad Day Charades, Prepositional Phrase Jeopardy, Drama Time and Sing It.
Motor Skills Preposition Game – a game that lets young children work the wiggles out while teaching prepositions.
Prepositions Board Game – game requires players to use the correct preposition in a sentence. Great for ESL students.
Where is the Bunny File Folder Preschool Preposition Game – players choose the sentence that describes the pictures of the bunny's location.
Follow Dr. Melanie Wilson @psychowith6's board Parts of Speech Games on Pinterest.

Free Punctuation Games
Comma Relay – A comma is exchanged between runners who must correctly punctuate a sentence for their leg. Contraction Bingo – this two-player Bingo game teaches contractions. Contraction Concentration – Students match contractions in sentences to the words that form them. Dinosaur Bones Punctuation Game – Players move to the space on the board with punctuation that matches their sentence card. Green Eggs and Ham Punctuation Game – Seuss-themed board game. Players must choose the ending punctuation of sentences on cards. Minion Contractions Game – Players help each minion find the two words that make up his contraction. Missing Punctuation Game – Cards contain sentences mission punctuation. Players locate the punctuation marks on the game board. Name That Punctuation Mark – Students are given clues to use to identify the punctuation mark. Punctuation Car File Folder Game – Young students match the punctuation marks to sentences. Punctuation Mark Tic-Tac-Toe Punctuation Present – This game is played a lot like Bingo. Punctuation Red Light, Green Light – Students play Red Light, Green Light and must follow commands associated with punctuation marks. Types of Sentence Baseball Game – Players catch a crumpled up sentence and determine what punctuation mark it needs. Quotation Mark Showdown – Teams compete to correctly identify and punctuate quotes. Follow Dr. Melanie Wilson @psychowith6's board Punctuation Games on Pinterest.
Free Sentence & Writing Games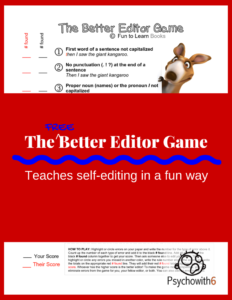 The Better Editor Game – a game I created to teach students to self-edit (and gives parents a way to edit their students' work too!)
Citation Hunt – Students have to find quotes in a book to support assertions about the book the teacher has made to earn points and beat the teacher.
Consequences – A group writing game with funny consequences.
I Have…Who Has? Subject / Predicate Game – This game is played like Go Fish.
Four Corners Sentence Type Game – Students go to one of four corners corresponding to a sentence type. They sit down if the sentence read matches their type.
Four Kinds of Sentences Game – Identify what kind of sentence is on the card and advance on the game board.
Interactive Games for Sentence Fragments – Includes Words on Strips of Paper (students try to find someone with an independent clause to go with their dependent clause); Pairs Game (students work in pairs to transform sentence fragments into the best or most humorous sentences); and Song Game (teams compete in determining whether song titles are fragments or sentences).
Frog Punctuation Capitalization Activities – Students look for frog-themed sentences around the room, add a capital letter, punctuation, and put them in order.
Guess What Writing Game – Have a student write to describe an object and another player has to guess what it is.
Law & Order Sentence Structure Review Game – Students compete in this game that reviews sentence types and common sentence errors.
Main Idea and Details Game – Teams race to identify the main idea of a group of sentences.
Matching Topic Sentence to Paragraph – Students try to find the other player who has the topic sentence to their paragraph.
Musical Papers – Students edit their peers' papers until the music stops and then they move to the next paper.
Paragraph Mix Up – Cut up a paragraph into sentences and mix them up. Have students race to put them in correct order.
Poof! Sentence Types – Players draw a strip and identify if it's a sentence or fragment. If correct, they keep the strip. If they draw Poof!, they lose their strips.
Random Words Poem – See which student can include the most dictionary words in a poem that still makes sense.
Snowy Sentences – Features snowman-themed word cards that have to be put in order to form sentences. Could be done as a race.
Tabloids – Students creative a factual news story and a tabloid-type story. Other players guess which is which.
Telephone Oracle – A group writing game with writers answering questions and then attempting to guess the question that goes with the answer.
The Sentence Game – A great family game. Players fold paper over and add sentences or illustrations with funny results.
Type of Sentence Game – Players try to guess whether a declarative sentence is true, answer interrogatives, perform commands, and reply to exclamations.
What Kind of Sentence is It Scoot Game – Students move around the room determining which type of sentence each is.
Follow Dr. Melanie Wilson @psychowith6's board Free Sentence Games on Pinterest.
Want More Ultimate Lists?
Check out my Ultimate Guide to Classical Conversations Resources and more lists from the iHomeschool Network bloggers.