Your Prescription for Happier, Healthier Homeschooling
Christian psychologist and veteran homeschooling mother of six, Dr. Melanie Wilson, interviews the experts twice monthly on the issues that drive you crazy:
Parenting and relationship challenges
Addressing your child's special needs, learning style, and personality
Getting organized and staying motivated and more!
You'll come away from the podcast with the strength you need to teach another day!
Subscribe and see the current schedule at The Ultimate Homeschool Radio Network.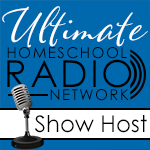 Looking for a giveaway or guest post related to a podcast you've heard?
Click here for a list of posts.
For more great advice, free resources, and homeschool humor, follow me on Pinterest, Facebook, Google+, and Twitter.