George Mueller is one of my faith heroes. I have read several books about him and by him and continue to be inspired.
He wrote a small pamphlet called "Five Reasons Why Prayer Must be Answered." George is known for receiving consistent and dramatic answers to prayer and as a result is a highly credible author on the subject. We can be confident pray-ers like George: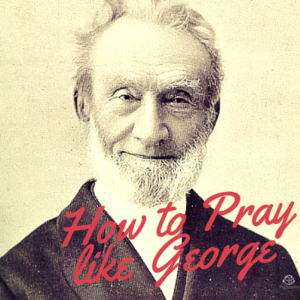 1) If we pray according to the will of God, we can be confident of answered prayer. "14 This is the confidence we have in approaching God: that if we ask anything according to his will, he hears us." (1 John 5:14)
2) If we ask in the name of Jesus and for His sake, we can be confident for what we ask. "14 You may ask me for anything in my name, and I will do it." (John 14:14)
3) If we believe He is able and willing to answer us, we can be assured that our prayers will be heard. "24 Therefore I tell you, whatever you ask for in prayer, believe that you have received it, and it will be yours." (Mark 11:24)
4) If we avoid willful sin, we can be certain that the Lord will listen to our appeals. "18 If I had cherished sin in my heart, the Lord would not have listened;" (Psalm 66:18)
5) If we have a history of answered prayer, we can be sure that our God is the same God today. "7 And will not God bring about justice for his chosen ones, who cry out to him day and night? Will he keep putting them off?"
Lest you think that George was a man who believed that wealth, good health, and salvation for all were his for the asking, you should know that:
George gave up his earthly wealth to serve the Lord. The Lord provided for him in every way, but he had few earthly possessions.
George experienced chronic abdominal problems, though he lived a long life. George saw God using his periodic poor health for his good and the good of others.
George wrote that God "did not see fit" to confirm to George that his father was a believer before he died. Yet George continued to believe that God's will was to bring many to faith through George's work and testimony.
George was a sinner. Although George did not choose to call sin something else and did not knowingly and stubbornly engage in sin, he still led an imperfect, fleshly life. Even so, the Lord chose to bless him with an abundance of answered prayer. In other words, George's standard for living is not too difficult for us.
George spent a great deal of time ascertaining the will of God. Before beginning a bold project and then asking the Lord for His blessing, he often spent months making sure he wasn't pursuing something for his own purposes.
George often waited a long time before seeing the answers to his prayers and even experiencing significant trials as he did so.
Finally, if we want to pray like George, we ought to record our prayers. George was diligent to note the date he began praying and the date of the fulfillment of his request. Honestly, this is a practice I once had, but have let go. I hope you will join me this week in praying like George. If you haven't read his biography or his book, The Life of Trust, I know you will be blessed to do so.