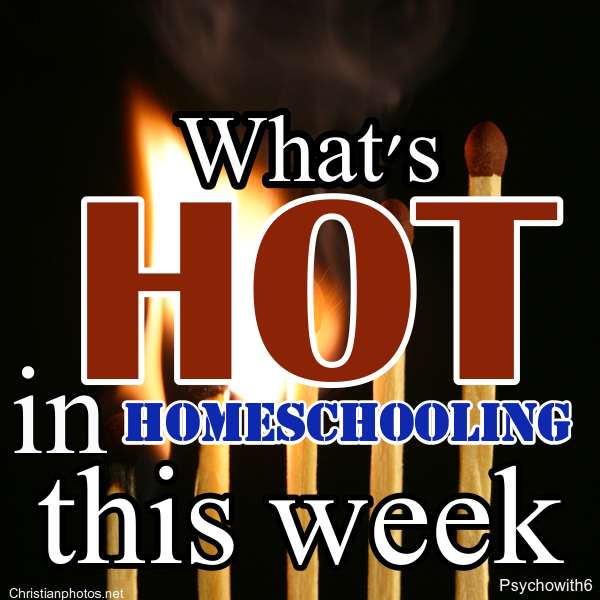 This week I'm very thankful for the Internet. Through it, God enables us to enjoy the immense talents He has given to so many homeschoolers! I'm thankful, too, for the homeschool bloggers who share their creativity with us. If you're featured this week, please grab the "Featured" button in the right footer. If you're a blogger, I'd love for you to link up. If you're a Pinterest person, please pin the great ideas from the What's Hot in Homeschooling board. If you just want great articles and resources, read on!
5 Important Reasons to Educate Your Daughters
Whether daughters that we hope will be homeschooling moms should be educated beyond high school is a hot topic these days. This article from Intoxicated on Life is great encouragement to provide continuing education.
How Do I Stand Being with My Children
It's a question I've been asked many, many times. Karen of Simply Living for Him does a great job of answering it.
Of course, we don't want to just "stand being with" our kids. We want to really enjoy them. A Humble Vessel shares how we can do just that!
Homeschool Language Arts for Free
If I could only choose one subject area to teach my children well, it would be language arts. When our kids can read well, they can learn God's Word and even math well. Only Passionate Curiosity has assembled a great list of free curriculum for teaching these critical skills to 1st through 6th graders.
Teaching Strong Sentence Writing
Speaking of language arts, teaching kids how to write good sentences can be a challenge. The Chaos and the Clutter offers us a simple and fun method for making writing click. Can't wait to try it with my kids!
All About My Homeschooling Family Printables
So You Call Yourself a Homeschooler points out that many worksheets that ask students to write about their families aren't appropriate for homeschoolers. So contributor Jill made some and they're free!
Now it's your turn. What's hot in your homeschool this week? Please grab my button from the blog's right footer or link to this post. Please visit the blog linked before yours and thank them for the hot ideas!