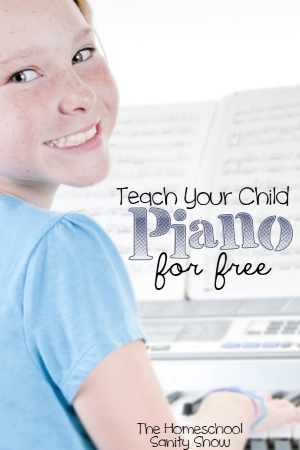 I had the pleasure of interviewing Joseph Hoffman of Hoffman Academy for the podcast today. I hope you'll listen to this excellent interview. I called him the Mister Rogers of piano lessons.
First, let me say that I am not an affiliate for Hoffman Academy. I sought Joseph out for an interview because I am so thrilled to have found something that works for my children.
Why I Needed Hoffman Academy's Free Video Piano Lessons
I am not a trained piano teacher. I can play, but I know very little music theory. I would have had to spend a lot more time, that I didn't have, learning how to teach.
Lessons are expensive. I have three children ages 8, 10, and 11 whom I want to learn the piano (my oldest three took lessons from a teacher in our home several years ago). The price tag for in-home teaching would be $75 a week. Ouch.
The other curriculum we've tried hasn't worked. Either the video lessons were too hard for the kids or the book lessons were too hard for me to teach. More often than not, I put piano off in lieu of other subjects.
Why I'm Crazy About Hoffman Academy's Free Video Piano Lessons
I am learning piano. I can read music and play, but watching these lessons with my kids and playing the music provided in the supplemental materials is helping me see how everything fits together. I'm so excited about the next lesson that I no longer put it off.
The format. I had purchased a DVD curriculum in the past that required buying a cheap portable DVD player to use at the piano. It soon broke. I love that these lessons are accessible online via our large TV (we like to watch the lesson together) and also via our iPad at the piano, so we can practice individually. The downloadable material (an optional purchase) was easy for me to copy and put in binders for the kids.
The pace. These lessons are perfect for my busy homeschooling family. Sometimes we just can't do lessons. I don't have to call the teacher to cancel. We just pick up where we left off when things calm down. I also love the gentle, Charlotte-Mason-style teaching of Joseph Hoffman. He is so positive and teaches very complex concepts in such a clear and simple way, kids feel confident they can play. That has been very important for my eight-year-old. Here is a video of my daughter playing Lesson 41 (we've been using the lessons for a little more than a semester).
The price. I recently purchased the family option for Unit III for $29. For a little more than the price of one traditional lesson, I received the following supplements for 20 free video lessons:
Music Theory Worksheets & Activity Pages (21 PDF pages)
Song Sheets with Practice Instructions (7 PDF pages)
Piano Listening CD MP3s
Practice CD MP3s
Parent's Guide
I am so pleased with the lessons (that my children actually practice), that I plan to continue as long as Joseph Hoffman continues to produce them! He is offering a copy of the supplementary materials for Unit 1 (the first 20 lessons) to one fortunate reader. I hope you'll enter the giveaway below,  will purchase directly,  or will listen to the podcast which should answer many of your questions.