'Tis the season to be stressed! But it doesn't have to be that way. Use these six tips to have a saner Christmas in your homeschool this year.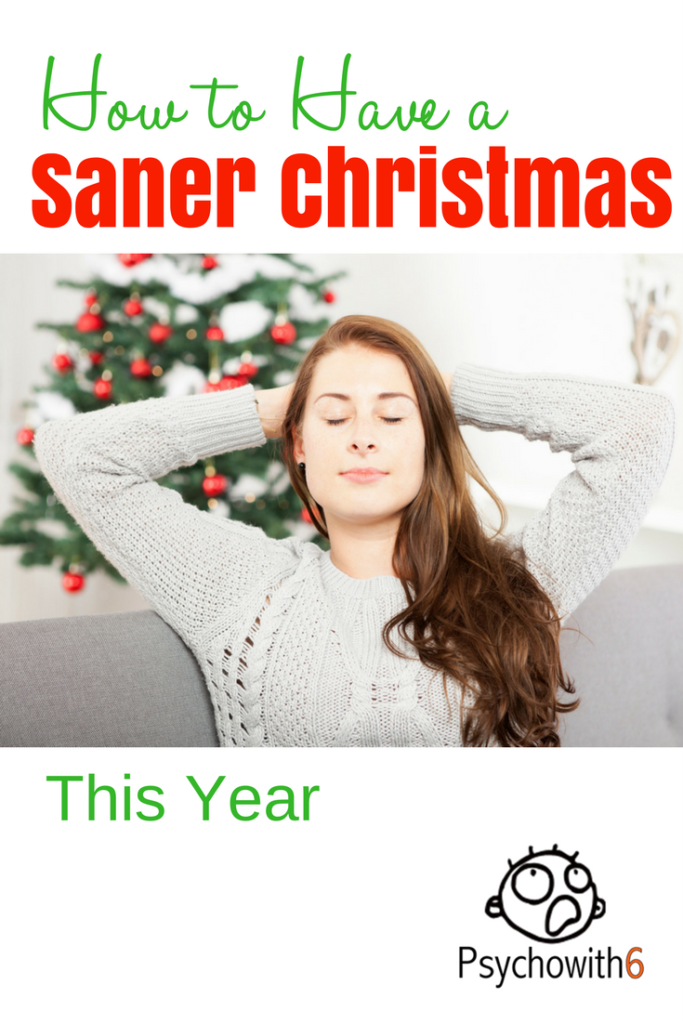 #1 Make the Christmas Season Unique
The first tip for a saner Christmas is to treat the Christmas season differently. You'll want to consider again doing a special study for Christmas this season.  Consider this unique unit study on Christmas in the White House or an online study from Techie Homeschool Mom. It's not too late to focus your studies on Christmas itself. But even if you've opted not to do a Christmas unit study, you can still change up your homeschooling this time of year. Consider changing your schedule. Church and family and even homeschooling events may keep you up later this time of year. Why not allow everyone to sleep in and start school later? For those of you who have younger children who get up at the crack of dawn no matter how late you stay up, consider having a longer rest time during the day or multiple rest times. Whatever you do, don't treat this time of year like any other.
#2 Take Time to Get Organized
The second thing we can do to have a saner Christmas this year is to take extra time to get organized. There are plenty of things we can do to get organized for the Christmas season itself, but I am specifically referring to getting organized in your homeschool. Put your bookshelves back in order. File the papers that have accumulated since the beginning of the school year. Put your supplies and other items making your school pace space look out of order away.
Also begin decluttering your house. Use a slower schedule to go room by room to throw away, give away, or sell things you aren't using. Move items you want to keep but aren't actively using to storage. Having a decluttered home will make entertaining and even battling potential illness that much easier. Speaking of that, make sure you have everything on hand that you need for colds and flu. You could declutter your home in a weekend.  Or using this approach, you could be finished decluttering by Christmas.
#3 Limit Activities
Make a Christmas bucket list with your family. If touring the expensive light display doesn't make the list, don't do it! Put all of your anticipated Christmas activities on the calendar so you can view them in one place. The potential for stress and overwhelm will be more evident if you can see everything you're planning to do. When you see the potential for overwhelm, decide to skip some activities. But skipping is not the only option. You can also reschedule some of these. Celebrating with family on days other then Christmas Eve and Christmas Day can be a real sanity saver. Some families aren't flexible on this, however. So you will want to use your flexibility for scheduling activities with other people.
One of the best decisions we made in my homeschool co-op was to have our Christmas party in January. Our kids, who aren't necessarily happy about starting back to school, look forward to this a great deal. We exchange gifts and play Christmas games and even go out to eat.  All of these things are easier when they are not smack in the middle of the busiest time of the year. If you are part of a group that has a party, suggest moving it to January. Don't be discouraged if your suggestion isn't well received. Suggest it again next year.
#4 Plan Ahead
The next important way to have a saner Christmas this year is to plan ahead. My book, The Organized Homeschool Life, gives you 15-minute missions that enable you to be prepared with Christmas clothing, Christmas decorations, and more this season. But if you're not on track with the missions in The Organized Homeschool Life, you still have time to be early. The best way to prepare in advance for the holidays is to look through the calendar you created in step three. Make a list of everything you need to buy or do for each event on the calendar. My recommendation is to begin with the first events coming up and work forward from there. However, if you can combine shopping for all of the events on your calendar, you'll save yourself a lot of time. Perhaps you have a list of items to purchase online. You can do that in one sitting. You could turn a shopping trip for the materials you need into a fun activity with the kids. As you are preparing, consider outfits that your children will need to wear. For some reason, this has always caught me by surprise. Will your child need to be wearing his holiday best for a concert or party? Does your child have shoes, socks, and a belt to look presentable? Now is the time to prepare these items.
Plan ahead for your homeschool too. Pull out books and curriculum you won't be using next year and give them away or arrange to sell them. Do some research of other curriculum you would like to use next year. Spend time lesson planning for the new year. Be prepared for moans and groans after the holidays. Don't anticipate hitting it hard immediately after the new year, but find some things to motivate your kids. Kids and moms need fun in January even more than they need it in December.
#5 Keep Things Simple
The fifth way we can have a saner Christmas this year is to keep things simple. If you love elaborate decorating, marathon baking sessions, or shopping for hours, then keep doing those things. But if you don't love them, ask yourself why you're doing them. Let me give you an example to get you thinking. I am in charge of a middle school event at my church. I want to provide a snack. Will middle schoolers think less of me or the activity if I provide store-bought snacks as opposed to making fancy Christmas cookies? I think we both know the answer to that. I do enjoy making Christmas cookies, but I don't have time in my schedule without a lot of stress to make the cookies before the middle school event. I will be purchasing from the store. Here's another example. If you are attending an ugly Christmas sweater party as I am and you don't love creating a sweater with hot glue and craft supplies, pick up a premade sweater at the store or even better, ask to borrow one. We want the emphasis this Christmas to be on people and enjoying ourselves with them. If what we are doing to celebrate Christmas adds to our stress level, leading us to become ill, we aren't going to be able to enjoy our loved ones.
We can keep things simple by buying fewer gifts. We haven't purchased gifts for my husband's side of the family in many, many years. We enjoy eating appetizers together on Christmas Day evening. No one has to prepare a full meal. We also enjoy playing games together. Last year we played Reverse Charades and everyone from the oldest to the youngest enjoyed playing together.  will provide in the show notes, has one limitation and that is that there aren't as many cards as I would like. This year I purchased Christmas cards to go with the game.
Talk with your family and friends about not exchanging gifts. If that isn't an option, consider buying or making one simple gift for most people on your list. You may consider playing a White Elephant Game with a gift that is appropriate or just plain funny for anyone who ends up with it.
When it comes to your kids and close family members, you can limit the number of gifts to three by exchanging gold, frankincense, and myrrh gifts. We have done this in my family for many years and it has saved my sanity. I not only purchase fewer gifts for my children, but the limit and focus of the three types of gifts helps me decide what to buy.
[READ GOLD, FRANKINCENSE, AND MYRRH GIFT IDEAS]
I can give you an example from this Christmas for my own family. I have a son who is constantly asking me for cash. He goes out with his brother who is driving and a friend and loves to buy food. This year his gold gift will be cash in a box. He will love it. My daughter's frankincense gift will be baking materials. Frankincense is what was burned in an offering to God. Her baking is how she serves God and our family, so these baking materials are an appropriate frankincense gift. I have older boys who are particular about their clothing. This Black Friday when they were around, I asked them to look over clothes that were on sale. I purchased the items as their myrrh gifts this year.
#6 Keep the Focus on Christ
Finally, keep your focus on the reason for the season. The part of the original The Grinch Who Stole Christmas movie where the Whos gather around the tree to sing convicts me every time. All of their food, gifts, and decorations had been stolen from them, but their joy remained. This is who I want to be. I want to model this attitude for my children. Here's my plan:
First, be as excited about worship and devotions as I am about all the rest of the Christmas stuff. Talk about how you love the music you sing, the decorations at church, and the reading of God's Word.
Second, find and use advent devotionals. Daily devotions this time of year keep us focused on Jesus. Here are some resources for your devotional time.
Third, make giving a part of your Christmas. Discuss what to give, to whom, and why. Share your joy in giving of your time and money and ask your children to share in the process. Here are 12 ways children can give this Christmas.
Conclusion
I use these tips to have a sane Christmas each year.  If I can have a saner Christmas by keeping making the Christmas season unique, getting organized, planning ahead, limiting activities, keeping things simple, and making Christ the focus of Christmas, so can you.
Which of these tips will help you the most? Let me know in the comments.