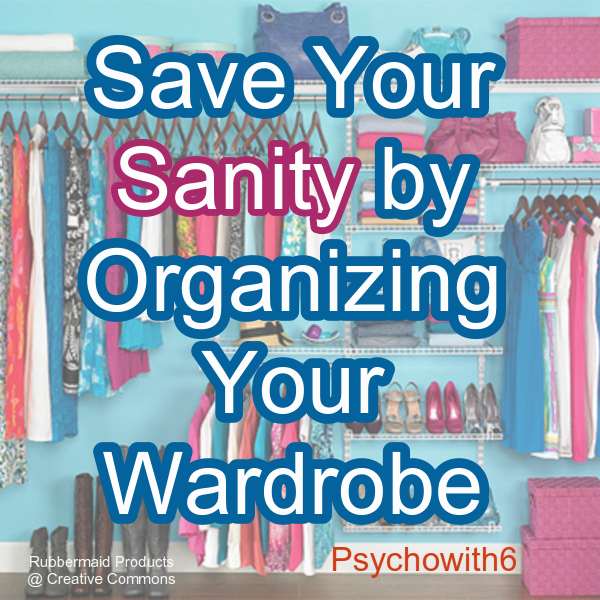 Clothes piled up on my closet floor because I hated how long it took me to put them away. When they were put away, I couldn't find what I wanted because my closet was stuffed with clothes. When I went clothes shopping, I invariably came home with another pair of black pants to add to my enormous collection or the latest fashion that went with absolutely nothing. I needed help. Do you?
My Closet Today
If you think this picture is my closet, you're the one who's psycho! My closet isn't nearly as picture-perfect, but it's incredibly functional. I finally got my wardrobe together because I took a class from Brook Noel. I know. I can hear my mother now:
"You took a class to organize your closet?"
Yes, Mother (that's what I call her when she gets high and mighty like that), I did and I'm GLAD!
To be honest, I thought I was nuts for taking a class, too. After all, I know the importance of decluttering clothes. I was doing that regularly, but since I store all of my clothing in one closet, it was still a challenge to choose which clothing to give away. At one time, I kept my off-season clothing stored away. But living in Missouri means that you need access to all kinds of clothing all the time. I wondered what else Brook could teach me that would make a difference.
I'm not going to give away all of Brook's secrets, because I think I think her class is valuable for you. Be watching for when she offers it again! In the meantime, I am going to share with you a principle that saved my sanity:
Organize your wardrobe by outfit and accessibility.
At the time I started my class, my clothing was organized by color. It wasn't bad. In fact, it made my closet look more attractive and gave me some ideas for outfits I hadn't thought of before. But I had some problems.
The items I used most often were the least accessible.

I wasted time trying to decide on a nice outfit
I didn't know what I really needed to round out my wardrobe
Accessibility
I have limited drawer space, so all my pajamas are hung in my closet. I wear them most often, but I stored them where I couldn't reach them easily. That's one reason they ended up on the floor, rather than hung up. I decided to store my pajamas in the center of my closet, between the two sets of seasonal clothing. I also store jackets here. Holiday and formal wear are now stored in those hard-to-reach places. I know. A Ph.D. should have been able to figure this out, but alas. I needed Brook.
The second accessibility issue made a huge difference in keeping my closet floor clean. Rather than storing empty hangers all throughout my closet or at the inaccessible end, I started storing them all in the center of the closet. Now I can easily reach empty hangers. I don't have to flip through every piece of clothing looking for a spare. Again, I'm rather appalled that I hadn't figured that out before. It's required me to form a new habit of always moving empty hangers to the center, but it's going great.
Decisions
I have no time to waste and I bet you don't either. Instead of trying to come up with new combinations every time I enter my closet, I can now walk in and grab an outfit that I already know looks great. Sure, new ensembles can be fun, but on an every day basis, I just want to look decent! I went so far as to pair certain jeans with certain tops. I store the same types of outfits together. Dressy outfits, business casual, and completely casual are together. Some outfits that can mix and match are also hung next to each other. It's like Garanimals for grown-ups! (Sorry, you younger peeps have no idea what I'm talking about.)
Organizing by outfit also made it easier to decide which clothes had to go. If I found a shirt that went with nothing, for example, and I wasn't wild about it anyway–out it went. In the past, I kept things if they fit and were in good shape, even if they didn't coordinate with the rest of my clothing.
Shopping
Organizing my closet by outfit allowed me to determine what I still needed. I made a list of pieces I wanted to buy that completed outfits. I also added jewelry to the outfits that was purchased for them. I discovered there were some jewelry pieces I needed to buy as well. The first time I went shopping after organizing my wardrobe was amazing. I steered clear of the black pants and got a few inexpensive pieces to finish outfits. Shopping was not only easier, but cheaper!
What do you think? Would organizing your wardrobe by outfit and accessibility restore your sanity?